Ordinary rank and file Conservative Party members are not officially bound by any of the party's rules governing racism, antisemitism, discrimination, victimisation or bullying, Evolve Politics can exclusively reveal.
The Conservative Party's official Code of conduct is freely available to view online, and contains specific rules against abuse.
However, astonishingly, none of the rules governing racism and abuse contained within it actually apply to rank and file Tory members, with the Code of Conduct stating that:
"This Code of Conduct is for anyone who formally represents the Party as an elected or appointed official.
This includes, but is not limited to: Members of Parliament, Peers, Members of the European Parliament, Members of the Scottish Parliament, Members of the Welsh Assembly, Members of the Greater London Assembly, Police & Crime Commissioners, elected Mayors, Councillors and Association, area, regional, and national Party officers. The Conservative Party Board formally adopted the Code of Conduct in December 2017."
The only rules within the Code of Conduct that do apply to rank and file Tory members are extremely vague ones which govern "the misuse and abuse of social media".
These merely state that:
"THE SOCIAL MEDIA COMPLAINTS RULES 2018
What are these Rules?
These rules govern the handling of complaints about a specific part of Conservative Party discipline: the misuse and abuse of social media. They do not apply to any other type of complaint.
They are the way in which a person can complain about social media abuse and how their complaint is handled."
The Social Media Complaints section also fails to mention any examples specifying exactly what the party considers a "misuse or abuse of social media", simply advising that:
"Where any person over the age of 16 thinks that a current member of the Conservative Party has misused or abused social media they can complain about that to the Party."
The Conservative Party's only other official document outlining party procedure is their National Convention.
However, this document only contains basic rules governing rank and file party membership, simply outlining that:
"The Party is a political Party for the Nation, open to all who share its objects and values and who undertake to be bound by this Constitution. The Party shall consist of its Members. Membership of the Conservative Party is not compatible with Membership of
or association with any other registered political party."
And that Tory members:
"5.1 shall each agree in the manner prescribed by the Board to be bound by this Constitution; and
5.2 shall work to sustain and promote the objects and values of the Party; and
5.3 shall pay such subscriptions (in the case of individuals) or affiliation fees (in the case of other Members) as shall be determined from time to time by the Board having regard to the recommendations of the Committee on Membership."
Furthermore, during our investigation, an undercover Evolve Politics employee was able to officially sign up as a Conservative Party member in the hope of gaining access to an elusive official members rulebook.
However, when such a rulebook was requested, we were repeatedly referred back to the party's online Code of Conduct.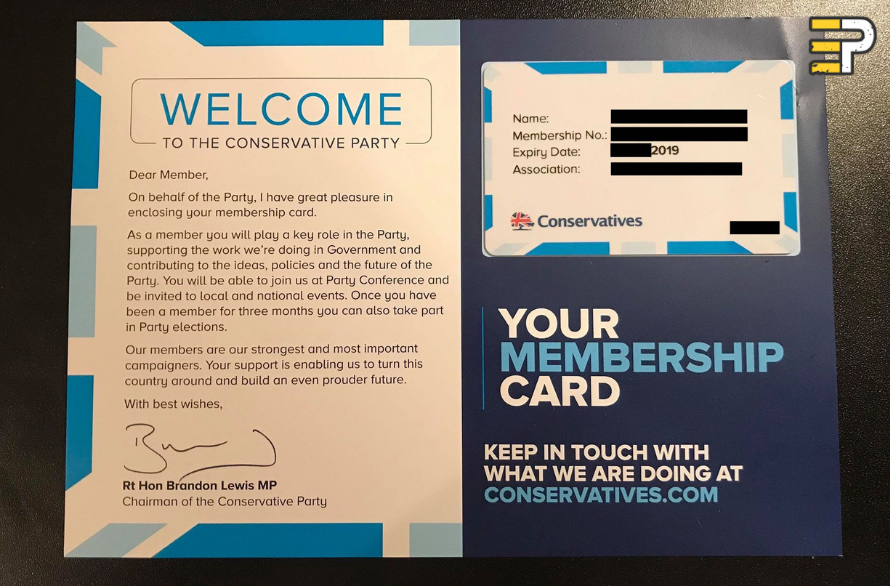 The revelation that ordinary Conservative Party members are not bound by the party's official rules on racism and discrimination completely contradicts the party's recent claims to have adopted the IHRA definition of antisemitism "in full", and makes a mockery of their attempts to criticise the Labour Party's position on their own rules governing racism within the party.
Furthermore, Tory party chairman Brandon Lewis recently claimed that the party had a "zero tolerance" approach to "abuse of any kind" – a claim that is completely at odds with the party's extraordinary failure to govern their own members' actions in relation to racism.
Brandon Lewis has also been put under pressure in recent months by the former Conservative Cabinet Member Baroness Warsi, who has repeatedly demanded the party begin an official investigation into Islamophobia within its ranks.
In contrast to the Tories' extremely basic Code of Conduct – one that doesn't even apply to over 100,000 Tory members – Labour's rulebook is 112 pages long and actually applies to both elected Labour representatives as well as rank and file members.
Evolve Politics have repeatedly contacted the Conservative Party Chairman Brandon Lewis to request a copy of any existing rulebook governing ordinary Conservative Party Members. Mr Lewis has, for whatever reason, decided to ignore all of our correspondence.
[Evolve Politics would also like to apologise to our supporters for handing £2.09 of our funds to the Conservative Party. We feel this highly unusual (and intensely stomach-churning) step was necessary in order to fully expose the Tories' incredible hypocrisy.]