It has become intensely clear over the past few years that politicians simply don't reflect the wider population. Far too often our elected representatives fail to listen to the views of ordinary people, and it is little wonder that the general public increasingly feel that politics simply isn't working for them. And, whilst I am a politician myself, these people are completely right – politics in our country is broken.
But it is not just our national politics that is in need of urgent repair. There is also a determined effort, both from within and without, to silence the voices of rank and file Socialists in the labour movement.

From suspending Labour Party members simply for discussing resolutions in solidarity with Jeremy Corbyn, to Senior Labour officials removing duly-selected Labour candidates from standing in elections without any explanation whatsoever, it is clear there is a concerted effort to pummel the left of the party into blind obedience.
It is approaching 12 months since Keir Starmer was elected as Labour Leader. His campaign success was built upon 10 pledges – the origins of which are steeped in our wider movement. Yet, over the last year, Sir Keir's leadership has steadfastly refused to engage with party members, and whilst his speech last week did introduce a few new policies, they bear little resemblance to his leadership promises – and appear to have been generated by advisors behind closed doors, rather than through engagement with the ordinary people who desperately need our support.
But this is not the way we will repair our broken politics. Activists should not be treated like a nuisance. They should not be on the outside, feeling rejected from an increasingly exclusive club who simply impose policies on them from up high. Activists are the lifeblood of our movement – the backbone on which our politics are built – and they should be treated as such, with policies developed in collective partnership.
All too often, political parties have been characterised by their hierarchical and bureaucratic structures. But politics has changed. Top- down leadership simply will not work in the 21st century. Modern leadership needs to inspire hope and build consensus through engagement. 
This is why we decided to hold a policy consultation process made up of an assembly of activists within the wider labour movement – a process for ordinary people to have their say and tell us what policies the Labour Party should be proposing in order to help them and their community.

No Holding Back – the organisation I founded with the MP for Wansbeck and former Labour Party Chairman Ian Lavery, and the Labour Councillor and former Shadow Minister Laura Smith – has already trialled a number of ways of engaging with activists since the 2019 General Election. An Activists' Assembly proposing an Alternative Budget is our latest step in grassroots engagement. 
The findings of this assembly set out in no uncertain terms the priorities our wider movement believes this week's Tory Budget must address – and we will publish these findings ahead of Wednesday's Budget on Monday. 
So please, do join us on Monday 1st March at 7pm to find out the Budget priorities of our activists' assembly. The event will be live streamed on No Holding Back's Facebook page.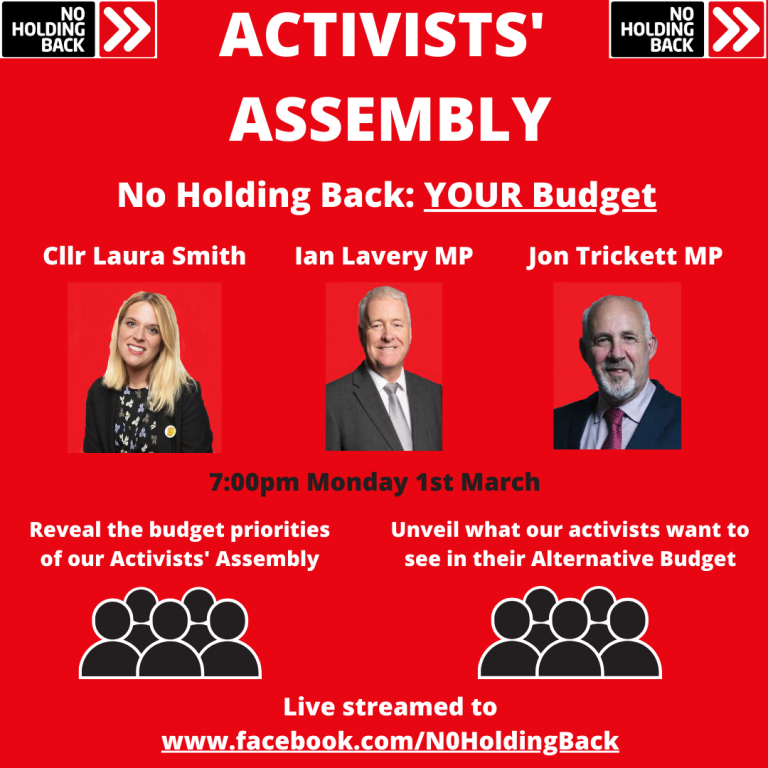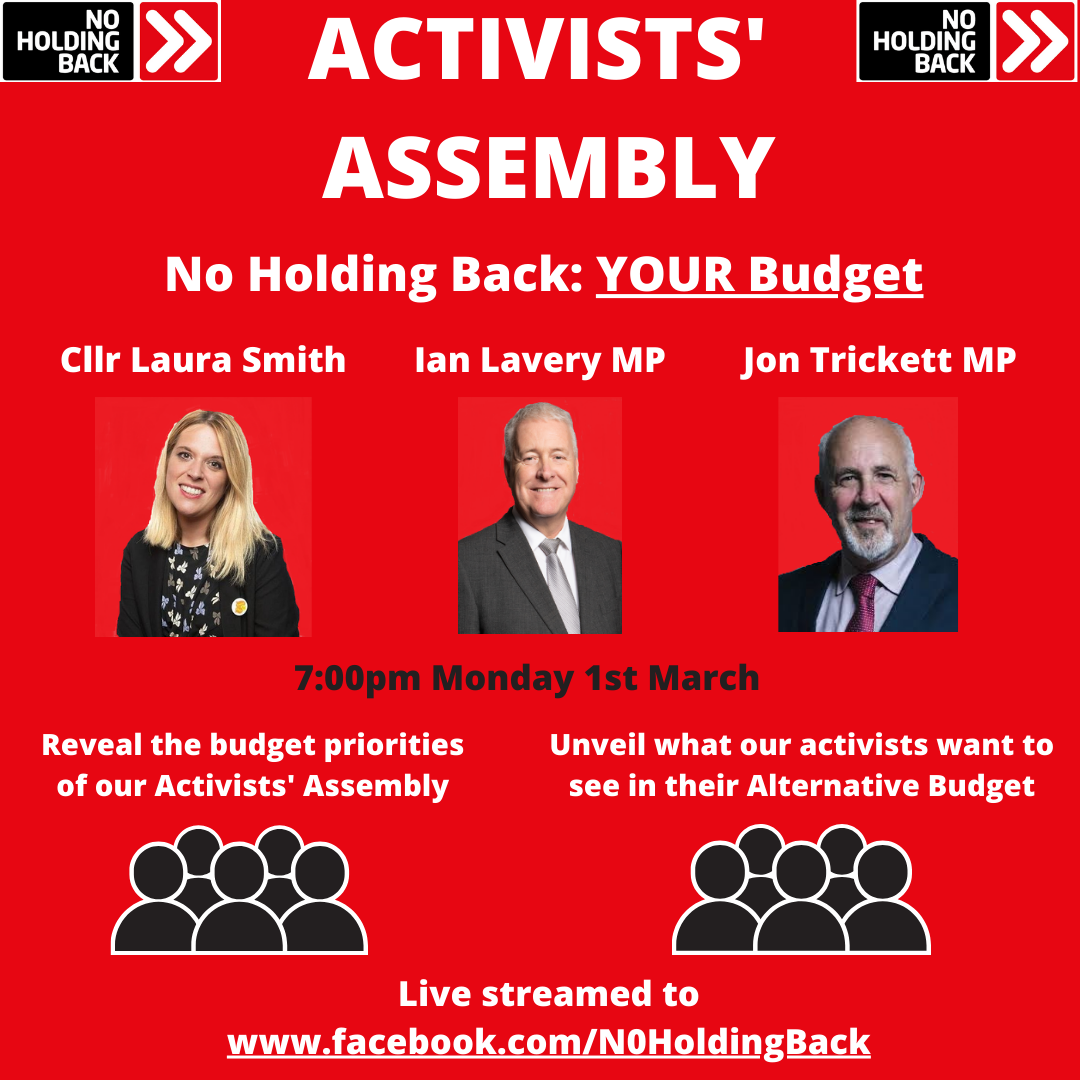 Jon Trickett is the Labour MP for Hemsworth.