Evolve Politics can exclusively reveal that a Conservative Councillor in Hertfordshire lists Nazi lawyer and holocaust denier Hajo Herrman as his inspiration on Facebook, and has also shared articles from the neo-Nazi organisation Generation identity and labelled UK immigrants as the 'dregs of every nation'.
Michael Hearn, who was first elected as a Tory Councillor for Shepall in Stevenage in May 2017, is due to stand for re-election again tomorrow in another round of Council Elections.
The vehemently anti-immigrant Tory Councillor's open Facebook page is awash with highly offensive anti-immigrant sentiment and neo-Nazi links.
Hearn lists Hajo Herrmann as one of his 'Inspirational People' on Facebook. Herrmann has been described as a "an idol to neo-Nazis", and was a Nazi-supporting German lawyer who defended fellow Nazis as well as holocaust deniers until his death in 2010.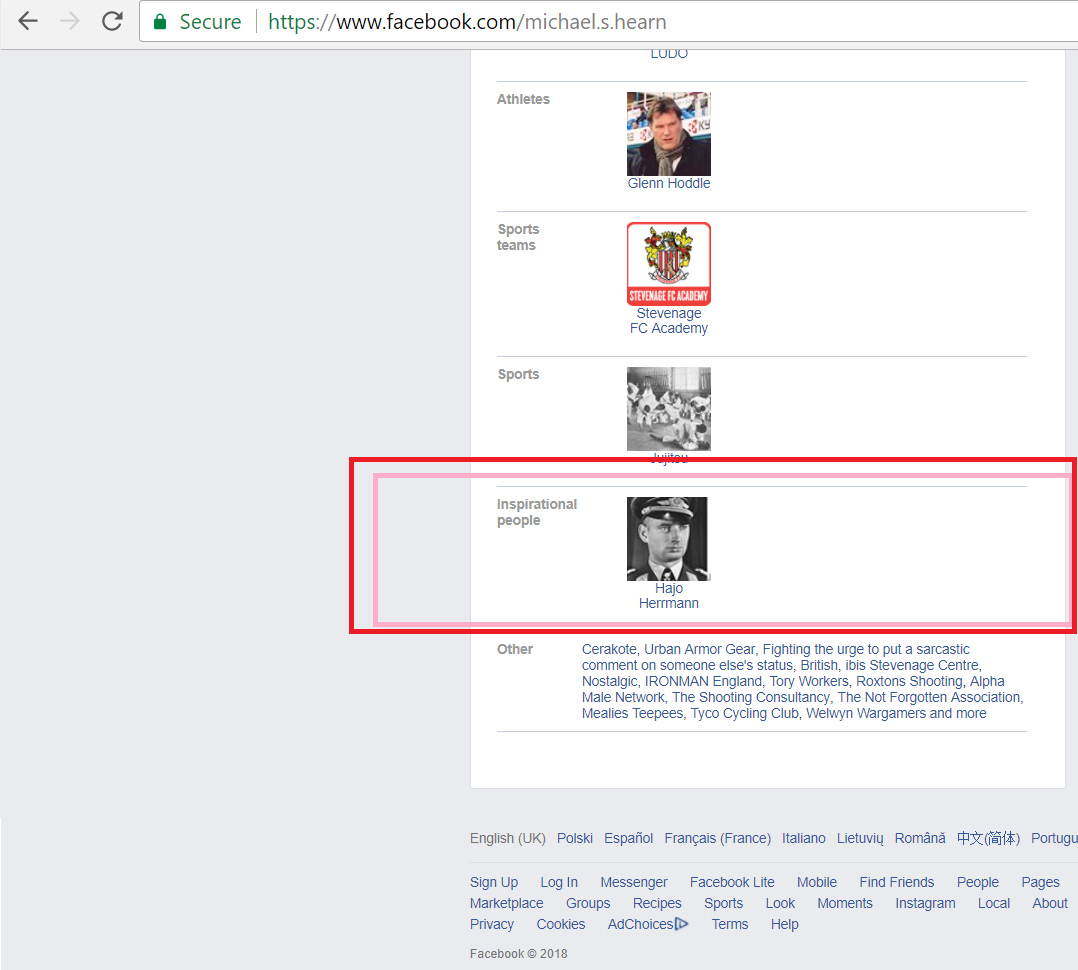 The Tory Councillor has also shared at least one post from Generation Identity – an openly racist neo-Nazi group who want to forcibly repatriate immigrants: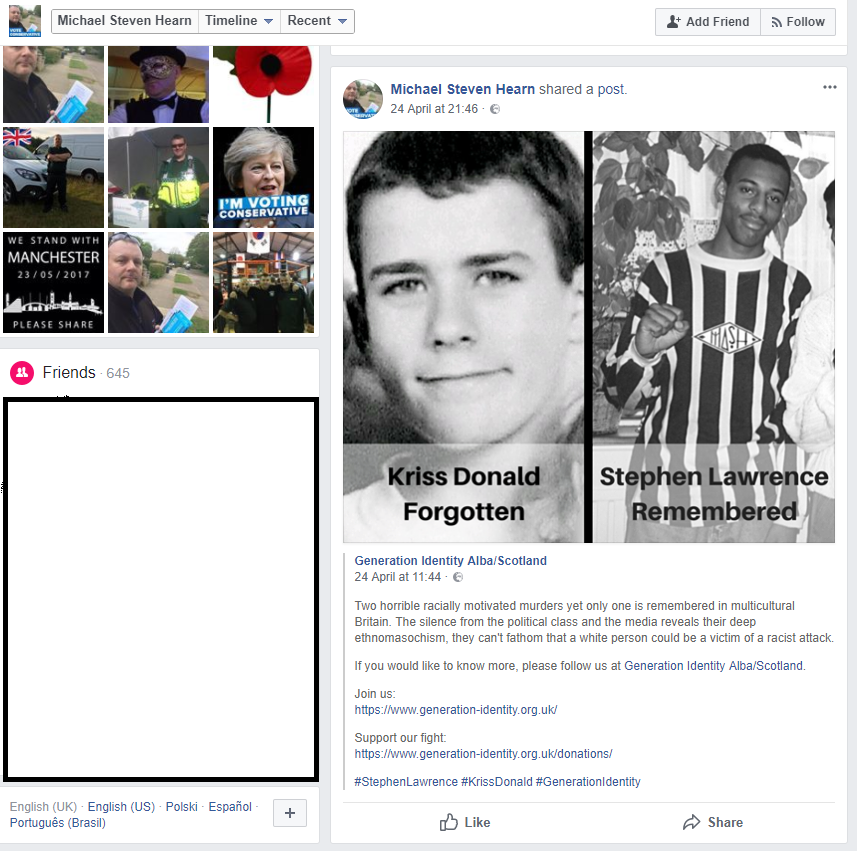 Stevenage Councillor Hearn – who describes himself as a "Self made man" on Facebook – has also labeled UK immigrants as the 'dregs of every nation':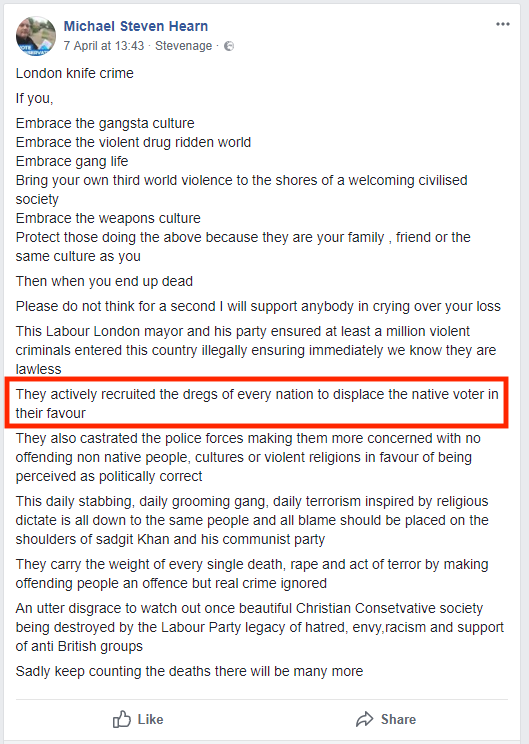 Amongst numerous other far-right and anti-immigrant pages, Hearn also lists the religious extremist organisation Knight's Templar as one of his 'liked' pages on Facebook: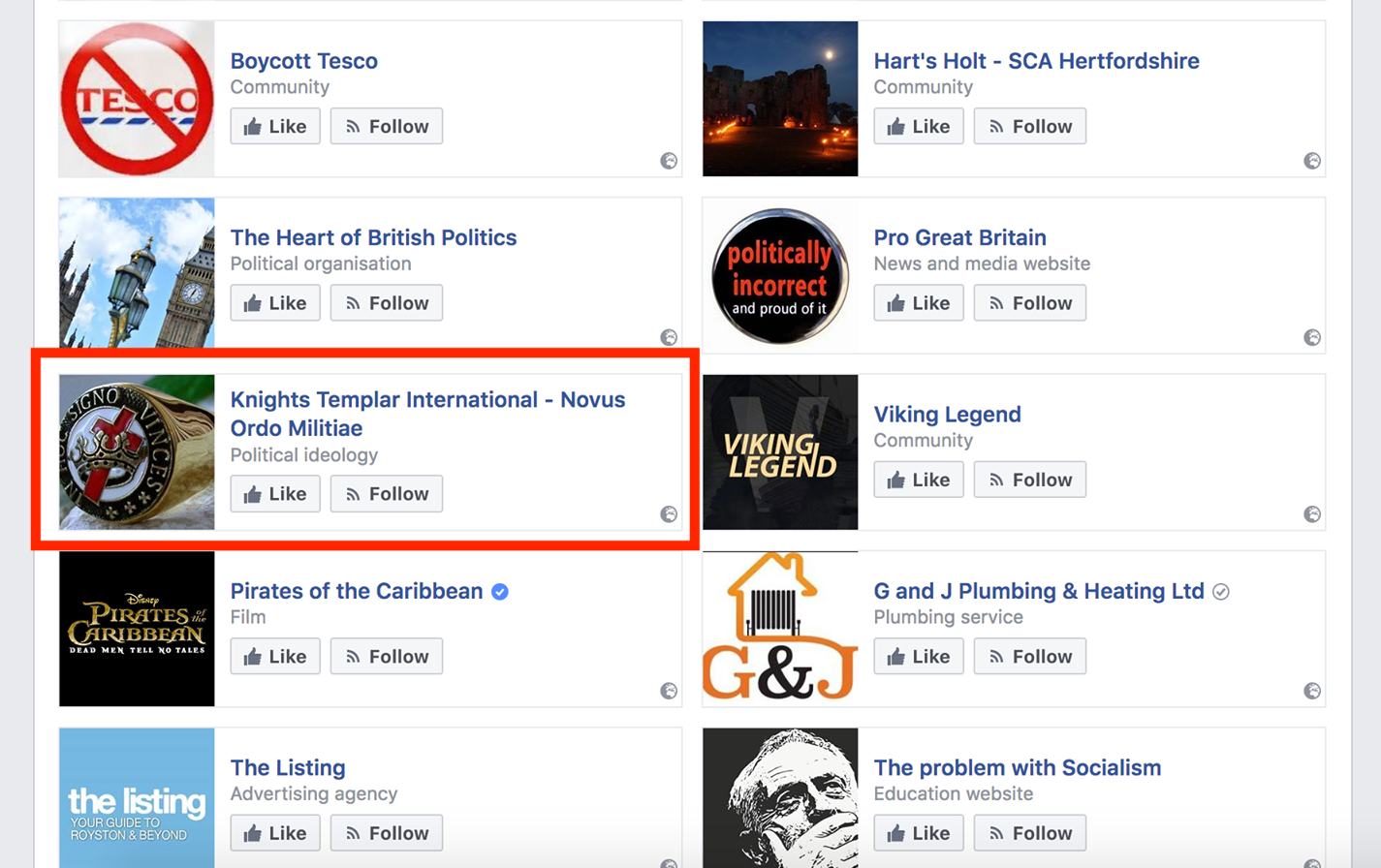 Hearn's extreme neo-Nazi links and vile anti-immigrant sentiment will be a cause for grave concern within the Conservative Party just hours before local elections take place.
Theresa May's Tories have already been forced to suspend numerous Tory Councillors and Candidates in the last month for similar racism and abuse.

Darren Harrison, the Tory Council Candidate in Watford, was suspended after being exposed attending events with the neo-Nazi organisation Generation Identity and hung out with neo-Nazi former EDL leader Tommy Robinson.
Harrison was one of a staggering 17 other Tory Councillors and Council Candidates to have been suspended in the last 30 days for instances of racism and abuse.
It seems that Stevenage Councillor Michael Hearn may soon become the next one on the list.
Evolve Politics has contacted the Conservative Party with details of their Councillor Michael Hearn's social media activity. At the time of publishing the Conservative Party had not responded.