The UK's largest network of foodbanks, The Trussell Trust, says its 400 foodbanks have seen a 30% surge in demand in areas of full Universal Credit roll-out, compared with a 12% increase in areas which have yet to bring in the new benefit system.
The Trust predicts that the situation will get even worse in the run-up to Christmas, when the number of foodbanks situated in areas of full Universal Credit service (that is, where Universal Credit is available to all claimants) will triple as the benefit is rolled out further.

The concept of Universal Credit was introduced by then-Work and Pensions Minister Iain Duncan Smith in a somewhat wild-eyed speech to the 2010 Conservative Party conference.
He claimed it would 'restore fairness and simplicity to a complex, outdated and wildly expensive benefits system', and went on to promise that:
We will change this broken system to help those at the bottom end make a new start and change their lives through work…. And I tell you conference this coalition cannot reach for success by standing on the backs of the poor.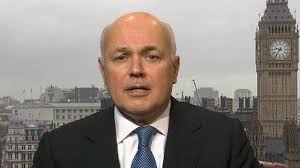 But 'standing on the backs of the poor' is exactly what the government is doing as Universal Credit makes families poorer and poorer.
According to The Trussell Trust, the six week wait for the first Universal Credit payment is a key reason for the increase in referrals to foodbanks.
There are also problems with repayment of advance loans to people awaiting their first Universal Credit payment, and the ongoing four-year freeze on benefit levels which means that the real value of benefits is going down every year.
The Chief Executive of the Trust has said that:
We're concerned foodbanks could struggle to meet demand this winter if critical changes to benefit delivery aren't made now…we don't know how foodbanks are going to stop families and children going hungry this Christmas.. 
Stories of families being made destitute by the six-week wait are rife. A recent BBC programme interviewed a mother who said her five year old daughter had been searching in bins for food after her family was left with no income for two weeks when she was switched onto Universal Credit.
Researchers at the University of Oxford found that 78% of households using foodbanks were severely food-insecure – meaning they'd skipped meals and gone without eating, sometimes for days, over the past year. 50% of those interviewed couldn't afford heating or toiletries.
This is the reality of life on Universal Credit.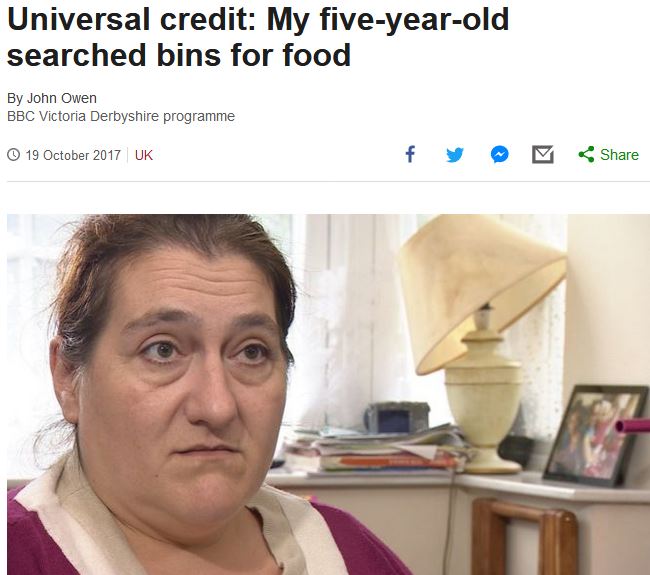 Iain Duncan Smith's fine words about changing a broken system sound pretty hollow now, as some of the most vulnerable people in society are plunged into poverty and debt by his grand idea.
That hasn't reduced the enthusiasm of the Tories, however, who recently abstained en masse from a Commons vote to pause the roll-out of Universal Credit rather than suffer a humiliating defeat – and Conservative MP Jacob Rees Mogg recently said that he found foodbanks 'rather uplifting'– but then, he's never going to be in need of one.

Another politician in denial is Hastings and Rye MP and Home Secretary Amber Rudd. The foodbank in Hastings has seen an 82% increase in referrals since the roll-out of Universal Credit in the town.
The foodbank co-ordinator Natalie Williams said:
We're seeing people at breaking point. People are desperate, angry, frustrated, afraid and worried'
Amber Rudd, however, continues to claim that Universal Credit will:
transform the welfare state in Britain, making three million people better off and bringing £33 billion in economic benefits to society'

She's right that Universal Credit will transform the welfare state. It will drive millions of people into poverty and ensure that hundreds of thousands of children will go to bed hungry this Christmas. Is that the kind of transformation we need?
Become An Evolve Politics Subscriber



Your subscriptions go directly into paying our writers a standard fee for every article they produce. So if you want to help us stay truly independent, please think about subscribing. We literally couldn't function without the support of our fantastic readers.
Subscribe
Or a One-Off Donation to Evolve Politics



If you don't want to subscribe, but still want to contribute to our project, you can make a one-off donation via the donate button below. All your donations go directly to our writers for their work in exposing injustice, inequality and unfairness.
Donate