Stay in touch!
Sign up to be updated with Evolve's latest stories, and for opportunities to get involved.
Furious voters have launched legal action to demand an official recount after ten Conservative Party candidates were elected as Councillors in the May 2nd Local Elections by being awarded substantially more votes than the number of voters who actually turned out.

Of the ten Conservative Party candidates to stand in the Highworth Parish Council election, every single one was somehow awarded more than 3,000 votes despite only 2,477 people actually turning out to vote in the election.
Furthermore, despite the returning officer responsible for the election in the Wiltshire Parish, Susie Kemp, admitting that there had "clearly" been errors made in the count, she told residents that because she had already declared the result, there was nothing more she could do about it, stating:
"It is very clear that there has been an error in the numbers given in the declaration of the election for Highworth Parish Council.
"The votes allocated to some candidates are incorrect. I cannot be certain that this has had an impact on the candidates elected as I am unable in law to recount the ballot papers once I have declared the results of the election.
"[…] As it stands, those who were declared in the early hours of Friday, 3 May are elected and therefore able to take their seats on Highworth Parish Council."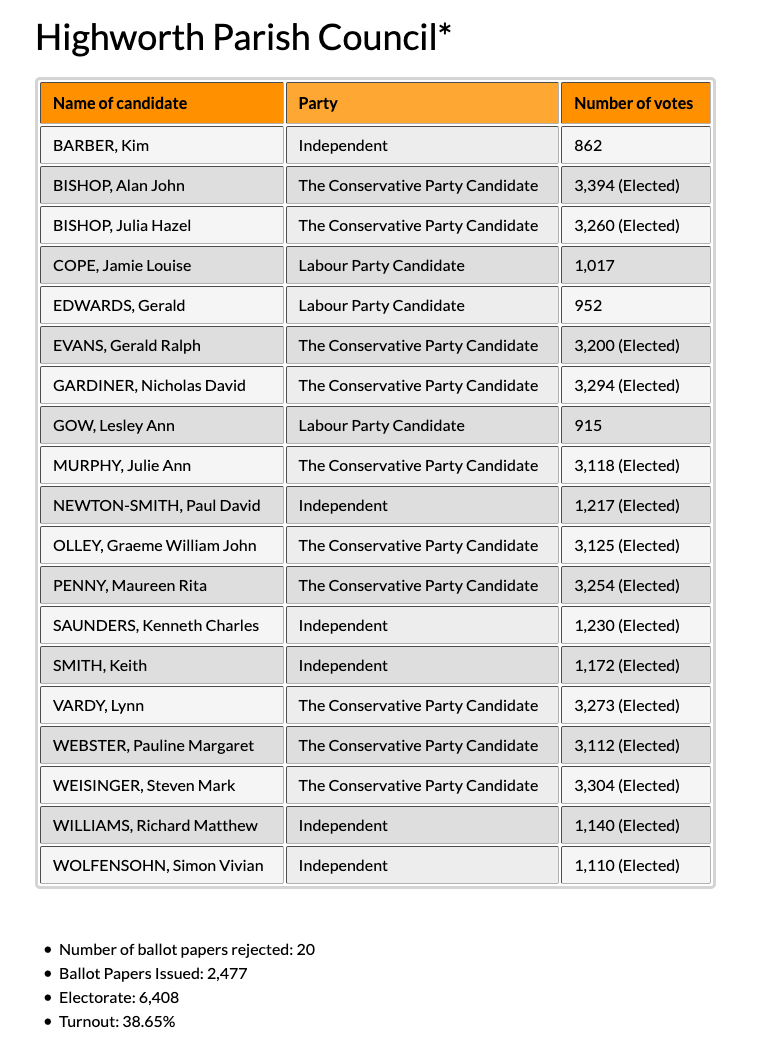 Following Kemp's statement, furious local residents launched a Facebook group called "Democracy for Highworth", which states:
"The community of Highworth is challenging the result of the Town Council election of 2nd May 2019, by legal petition to the High Court.
"At this election more votes were recorded than were cast, and at least one candidate not elected who should have been.
"Following a meeting on Saturday 11th May at the Community Centre, it was agreed to set up this group to publicise the coordinated action being taken by the community, to forward this legal challenge."
Speaking to iNews, Keith Smith, an Independent Councillor and Chair of the Highworth Community Partnership Group, said that immediately after the counts were announced, people felt "uncomfortable" and told the returning officer that the numbers were "not right", stating:
"When the count was announced at 4am people felt uncomfortable but didn't know why, […] the returning officer called the vote and after that a group of people crowded around her and said 'this is not right' and she said, 'look we are all tired I will sort it in the morning' which, of course, she couldn't because once she is declares the result it's law. It was all too late."

Smith also added that:
"We know for definite that the Conservative party candidates were given too many votes each. So this evening we have got our first new council meeting with a town council that, in law, is accurate but in everybody's mind is not,"
"We cannot be sure that the right people are duly sitting on the council."
However, Smith did not feel the errors were in any way intentional, telling iNews that they most likely occurred due to the block voting system, stating:
"There were 19 candidates standing for 15 seats and the number of ballot papers were 2,477. What happened was they have something called a block vote where, if a ballot paper has only crosses on it for one party so some has voted for all ten Conservative candidates and no one else, they put that [ballot paper] to one side and count them at the end.
"There were 265 of those papers so it was fairly easy, that meant that each candidate of the Conservative party would be given 265 votes each. Instead of that someone multiplied the 265 votes by the ten candidates giving them 2650 votes each from the block voting."
Adding that:
"Everybody is up in arms, we are a concerned little town. We feel that we have been badly treated and we know that the only way we can deal with this is to go to the High Court.
"We believe in democracy and we want this sorted out. This is not malicious, it's not Zimbabwe, there is no skulduggery, but it's a huge error. It is so huge that nobody can sure that they have been duly elected."
Responding to the situation, a spokesperson for Swindon Borough Council stated:
"Unfortunately, there was an accounting error when the bloc votes for Highworth Parish Council were counted.
"This was clearly a case of human error at the end of a very long night of counting, but a full investigation is being carried out to ensure this does not happen again. We have informed the relevant candidates and apologised."
It is understood that Swindon Borough Council will not be challenging the petition launched by the Democracy for Highworth group.
If the petition is successful, the group will be reimbursed for all funds raised.