After the tumultuous US election last year, internet giant Google, along with many other corporations and politicians, declared their very own "war on the fake news". This year, the search engine has implemented changes to the algorithm used to display results, with the intention of blocking as much as what they call "low-quality" information as possible. Google has cited "conspiracy theories" and "fake news" as their main targets, but their latest changes have been proven to be tantamount to censorship in the United States.
The World Socialist Web Site (WSWS) has revealed that its own traffic rankings in Google, as well as the rankings of many left-wing, progressive news outlets have fallen massively since the change. Moreover, the left-wing sites affected publish factually correct and well-sourced information, and arguably have better track records than much of the mainstream press in the U.S – who are known for their blatant distortion of the truth and rabid right-wing bias.
Explaining the changes to their algorithm, Google said:
"Last month, we updated our Search Quality Rater Guidelines to provide more detailed examples of low-quality webpages for raters to appropriately flag. These moderators are instructed to flag "upsetting user experiences", including pages that present "conspiracy theories", unless the query clearly indicates the user is seeking an alternative viewpoint."
What this vague statement from Google neglects is that often, the so-called 'alternative viewpoint' is the correct one. When one searches about the impact of Conservative austerity, for example, they will be flooded with mundane think-pieces and reports from politicians talking about "living within our means" – instead of the work that EvolvePolitics and many others do exposing the economic motives behind it and the real impact that it has on ordinary working people. By Google's logic, this 'alternative viewpoint' will be in direct contradiction with what the vast majority of the mainstream media say – and should therefore be bumped down the pages in search results. Moreover, ensuring that more users do not see alternative content is tantamount to censorship. It is deeply worrying that such a large company is trying to influence political discourse in this way.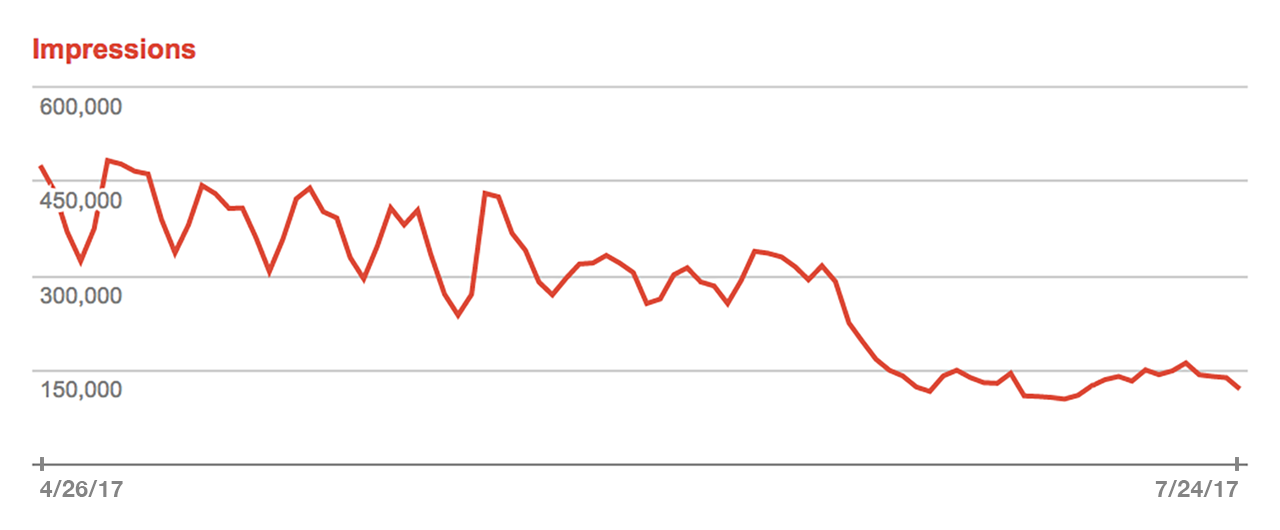 According to the World Socialist Web Site, referrals from Google searches to the site have fallen by around 70% since Google enacted the so-called 'quality control' changes – despite all of their content not only being legitimate but vital in an age of establishment media misinformation. David North, the chairperson of the International Editorial Board, said:
"The World Socialist Web Site has been in existence for nearly 20 years, and it has developed a large international audience. During this past spring, the number of individual visits to the WSWS each month exceeded 900,000.

While a significant percentage of our readers enter the WSWS directly, many web users access the site through search engines, of which Google is the most widely used. There is no innocent explanation for the extraordinarily sharp fall in readers, virtually overnight, coming from Google searches.

Google's claim that it is protecting readers from 'fake news' is a politically motivated lie. Google, a massive monopoly, with the closest ties to the state and intelligence agencies, is blocking access to the WSWS and other left and progressive web sites through a system of rigged searches.

In the three months since Google implemented the changes to its search engine, fewer people have accessed left-wing and anti-war news sites. Based on information available on Alexa analytics, other sites that have experienced sharp drops in ranking include WikiLeaks, Alternet, Counterpunch, Global Research, Consortium News and Truthout. Even prominent democratic rights groups such as the American Civil Liberties Union and Amnesty International appear to have been hit.

The actions of Google constitute political censorship and are a blatant attack on free speech. At a time when public distrust of establishment media is widespread, this corporate giant is exploiting its monopolistic position to restrict public access to a broad spectrum of news and critical analysis."
The rise of the new left-wing media here in the United Kingdom has been noted by many mainstream journalists, with Jim Waterson of Buzzfeed acknowledging that sites like EvolvePolitics and The Canary are now having a decisive impact on the British political conversation – and play a vital role in rebutting misinformation about Jeremy Corbyn, the Labour Party, and the wider British left. Some have even claimed that alternative media outlets swung the election in favour of a hung parliament, after it was revealed that many articles from the new left media were shared far more on average than their counterparts in the mainstream media.
The base and readership that EvolvePolitics, The Canary, Skwawkbox and others have amassed mean that their ability to influence debate is undeniable. Have Google tried to halt the surge of new media outlets under their "war on fake news" façade in the United Kingdom too? The impact that Google's blatant censorship has had in the United States is clear to see, and EvolvePolitics can reveal that Google search referrals to our site have dropped by 50% in the last month.
If it is having a similar impact on websites here in the United Kingdom, we must fight back against this attempt to stop the public from accessing vital information and analysis on the twisted Conservative agenda, as well as the conspicuous mainstream media bias against the progressive values we espouse. If we all work together – we can reach our full potential and change this country for the better, no matter what Google throw at us.
Become An Evolve Politics Subscriber
Your subscriptions go directly into paying our writers a standard fee for every article they produce. So if you want to help us stay truly independent, please think about subscribing. We literally couldn't function without the support of our fantastic readers.
Subscribe
Or a One-Off Donation to Evolve Politics



If you don't want to subscribe, but still want to contribute to our project, you can make a one-off donation via the donate button below. All your donations go directly to our writers for their work in exposing injustice, inequality and unfairness.
Donate