Despite losing their majority, and therefore any mandate for leading Brexit negotiations, the Tories still seem hellbent on implementing the harshest of all possible Brexits on the British public.
With the prospect of cutting ties with the EU single market, an impending trade deal with the US has seen the controversial subject of British food standards hit the headlines, with many worried that stringent EU regulations will be scrapped in favour of cutting costs and regulations – lowering both the safety and quality of British food in the process.
In the past few days, the bulk of debate has been around 'chlorinated chicken', with Tory Brexit secretary Liam Fox refusing to confirm whether he'd actually be prepared to eat one. (For the life of me I can't work out why nobody has yet run the headline: "FOX REFUSES TO EAT CHICKEN".)
But as you'll see, the irredeemably unappetising dish of chlorinated chicken could well be the least of our worries for British food standards should the Tories be allowed to negotiate any future UK/US trade deal. 
Here are some other extremely worrying things that a Tory-led UK/US trade deal could serve up:
Steroid-Fed Beef
Cattle farmers in America are allowed to pump their cows full of steroids to literally beef them up, increasing the speed at which they grow and the amount of meat each cow produces.
However, steroid-fed beef has been linked to human sub-fertility as well as an increased risk of cancer, and there is still no definitive proof that modifying cattle with growth hormones is safe for human consumption in the long term. 
EU regulations specifically ban steroid-reared beef from entering the human food chain due to their being ongoing concerns and a lack of evidence proving its safety, but in the US almost all of the beef on sale has been enhanced with steroids.
If the Tories get their way on deregulating UK food standards, and you fancy eating a steak or a burger, steroid-fed beef could soon be the only option.
Ractopamine-fed Pork (a drug that's banned in 160 countries)
Due to serious questions about its safety, 160 countries including Russia and China have banned or highly restricted the use of the beta-agonist ractopamine from being used to boost growth in pigs. However, the American pork industry feeds it to 60-80% of all the animals that enter the food chain. 
Beta-agonists such a ractopamine were originally developed to treat symptoms of asthma, but were adapted for use in farming when they were shown to boost growth rates. The US Food and Drug Administration (FDA) approved the use of ractopamine after just one (very inconclusive) human health study that just happened to be conducted by the manufacturers of the drug itself, Elanco. The drug was approved by the FDA despite one of the participants dropping out because his heart began racing and pounding abnormally.
Three years after this trial, and after numerous cases of diseased pigs, the FDA effectively admitted the drug was not safe, warning manufacturers to add the message 'Ractopamine may increase the number of injured and/or fatigued pigs during marketing. Not for use in breeding swine' on its labels.
Other warning labels on the drug include: "Not for use in humans," and "individuals with cardiovascular disease should exercise special caution to avoid exposure."
Since 1998, more than 1,700 people have reportedly been "poisoned" from eating pigs fed the drug, and ractopamine has been linked with a huge swathe of problems such as a reduction in reproductive function, birth defects, chromosomal abnormalities, behavioural changes, an increased likelihood of disability and even death.
Despite these numerous problems, if you're eating pork in America, chances are it's been fed this drug.
If the Tories get their way, the next time you tuck into a bacon sandwich, it could well be laced with a side-serving of tasty ractopamine. 
Shit Chocolate
Yep. It's possible that even chocolate might not be off limits in the Tories plans of mass deregulation.
Have you ever tasted American chocolate? Ever wondered why it tastes so disgusting? That's because US standards require manufacturers to add a measly 10% of cocoa solids into the mix to be able to legally call it 'chocolate'. British chocolate requires more than double this at 25% cocoa solids. This is why Americans can't get enough of British chocolate!
It is entirely possible that the Tories would be willing to scrap our stringent chocolate laws to allow US companies to compete – a scenario not even worth thinking about. 
What is the deal with chlorinated chicken, anyway?
Chlorinated chicken does exactly what it says on the tin. It's chicken, washed in chlorine. Appetising, eh.
The USA currently washes all chicken carcasses with chlorine or peroxyacetic acid in an attempt to rid them of bacteria such as salmonella and campylobacter.
Instead of preventing diseases by implementing stringent hygiene standards during all stages of rearing and slaughter, the American meat industry is allowed to cut costs by making up for it by using chemical washes at the end of the process instead. However, the 'easy-fix' solution of chemical washes are never 100% effective in killing all pathogens.
In contrast, the EU prefers a preventative method rather than an end-stage cure, implementing strong regulations on hygiene and conditions at all stages of production. 
What kind of food industry does Britain really want?
Whilst it still hasn't been established exactly how safe using chlorine on food products is for the end consumer, the main argument in the case of chlorinated chicken is not about the use of the chemical – it's about what kind of industry we want to have.
Do we want a deregulated food industry in which the quality of the end product is poor, in which animals are allowed to suffer from illness and appalling conditions, and in which a handful of huge corporations are allowed to make obscene profits. Or do you want an industry where animals aren't treated so badly, are not allowed to become diseased or overcrowded, and are given at least a shred of dignity before they end up on someone's plate?
American Food "Standards"
The American public has been so desensitised to sh*t food, that the product shown in the picture below is a real item you can buy in the US.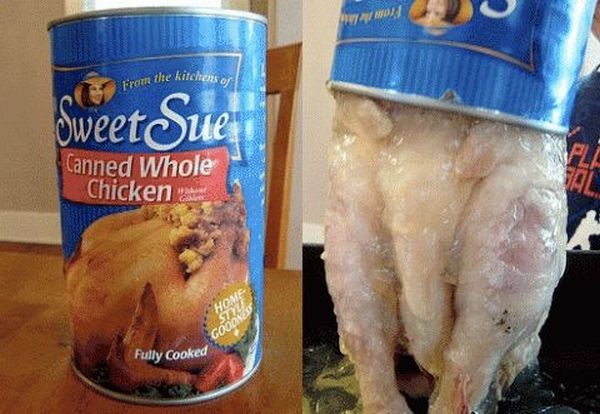 Do you really fancy our food standards dropping to the point where we think this whole canned chicken is actually acceptable?
A disaster for farmers and animal welfare
Challenged by cheaper imports from the US, any Tory-negotiated UK/US trade deal would also result in utter disaster for British farmers. This virtual cleansing of the sector would clear the way for already huge corporations to gain control over the majority of the market and desperately hard-up individual farmers, much as they do already in the US.
And whilst government departments are doing their best to allay any fears over the binning of the current stringent animal welfare laws, a new report from the house of Lords has outlined exactly why the Tories' careful rhetoric on food standards is not matched by their real duplicitous intentions.
The report states that:
The government's wish for the UK to become a global leader in free trade is not necessarily compatible with its desire to maintain high animal welfare standards
Even before the Brexit referendum, the Tories were already planning moves to scrap animal welfare laws. The fact that Britain has now voted to leave the EU means that the Tories essentially have free reign to strip away standards much further than would be allowed within the Union. 
Become An Evolve Politics Subscriber



Your subscriptions go directly into paying our writers a standard fee for every article they produce. So if you want to help us stay truly independent, please think about subscribing. We literally couldn't function without the support of our fantastic readers.
Subscribe
Or a One-Off Donation to Evolve Politics



If you don't want to subscribe, but still want to contribute to our project, you can make a one-off donation via the donate button below. All your donations go directly to our writers for their work in exposing injustice, inequality and unfairness.
Donate