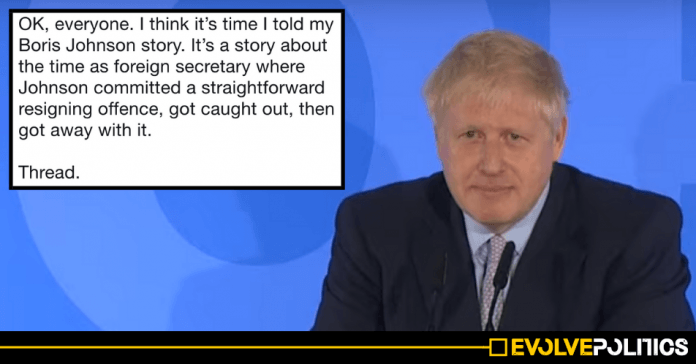 All the evidence shows that Boris Johnson is a liar, a cheat, a fraud, and an outright charlatan who can't be trusted to deliver on literally anything he says – but, astonishingly, many are still pinning their hopes on him to be the person to finally solve the Brexit crisis and deliver on the result on the 2016 EU referendum.
However, if you're still holding out hope that, despite his ridiculously long track record of lies and failure, Boris might somehow stay true to his word this time, you might want to take a read of a thread that's currently going viral about him.
Written by Jonthan Lis, the Director of independent think tank, British Influence, the astonishingly viral thread documents his meetings with EU ambassadors and what they had to say about Boris Johnson's ridiculous duplicity during his time as Foreign Secretary:
"OK, everyone. I think it's time I told my Boris Johnson story. It's a story about the time as foreign secretary where Johnson committed a straightforward resigning offence, got caught out, then got away with it. Thread."
 
"This is a story about the time, late in 2016, that Johnson told the EU's ambassadors in London that he was in favour of free movement of people. I know he did this, because they told me."
 
"In October 2016 my organisation was licking its wounds from the referendum and building itself as a soft-Brexit thinktank and campaign group. We realised the UK political establishment was talking to itself and we thought it was useful to talk to the EU."
 
"So we started engaging with the EU embassies in London to find out what national capitals thought about the situation and how the UK gov's early movements on Brexit were being perceived. We had dozens of fruitful meetings with ambassadors."
 
"It was a few weeks after the 'citizens of nowhere' Tory party conference and they were uniformly aghast at the government's behaviour, rhetoric and tone. None of them could believe what had happened to British politics in such a short time."
 
"One day I talked to an ambassador who was particularly scathing about the level of chaos, disrespect and shambolic diplomacy. At one moment they leaned forward and said (exact words): 'Boris Johnson has been openly telling us that he is personally in favour of free movement.'"
 
"I genuinely couldn't believe what I had heard. In that most delicate period of pre-negotiation, Britain's chief diplomat and Brexit's most important cheerleader had been telling the EU that he didn't subscribe to Brexit's most foundational element."
 
"Everything in late 2016 was about ending free movement. It had been the most important message of the referendum campaign and was at this time the gov's only concrete Brexit policy. And here was the foreign sec apparently telling our negotiating partners he didn't believe in it."
 
"I began asking other ambassadors what Johnson had told them. I noted down their words exactly."
 
"One ambassador said: 'He did say he was personally in favour of free movement, as it corresponds to his own beliefs. But he said it wasn't government policy.'"
 
"Another said: 'He told us he was personally in favour of it, but he said that Britain had been more affected by free movement of people than other EU member states.'"
 
"I asked a fourth ambassador if they had heard him say it and they replied – and this is important: 'Yes, he told us at an ambassadors' luncheon.'"
 
"I asked a fifth ambassador, and this is also important. They said they hadn't heard him say it. They had only encountered Johnson at a breakfast meeting at the Slovak embassy."
 
"Johnson had arrived late and pissed them off, but he hadn't said he was in favour of free movement."
 
"One of the ambassadors suspected Johnson, a Remainer and London liberal, was embarrassed to be in a room of European counterparts and wanted them to know he wasn't 'really' one of 'them' – but that hardly excused him. Ambassador was outraged."
 
"I knew this story was massive. We'd voted to leave largely because of freedom of movement, and Boris Johnson was the face of that campaign and architect of its victory."
 
"Now it transpired he didn't believe in the premise that led people to vote for him. In public, as foreign secretary, he vigorously opposed free movement and made numerous arguments against it. In private he was prepared to admit that was a lie – and admit that to his opponents!"
 
"It was not only a kick in the teeth to his supporters, but it fatally undermined his own government. If the foreign secretary and face of Brexit didn't take ending free movement seriously, why on earth should the EU?"
 
"Specifically: why would EU respect UK's negotiating demands when the foreign secretary didn't even subscribe to them? If he knew free movement was beneficial, why was he straining every sinew to end it? If he didn't believe in Brexit, why were we Brexiting?"
 
"We decided to tell the story to two journalists. We didn't want to own it but didn't exactly do everything to distance ourselves from it either. Both Sky and the Times quoted me welcoming Johnson's support for staying in the single market."
 
"One journalist contacted the FCO immediately for comment. One of Johnson's senior advisers confirmed it was true. And then all hell broke loose."
 
"Johnson and his team quickly realised how damaging it was. Staff said they had never seen him so angry. He knew his deceit had finally caught up with him and he was cornered."
 
"And so, as the story broke and led the bulletins on Sky, Johnson's team mounted a rapid and genuinely impressive media disinformation campaign."
 
"While they'd originally confirmed the story, now they said it wasn't true. Their phrase was 'a total lie'. They pretended Johnson had only professed support for immigration in general, as though the ambassadors couldn't understand English."
 
"But here was the really clever part: the only minuted meeting was the breakfast at the Slovak embassy. They showed journos the minutes. But what wasn't where he had been heard to say it. Remember what the 5th ambassador said."
 
"The journos following up the story ran after the Slovak embassy and everyone ignored the 4th ambassador, who'd said 'he told us at an ambassadors' luncheon'."
 
"The story quickly died. A prominent TV journo told their viewers that they had seen the Slovak minutes and Johnson was telling the truth. Nobody mentioned the lunch or asked any more questions about it."
 
"Meanwhile another journo contacted one of the ambassadors who'd spoken to me, and confirmed the story. But they wouldn't confirm it on air. It would have been too undiplomatic and too damaging. And obviously I was never going to breach a confidence and reveal their identities."
 
"Johnson batted the story away and he had his proof. Another ambassador from the Slovak breakfast confirmed in public he hadn't said it. It was a post-truth, Bannon-style work of genius."
 
"Meanwhile Johnson had a score to settle. He knew we were behind the story. It wasn't difficult to work out. I was literally quoted by the two journalists who broke it."
 
"And so that weekend I had a call from Johnson's alternate poodle-cum-attack dog, the Sunday Telegraph. They said the FCO suspected we were behind the story and they were going to put it on their front page. They were not, crucially, accusing us of lying."
 
"We panicked. We'd perhaps been naive to get too close to the story. At that point we were still lobbying the gov to keep us in single market and didn't want to burn bridges with gov, Tories or indeed EU embassies. I wanted to confirm, but in the end we denied we were behind it."
 
"And so the Sunday Telegraph printed an anodyne front-page story which declared the story was false, noted we'd met a number of ambassadors and noted our denial of responsibility."
 
"And that was the end of the story. A fascinating brush with the real Boris Johnson. I resolved only to tell it publicly if he ever got close to Downing Street, because his colleagues – Leavers – everyone deserves to know."
 
"I'm sure none of this will change anything and the Tories who want to vote for him still will. But people have a right to know who our next prime minister is, and they should know the truth."
OK, everyone. I think it's time I told my Boris Johnson story. It's a story about the time as foreign secretary where Johnson committed a straightforward resigning offence, got caught out, then got away with it.

Thread.

— Jonathan Lis (@jonlis1) June 13, 2019
We Need Your Help!
Evolve Politics can only continue publishing our truly independent journalism because of the financial support of our readers. If you value our work, please consider subscribing or donating any amount you can afford. Every penny you contribute goes directly to our writers for their work.