A member of the Labour party has laid into the party's recent adoption of the controversial IHRA definition of antisemitism after he was suspended from the party over allegations of anti-Jewish discrimination, despite being Jewish himself.
Martin Odoni, a freelance blogger and Labour member from Exeter, revealed in his latest blog post that he had been suspended from the party over allegations of antisemitism .
Odoni explained that the party had suspended his membership over an image posted on a previous blog post that may "meet the definition of antisemitism adopted by the Labour Party, and thus be in breach of the Labour Party's rule 2.I.8."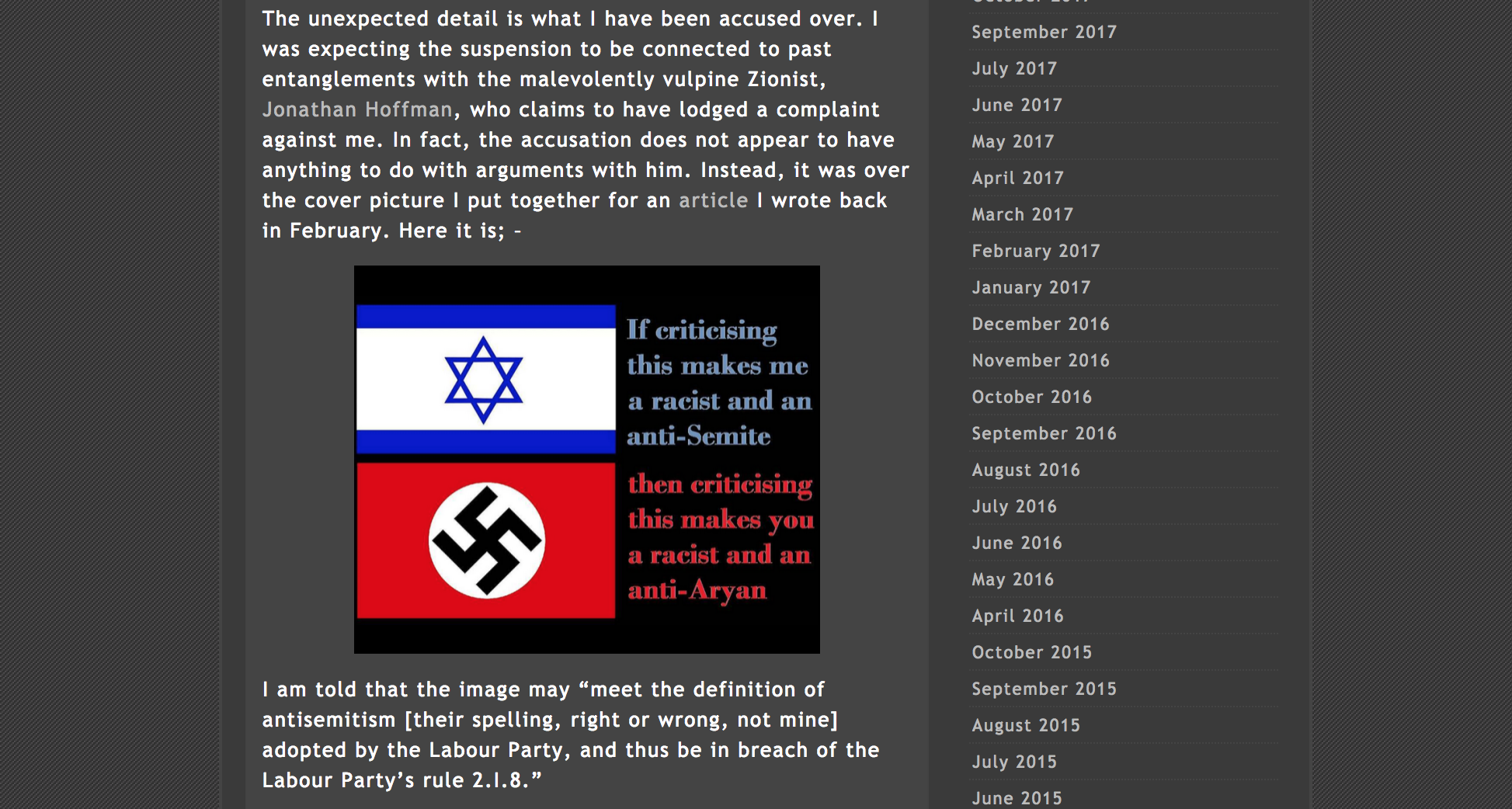 The image in question contained the flag of Israel above a flag of Nazi Germany, with the statement declaring that "If criticising this [the Israeli flag] makes me antisemitic then criticising this [the Nazi flag] makes me a racist and an anti-Aryan."
Odoni, whose Facebook profile picture shows him holding a sign declaring "I am a Jew, but not a Zionist. Now live with it", goes on to blame the Labour party's decision to largely adopt the controversial IHRA definition of antisemitism for his suspension, saying:
"It is entirely possible that I am guilty, given the well-recorded problems with the International Holocaust Remembrance Alliance's working definition of anti-Semitism, which the Labour Party has largely adopted. The dangerous flaw in the definition – that comparing the policy of The State of Israel to that of Nazi Germany is inherently anti-Semitic –  would probably apply here."
However, rather than showing anger at his suspension, Odoni says he is actually "quite pleased" because the clearly extremely controversial decision to suspend a Jewish member over allegations of antisemitism may "force Labour to have a close look at the absurdity of this clause in the definition".
Sign up to be notified of new Evolve Politics articles
Odoni that goes on to explain that:
"What is likely to force the matter is the obvious, big drawback in the allegation against me; it is directed at someone who is ethnically Jewish. As I have said more than once in the past, it is quite possible to be prejudiced against one's own race, but it is very counter-intuitive and rare, so when the suggestion is made, it needs a very strong supporting case. In other words, if anyone wishes to accuse me of being a Jewish anti-Semite, they had better come up with some ultra-solid reasons why."
Odoni goes on to end his blog post by declaring that the clause responsible for his suspension was 'dangerously flawed', stating that:
"Policy criticisms of Israel are not necessarily even anti-Zionist, let alone anti-Semitic, as it is quite possible to support Israel's existence as a Jewish state without supporting its policies. (I support neither, just in case anyone was somehow in any doubt.)
That clause in the definition is clearly horribly, dangerously flawed, that is the clause I appear to be falling foul of, and it is a part of the definition I reject. Being an ethnic Jew, I believe I have an intimate right to dispute it."
The Labour Party have come in for criticism from numerous established Jewish organisations, and a large section of the media, for choosing to amend the IHRA definition of antisemitism in their rulebook to make it both legally applicable whilst also allowing for legitimate criticism of the Israeli government's actions.
The criticism of Labour's decision to amend the text came despite the author who first drafted the text stating that he held serious reservations about it as he believed it was being used to stifle debate on the ongoing Israel – Palestine conflict.
Furthermore, Labour's decision has also come in for criticism from numerous MPs on the right of the party – including the former frontbencher, Chuka Ummuna.
Ummuna's criticism of the NEC's decision to amend the IHRA definition came despite the fact was literally a member of the Home Office Committee who published a report urging the government to amend the IHRA definition before adopting it.
Point 24 of the Home Affairs Committee's report on Antisemitism in the UK, of which Chuka Umunna played a large part in writing, states that:
We Need Your Help!
Evolve Politics can only continue publishing our truly independent journalism because of the financial support of our readers. If you value our work, please consider subscribing or donating any amount you can afford. Every penny you contribute goes directly to our writers for their work.
"We broadly accept the IHRA definition, but propose two additional clarifications to ensure that freedom of speech is maintained in the context of discourse about Israel and Palestine, without allowing antisemitism to permeate any debate. The definition should include the following statements:
•It is not antisemitic to criticise the Government of Israel, without additional evidence to suggest antisemitic intent.
•It is not antisemitic to hold the Israeli Government to the same standards as other liberal democracies, or to take a particular interest in the Israeli Government's policies or actions, without additional evidence to suggest antisemitic intent."
Evolve Politics have contacted the Labour Party for comment on Mr Odoni's suspension. We are so far yet to receive a reply.