Stay in touch!
Sign up to be updated with Evolve's latest stories, and for opportunities to get involved.
That well-known bastion of socialism, The Economist, recently published an article that details the dramatic rise in inequality that has taken place since the Thatcher-led neoliberal assault beginning in the late 1970's.

The article is striking for a number of reasons. First of all it demonstrates just how shockingly divided our country is by wealth, and region – especially compared to other similarly advanced industrialised economies, such as the US.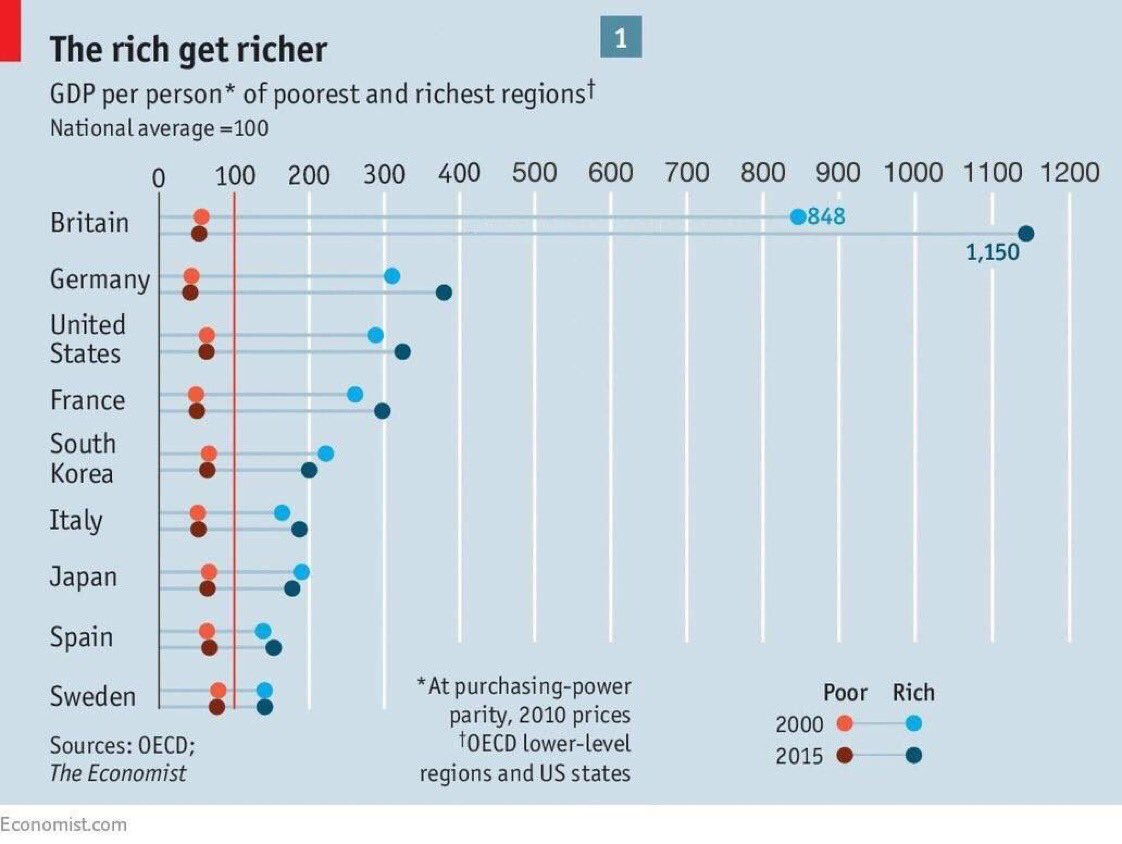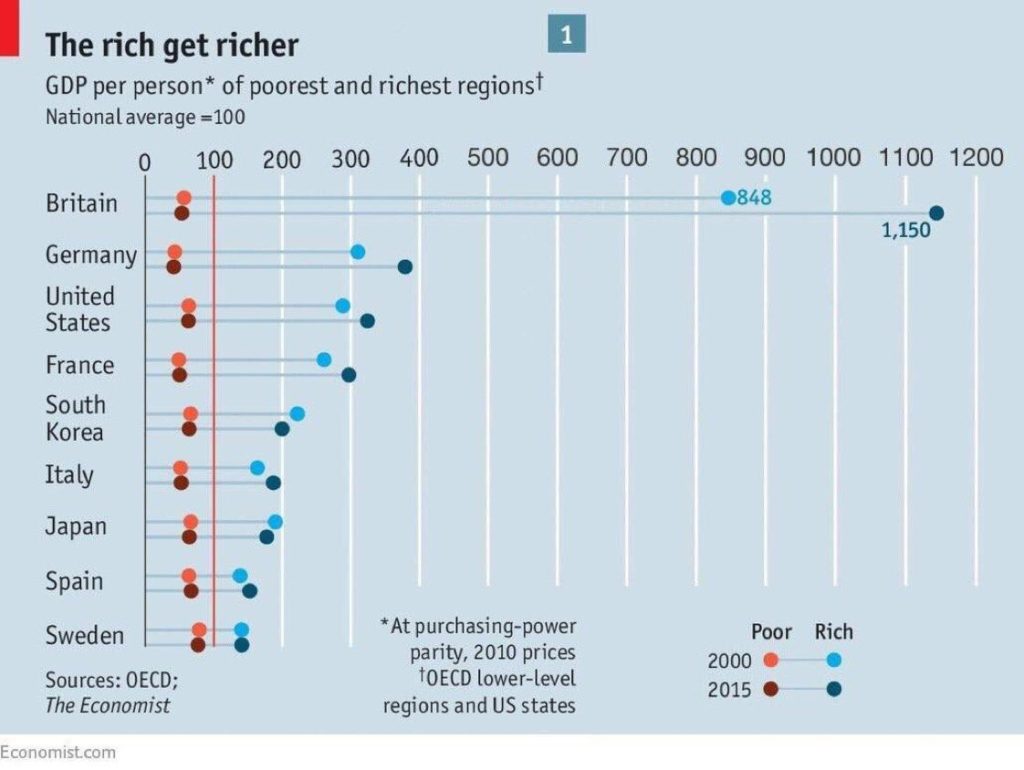 Secondly, the author pinpoints that this inequality is fueled by neoliberal ideology' mainly that of outsourcing production to the third and "developing" world, where cheap labour is easy to exploit, and environmental laws non-existent – things that all add great gains to corporate profits, coupled with growing domestic worker insecurity—poverty, lack of opportunity, etc.

Unlike so many "liberals" who simply believe the Brexit vote was just a bunch of stupid working-class racist plebs living in backwards towns and stepping out of line, The Economist article pinpoints the very real anger and desperation that the effect of outsourcing has had on many prominent Leave-voting areas.
Not to say that racism or xenophobia are not present in Trump-Brexit supporters – they certainly are – but to say this was the primary driver behind their vote is a vast oversimplification and a lazy way of turning people's justifiable anger into something that can be easily weaponised against them. 
The author explains that:
The forces that drive regional disparities are built into the mechanisms of globalisation, which makes them hard to resist. It is true that globalisation could stall or go into reverse.

Indeed the desire that it should do so was part of the reason that voters in north-east Pennsylvania swung heavily to Donald Trump in 2016, delivering him the state. It was in a similar spirit that areas of alienation in Britain, like Teesside, voted for Brexit and France's economically battered north offered strong support to the Front National of Marine le Pen.

But even if globalisation were to stop in its tracks, the regions it has weakened would not magically improve.
And:
Votes for Brexit and for Mr Trump were often cast as an expression of anger at a system that seems rigged. Unless policymakers grapple seriously with the problem of regional inequality, the fury of those voters will only increase.
Looking at the disastrous impact of globalisation on regional inequality the author states that:
A recent report by the OECD found that, in its mostly-rich members, the average productivity gap between the most productive 10% of regions and the bottom 75% widened by nearly 60% over the past 20 years.
Globalism, as is the case with many of OUR political terms, has been hijacked by the business world and refers in this context to corporate domination, ie: corporations taking over every part of the world.
The term itself is meaningless unless you have free movement of people, as well as capital— It simply isn't real globalism.
Regional inequality, of course, also fits in with the picture of the rapid growth of wealth and income inequality since the 1980's in both Britain and the US.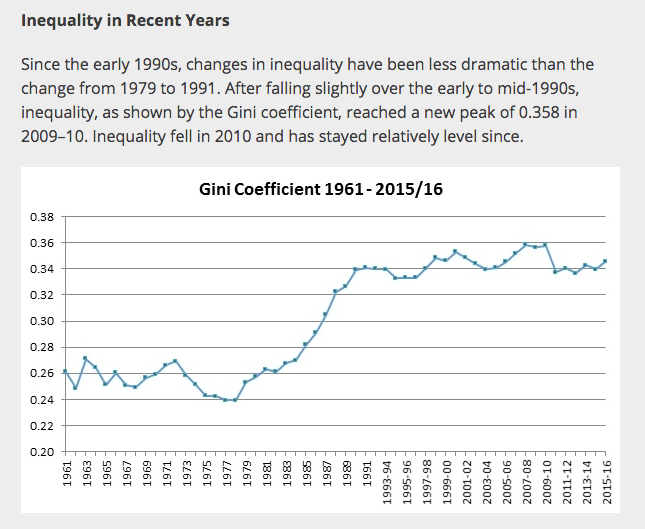 Essentially leaving not just people in certain regions behind, but all of us far behind the top 0.01%.
Interestingly the author points to massive state intervention to support the market and create jobs and opportunities as a solution:
In the early 1990s South Carolina's leaders learned that BMW had plans to open an American factory. Hundreds of cities offered the Bavarians all manner of appetising inducements. South Carolina's winning offering included more than $100m in tax incentives and a $1-per-year lease for the four square kilometres on which the plant would sit. State and local governments promised meaty investments in infrastructure. Clemson University and local community colleges were helped to develop training programmes that could be co-ordinated with the carmaker and its suppliers. A centre for automotive research in Greenville gave the offer an appetising touch of high-tech umami.

The plant BMW has built there is now the firm's largest in the world. But the state's dowry bought more than a dashing groom. The network of firms that supplies BMW has attracted other companies to the region, as have improved transport links to cities in North Carolina and Georgia. Recently Volvo, a Swedish carmaker owned by Geely, a Chinese firm, announced plans to build a factory close to Charleston, a city on South Carolina's coast. Volvo will buy many parts for its vehicles from suppliers which first came to the state to serve BMW.
Not exactly socialism, but it is state-funded-capitalism, or corporate socialism – another classic feature of neoliberalism.
The effects of inequality also have impacts that are rarely accounted for. For instance on health, life expectancy in poorer areas is lower than richer ones even in the same country.

Crime, obesity, infant mortality, social mobility, and so on.
Incidences of mental illness are also far higher in countries that are deeply divided by wealth and income inequality.
Interestingly, the effect on mental health is spread quite evenly across the population and across different classes and levels of income. This means that living in a greatly unequal society is actually bad for everybody, including the well-off and very rich.
This is not the first time that the UK has been singled out for its vast inequality, in 2016 the BBC reported that:
The richest 1% of the UK population owns more than 20 times the wealth of the poorest fifth, according to Oxfam.

That made Britain one of the most unequal countries in the developed world and contributed to the vote for Brexit, the charity said.

Its analysis found that about 634,000 Britons were worth 20 times as much as the poorest 13 million people.
Again linking gross inequality to frustration at the political system and alienation from it.
In the 10 years since the last interest rate rise:
*The cost of goods is 27%⬆
*Real pay is 2.5%⬇
We need an economy that works for the many

— Richard Burgon MP (@RichardBurgon) November 2, 2017
The sad reality is that much of the anger, despair, and very real suffering inflicted on many by neoliberalism has also lead to them turning to buffoons like Trump, and voting for Brexit – even though neither of these movements provides any real solutions to the problems people are facing.
Trump's recent "tax plan" will only increase the vast inequalities that drive the anger and frustration in the first place.

A large section of the population no longer has any faith in the political system – so ineffective has it become – that they are willing to simply try anything that looks or sounds different.
The effects of neoliberalism are ugly in multiple ways, and they are dangerous for all of society: blaming and scapegoating everybody from Muslims to teachers to the disable as a supposed source of societies' suffering.
It is the job of the left to formulate solutions to suffering and fight back against the neoliberal system and its effects.
The Corbyn movement is a start to solving these very real problems, but let's make sure it isn't also the end.
Become An Evolve Politics Subscriber
Your subscriptions go directly into paying our writers a standard fee for every article they produce. So if you want to help us stay truly independent, please think about subscribing. We literally couldn't function without the support of our fantastic readers.
Subscribe
Or a One-Off Donation to Evolve Politics
If you don't want to subscribe, but still want to contribute to our project, you can make a one-off donation via the donate button below. All your donations go directly to our writers for their work in exposing injustice, inequality and unfairness.
Donate