The man who appeared to strike a protestor in the face after a speech by Jacob Rees-Mogg at the University of The West of England was disrupted by protestors has been exposed partying wearing a Nazi uniform.
Paul Townsley, who has been widely referred to as a 'bodyguard' to Jacob Rees-Mogg on social media after coming to his defence during the meeting, has been exposed wearing the Nazi SS attire in an exclusive article released by The Skwawkbox today.
Excl: Rees-Mogg 'white-shirt' partying in nazi uniform https://t.co/2qOBLJ5M3p pic.twitter.com/vENBA7g5lf

— The SKWAWKBOX (@skwawkbox) February 5, 2018
Jacob Rees-Mogg has reportedly denied knowing Townsley on a personal or professional level, but several social media users have circulated pictures linking the man to a private security company, Eyewitness Protection.

Can you answer this question @Jacob_Rees_Mogg?

The man who appeared to punch a woman and start the UWE fracas appears to be part of your @Eyewitnesspro security team.

Yet you are reported as saying you didn't know him.

Can you clarify?

(HT various internet sleuths) pic.twitter.com/B9QcaGyG2L

— Peter Jukes (@peterjukes) February 5, 2018
Townsley is a martial arts instructor at the Chipping Sodbury tang Soo Do Centre, who state on their Facebook page that they train both adults and children in martial arts.
Chipping Sodbury Tang Soo Do Martial Arts Centre have been contacted for comment on Townsley's choice of party-wear, but have yet to respond at the time of publication.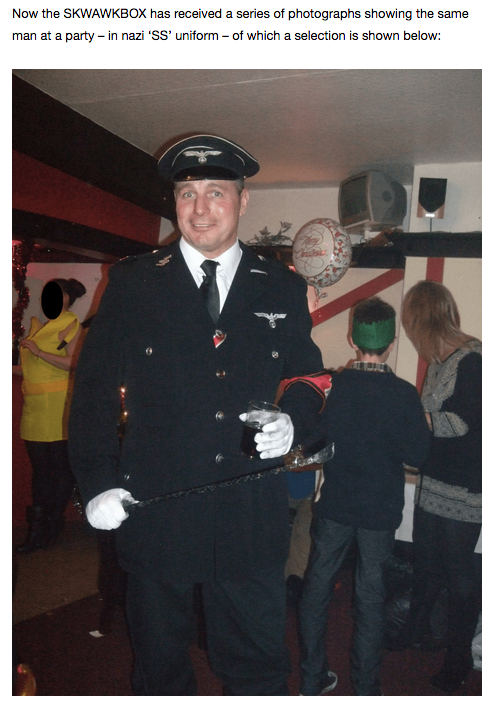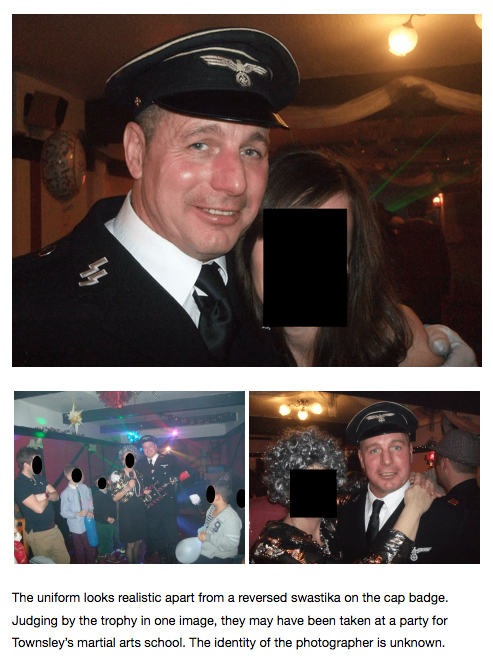 Townsley – seen below in the white shirt – can be clearly seen barging into the group of protestors at the University of the West of England last week:
Just watch this white shirt guy.. this is what actually happened https://t.co/mE33P81Ndf

— ARTIST TAXI DRIVER (@chunkymark) February 4, 2018
Moments later Townsley can be seen appearing to strike the female protestor, which then leads to retaliation from the group of protestors.
The pictures exposing Tory supporter Townsley partying in a Nazi uniform will come as a huge embarrasment to North East Somerset MP Rees-Mogg, who has previously been forced to apologise after being exposed dining with far-right activists.
Mogg has said that he 'deeply regrets' sharing a table with the far right group whose member Gregory Lauder-Frost reportedly spouted a hate-filled attack, calling Baroness Lawrence a n***er, and labelling TV presenter Vanessa Feltz a a 'fat Jewish slag'.
Become An Evolve Politics Subscriber



Your subscriptions go directly into paying our writers a standard fee for every article they produce. So if you want to help us stay truly independent, please think about subscribing. We literally couldn't function without the support of our fantastic readers.
Subscribe
Or a One-Off Donation to Evolve Politics



If you don't want to subscribe, but still want to contribute to our project, you can make a one-off donation via the donate button below. All your donations go directly to our writers for their work in exposing injustice, inequality and unfairness.
Donate