Labour leader Jeremy Corbyn has pleaded with Britain to "stop walking by" in a simple but heartfelt tribute to a homeless man who was found dead just yards away from the Houses of Parliament yesterday morning.
Emergency services attended Westminster tube station after calls were made by outreach workers who reported an "unresponsive" man close to a high-security House of Commons side entrance at around 07:15 yesterday morning.
Police said the man was found in the underpass of exit three of Westminster Underground station, and despite resuscitation attempts being made, the man was pronounced dead at 7.33am.
The unnamed deceased man, who was said to have had an 'engaging personality in tragic circumstances', was a familiar face to MPs, who would often pass him by on their way to the House of Commons.
Jeremy Corbyn's staff were also said to have regularly brought the man hot food from the Portcullis House Canteen.
Following the announcement of the man's death, Corbyn's team are said to have been devastated, with a spokesperson tragically stating:

He died outside the very building that should have saved him. We are heartbroken.
However, it was Jeremy Corbyn's own words that epitomised the true tragedy of this needless event. On a handwritten card left on the spot where the man died, attached to one of just two bouquets of flowers, the Labour leader simply wrote:
This should never have happened. As a country we must stop walking by. Rest in peace.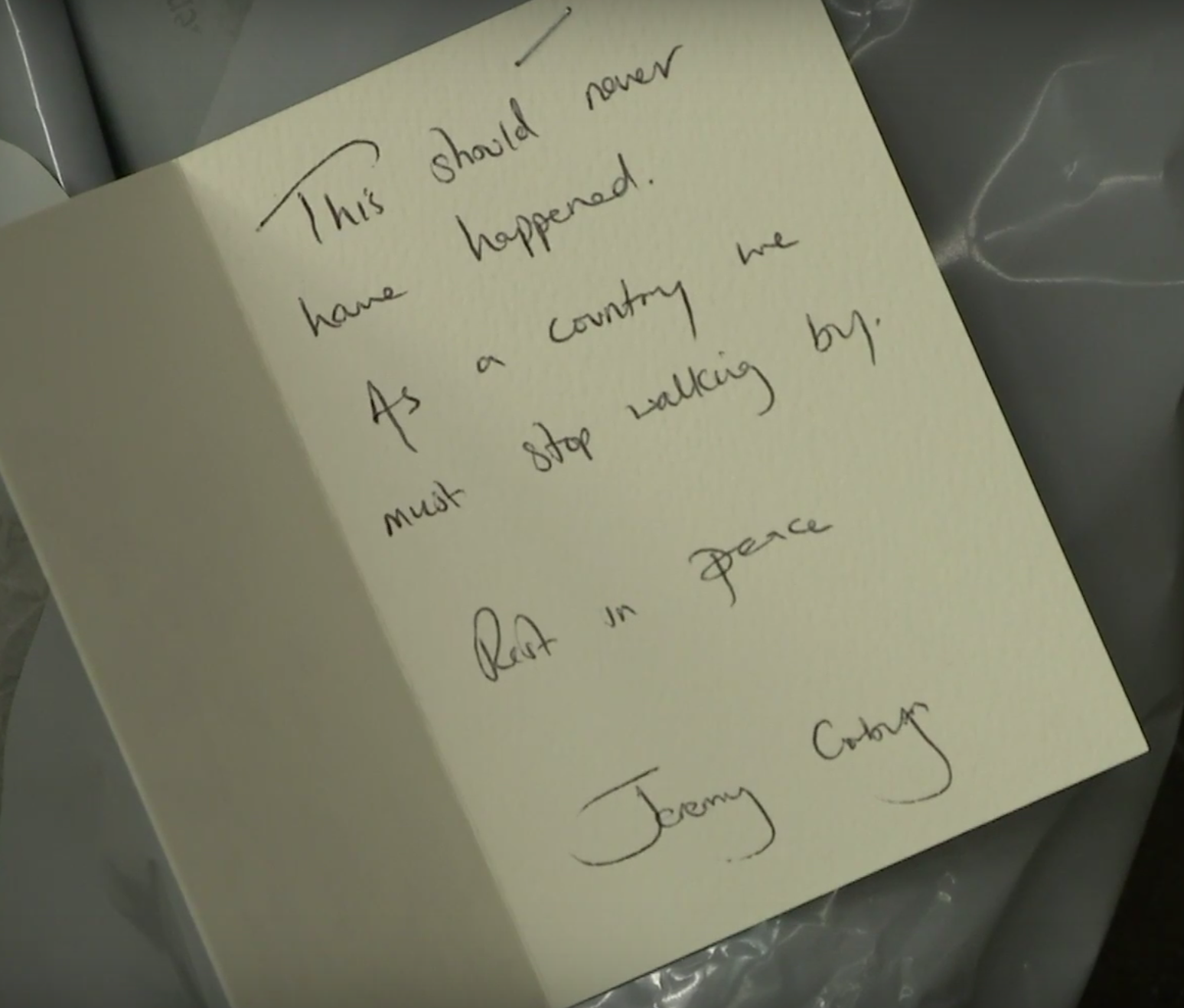 The Labour leader's heartfelt words should surely resonate loudly across Britain – a country where millions of ordinary people are now living paycheque to paycheque, without so much as £100 in savings to their names, with most only one accident or job-loss away from being out on the streets themselves.

Whilst Corbyn's tribute highlighted his true emotion at this latest needless death, a Commons spokesman simply said:
We are saddened to hear of the death of an individual this morning at Westminster tube station and offer our condolences to their friends and family at this difficult time.

Rough sleeping in Britain has risen every single year since the Tories came to power in 2010, with a 15% rise in the last year alone.
Almost 5,000 will be sleeping on the streets of Britain tonight – and this, in one of the richest countries in the world where there is so obvious plenty to go around, is completely and utterly unforgivable. This kind of tragedy, when it's clearly, obviously, so easily avoidable, should make every person in Britain realise that that could be them, or a family member.
And yet, despite their complete failure to address the glaringly widespread issues that have led to this dramatic rise in homelessness – such as soaring rents and skyrocketing food prices, combined with falling wages, increasingly insecure work, and a supposed safety net welfare system that is being cut to the bone through Tory cuts – much of Britain still, inexplicably, have faith that the incumbent shambles of a government really are trying to make things better for those who are 'just about managing'.
Thoughts and prayers won't cut it this time we're afraid. Enough really is enough. As Jeremy Corbyn has always said; housing should be a human right. Now let's make sure everybody can afford this simple, lifesaving dignity.

Become An Evolve Politics Subscriber



Your subscriptions go directly into paying our writers a standard fee for every article they produce. So if you want to help us stay truly independent, please think about subscribing. We literally couldn't function without the support of our fantastic readers.
Subscribe
Or a One-Off Donation to Evolve Politics



If you don't want to subscribe, but still want to contribute to our project, you can make a one-off donation via the donate button below. All your donations go directly to our writers for their work in exposing injustice, inequality and unfairness.
Donate