Just five months after a catastrophic fire at Grenfell Tower claimed the lives of approximately 80 people, Kensington's local Conservative party have been exposed conducting a survey asking local residents if they still cared about the tragedy.
In the letter, first published on the Guido Fawkes website, the Kensington, Chelsea and Fulham Conservatives survey asks residents 'how important' the Grenfell Tower tragedy was to them still.
Residents were asked to choose on a scale of 0 – 10, with 0 being 'not at all' to 10 being 'very important'.
In the poll to residents, Kensington Conservatives had listed the Grenfell Tower tragedy amongst other local issues such as 'Recycling', 'rubbish collection' and 'street cleaning'.
Kensington MP Emma Dent Coad was scathing of the survey, telling Evolve Politics that:
The RBKC Conservatives would like us to believe that there has been a 'culture change'. This just shows we can't believe anything they say.
And, unsurprisingly, the survey has also come in for fierce criticism on social media.
One Twitter user described the poll as:
Grotesque beyond words. Total sensitivity bypass
Whilst others have branded the Tories' question as both 'disgusting' and 'shocking'.
Many others on social media have speculated that Kensington Tories were asking residents this specific question to gauge whether the Tory-led council could get away with 'sweeping the issue under the carpet'.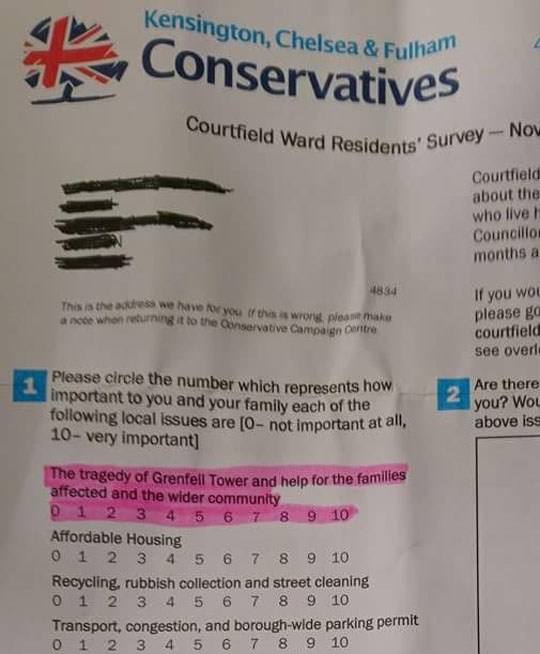 Seeing as this survey first appeared on Guido Fawkes – a website who usually only reluctantly report Tory misdemeanours – it's safe to say that the question about Grenfell that Kensington Tories have included in the survey was incredibly ill-advised.
Evolve Politics have contacted Kensington, Chelsea & Fulham Conservatives for comment. We are yet to receive a response.
Become An Evolve Politics Subscriber



Your subscriptions go directly into paying our writers a standard fee for every article they produce. So if you want to help us stay truly independent, please think about subscribing. We literally couldn't function without the support of our fantastic readers.
Subscribe
Or a One-Off Donation to Evolve Politics



If you don't want to subscribe, but still want to contribute to our project, you can make a one-off donation via the donate button below. All your donations go directly to our writers for their work in exposing injustice, inequality and unfairness.
Donate