The deadline for Labour MPs to secure enough nominations for the impending leadership election has long now passed, and after Jess Phillips pulled out of the race, there are just four MPs – Keir Starmer, Lisa Nandy, Emily Thornberry, and Rebecca Long-Bailey still in the running to replace Jeremy Corbyn as the new leader of the party.
Keir Starmer, Lisa Nandy and Rebecca Long-Bailey have also now secured the requisite amount of support from CLPs, Trade Unions and Labour affiliates – meaning all three have officially confirmed their places on the final ballot paper. However, Emily Thornberry appears to be struggling to make up the numbers.

As part of the election, Evolve is compiling in-depth profiles of each leadership candidate in order to give Labour members and the general public the full picture of what to expect, should they become Labour leader on April 4th.
Evolve have already published an in-depth profile of the current frontrunner and bookies' favourite, Keir Starmer – which you can read here.
However, Rebecca Long-Bailey – who is widely seen as the left's preferred candidate to continue Jeremy Corbyn's policy agenda – is currently the second favourite.
As such, you can find our second Labour leadership election candidate profile of Rebecca Long-Bailey below.
Labour Leadership Election 2020 Profile: Rebecca Long-Bailey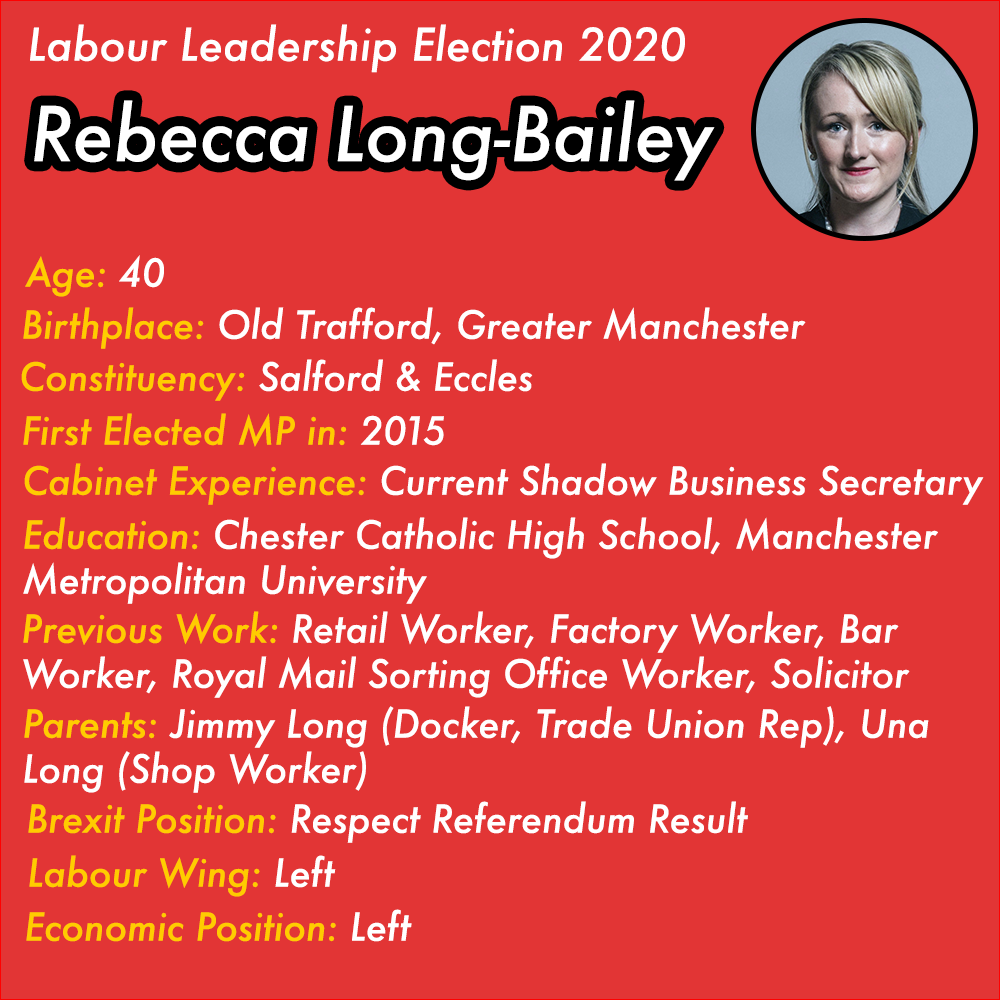 What is Rebecca Long-Bailey's background?
Rebecca Long-Bailey was born in 1979 in Old Trafford, Greater Manchester. Her father, Jimmy Long, worked on the Shell Barton Docks in Salford, and was also a Trade Union Representative. Her mother, Una, was a shop worker and a lifelong member of the Labour Party.
Where did Rebecca Long-Bailey go to School and University?
Long-Bailey attended Chester Catholic High School, before studying Politics and Sociology at Manchester Metropolitan University (MMU) alongside various part-time law conversion and solicitors' courses. She then went on to study law at MMU whilst completing her solicitor training conversion course.
What was Rebecca Long-Bailey's career before becoming an MP?
Before going to university, Long-Bailey worked in various jobs. At the age of 16 she began working in a pawn shop, before working shifts in a number of call centres, a sofa factory, a Royal Mail sorting office and in a bar.
After university, Long-Bailey worked for various law firms as a trainee solicitor and paralegal, where she focussed on landlord and tenant law. In 2007, she qualified as a solicitor and moved to Hill Dickinson where she specialised in commercial law, commercial property, NHS contracts and NHS estates.
Little else is known about Long-Bailey's career before becoming a politician, but she has encountered criticism over claims that she misrepresented some details of her legal work to further her political career.
On being unveiled as the Labour candidate in Salford and Eccles in 2015, Long Bailey claimed that she had been "working as a solicitor with the NHS in Manchester for the past 10 years". And, on her 2015 election leaflets, Long-Bailey claimed that she "studied law and became a solicitor for the NHS to help defend our health service".

However, Hill Dickinson – the firm she worked at when she specialised in NHS estates and contracts – is a commercial law firm and has never been employed by the NHS. Furthermore, the work she carried out during her time there has previously been described as simply "administrative work, contracts for NHS-owned property or assets, nothing like 'saving' the NHS."
Responding to the apparent inconsistencies in her historic claims, a spokesperson for Long-Bailey clarified that "Rebecca has said that in the course of her work as a solicitor she became very aware of privatisation taking place in the NHS in the contracts she saw".
In today's edition of Tribune, Long-Bailey revealed that she was first encouraged to go into the legal profession by her parents, stating:
"My parents had pushed me, they didn't want me to suffer the same insecurity that they had. The only way they could see out was education. My mum, I remember, one day said: 'Rebecca, you can be a doctor or a lawyer'. They were the only two steady jobs that she knew about, really, because my mum and dad didn't have an education.
"I was the first to go to university. After that I decided to work and study part-time to become a lawyer. But I also realised a lot of people I knew were just as clever as me but weren't as successful. It wasn't because they hadn't worked hard. They had – they just didn't get the chance."
How has Rebecca Long-Bailey's upbringing and career influenced her politics?
Long-Bailey is widely considered the most left-wing candidate in the race, and her politics unquestionably bears the closest resemblance to both the current Labour leader Jeremy Corbyn, and the current Shadow Chancellor John McDonnell, out of all the Labour leadership contenders.
Long-Bailey cites her working class upbringing as having had a big impact on the way she views the world and the policies she now advocates.
Speaking about her early life, Long-Bailey has previously revealed that:
"I watched my parents struggle with debt, never knowing from one week to the next if they could keep their heads above water. I watched my parents, both Irish, experience terrible racism."
And, in a number of interviews, Long-Bailey has gone further, explaining how, as a child, she recalled watching her father – who was a Trade Union Representative – coming "home in tears" after being unable to save colleagues from losing their jobs:

"My dad, Jimmy, worked on the Salford docks and I grew up watching him worrying when round after round of redundancies were inflicted on the docks."
In a further interview, Long-Bailey added:
"[…] one particular incident stuck in my mind where he came home and he was in tears."
"He was forced as the trade union rep to sit in that room and watch colleague after colleague walk out of the building with a bin liner full of stuff from their lockers."
"He knew his role to protect them as a trade union organiser and representative hadn't been fulfilled and he was absolutely devastated by that."
And, in today's edition of Tribune magazine, Long-Bailey has further expanded on her upbringing, stating:
"My mum and dad were political. We always discussed politics in our house. I was encouraged to read The Ragged Trousered Philanthropists when I was young, and I learned the realities of life quickly. My dad was a union man and I was born in 1979, the year that our economy was completely overhauled by Margaret Thatcher. My dad used to say that in Manchester in the sixties you'd walk out of one job and into another – and they'd always be well paid. That changed after 1979."
In the same interview, Long-Bailey also recalls her time working in a pawn shop as a teenager, and how the experience influenced her, stating:
"I started my first Saturday job in a pawn shop. That's when I saw people coming in and pawning in their treasured possessions. My family had been to a pawn shop too, which we kept secret because we were proud and would never have wanted anybody to know. I became quite angry at the age of 16 that we had one of the richest economies in the world, yet we had people selling their things just to get food to get through the next week. My politics evolved after that."
Long-Bailey also cites her Catholic faith as having instilled the socialist values she continues to espouse as a politician, previously stating:
"I am Catholic and I have no doubt that my Catholic education instilled the moral values in me to care and look after the people around me, as we all should. It was a vital part of my spiritual and moral journey growing up, and that is why I now send my child to a Catholic school so that he can also have that spiritual support and guidance from our community as he grows up."
Long-Bailey has already faced criticism from her rivals and their supporters over her strong religious beliefs, with some claiming it may have negatively affected some of her policy positions – especially in regards to abortion rights.
In a meeting with representatives of Salford's Catholic Cathedral during the 2019 General Election campaign, Long-Bailey is quoted as saying that she "personally" does not agree with the law which allows women to terminate pregancies up to full term in cases of faetal disability – stating that she believes the limit should be 24-weeks, the same as it is with all other types of abortions.
However, Long-Bailey has since defended her stance by stating that her view on the law is merely a personal view, not a policy position, and that she "unequivocally supports a woman's right to choose". Long-Bailey has also since pledged to oppose any changes in abortion time limits and to support the decriminalisation of abortion in Northern Ireland.
Despite many of her rivals' attempts to use her religion and personal views against her during the leadership campaign, Long-Bailey's voting record on both abortion rights and LGBT rights has always been progressive – including consistently voting in favour of equal gay rights, in favour of same-sex marriage, and voting to legalise abortion in Northern Ireland.
What is Rebecca-Long Bailey's history with the Labour Party and of political activism?
Long-Bailey has encountered criticism over the relatively short length of time she has been associated with the Labour Party, and for an apparent lack of political activism before becoming a politician.
However, Long-Bailey was just 17 years old when Tony Blair won his famous landslide election victory in 1997, and has previously said that her decision not to join the Labour Party until 2010 was based on some of Blair's controversial policy decisions:
"I had a turbulent relationship with the Labour Party, particularly in the 1990s with the Blair government. There was quite a lot I didn't agree with, and that's probably what put me off joining for a long time."
"I was one of the first years to have to pay tuition fees [and] obviously I didn't agree with going to war with Iraq."
Long-Bailey has also expanded on her route into the Labour Party in today's edition of Tribune, stating:

"In 1997 I remember we did a mini-election in school and I was the Labour Party candidate. I went to the party campaign office and got rolls of stickers. I basically bribed all of the kids in the school with free stickers, and eventually they voted Labour. I think I told them we were going to save the dolphins as well!
"That was my first taste of politics. After that, my job really was to get on in life. I went to university and looked at all the different clubs you could be involved in. I remember looking at Labour and other political societies and just not being interested. That was the first year the Labour government brought in tuition fees, which didn't give me a good impression – despite some of the great things we did when we were in power."
"My path into politics really began when we lost the 2010 General Election. My mum said we needed to go to a Labour Party meeting. She was driving my dad crazy around the house – she doesn't have hobbies like knitting or anything like that, politics is her hobby! I said to her, 'Mum, I'll come with you and when you've made some friends, I'll leave you to it.' I went to that first meeting and I remember one of the other members saying that we needed to means-test hospital meals, and a few others agreed with him. I came home raging and thought 'if this is the future, we're all doomed!'."
"That's where it started. I had been doing work for the NHS and could see what was happening. The government had brought out plans to completely restructure our health service, and I could see that the direction of travel was privatisation by stealth. That is still the plan today, and I started campaigning locally on the NHS. Eventually one of my friends said 'why don't you become an MP?' I laughed and said 'don't be daft'. They insisted, and I realised that if I was serious about the crisis of capitalism and what we need to do to build a socialist economy, I'd have to become involved. That meant being an MP. Now it means becoming prime minister."
What is Rebecca Long-Bailey's history since becoming a Labour MP?
Unlike both Keir Starmer and Emily Thornberry, Rebecca Long-Bailey was one of the 48 Labour MPs who defied the party whip to vote against the Tories' highly controversial Welfare Bill – which, amongst many other horrific things, proposed abolishing legally binding poverty targets, slashing child tax credits, reducing the amount of housing benefit young people were entitled to, and implementing cuts to welfare payments for disabled people and the terminally ill – in 2015.
Long Bailey's record of supporting Jeremy Corbyn's leadership is also entirely consistent, having refused to join the 44 Shadow Cabinet members who resigned in an ultimately futile attempt to oust the Labour leader during the infamous 2016 'Chicken Coup'. The Salford and Eccles MP also endorsed Corbyn in both the 2015 and 2016 Labour leadership elections – whilst Keir Starmer and Lisa Nandy both endorsed Andy Burnham in 2015, and Owen Smith in 2016.
Since Jeremy Corbyn was first elected Labour leader in 2015, Long-Bailey has always held a role within his Shadow Cabinet – having first been appointed as a Shadow Treasury Minister, before being promoted to the role of Shadow Business Secretary in 2017. During her four years in the Shadow Cabinet, Long-Bailey is said to have become a key part of Corbyn's "inner-circle", and became a crucial figure in devising many of the party's most popular policies – including Labour's so-called Green Industrial Revolution.
Both Jeremy Corbyn and John McDonnell are said to be highly supportive of Long-Bailey's bid to become Labour leader, with the Shadow Chancellor recently tweeting about an incident that occurred during the infamous 2016 Chicken Coup which convinced him about Long-Bailey's "talent" and "potential" for the future.
Long-Bailey was said to have "saved the day" after a Shadow Minister resigned and allegedly deleted important shared files which were crucial to scrutinising the Tories' Finance Bill in Parliament.
A recent email sent out by the left-wing Labour activist group, Momentum, explains the story and gives an account of what Long-Bailey did to rectify the situation, claiming:
"Three years ago when she was in the shadow treasury team, one of [Long-Bailey's] colleagues was part of the mass resignation of Labour MPs in the 2016 coup against Jeremy Corbyn.
 
They had been working on the detailed, difficult job of challenging the Tories' Finance Bill – but the colleague wiped all the notes on the team's shared drive, leaving Rebecca on her own, all her hard work undone, and with a crucial budget scrutiny meeting early the next morning.
 
That night Rebecca stayed calm, stayed up to get the job done, and took the fight to the Tories – just as we know she'll do as leader."
I can confirm this account. I was in the Commons Chamber dealing with other business when the Treasury Shadow Chief Secretary resigned in public in Committee.Rebecca stepped up to the plate & saved the day. I knew then what a talent she was & what potential she had for the future https://t.co/vkwaIZhwO1

— John McDonnell MP (@johnmcdonnellMP) January 27, 2020
Whilst John McDonnell has already officially endorsed Long-Bailey, Jeremy Corbyn has not yet given his official backing to any candidate. However, the current Labour leader was reported to have recently described Long-Bailey as "our candidate for leader".
What are Rebecca Long-Bailey's priorities?
Long-Bailey has already announced a few key pledges that differentiate her from the other candidates, including her support for Open Selection – a new method of internal democratic selection which would make it easier for Labour members to stand as a candidate to replace their local Labour MP.
Open Selection is not widely supported amongst Labour MPs, as many feel it would make their positions more precarious. However, the method has support amongst a large section of Labour members who feel that Labour MPs in safe seats shouldn't simply have a 'job for life', and believe the method would ensure that Labour representatives are properly held to account and therefore less likely to cause disunity within the party.
Speaking about her support for Open Selection during a recent leadership speech, Long-Bailey stated:
"Being an MP or elected representative is a privilege that must be earned, and I want to open the discussion now on how our candidates should be selected, how we nurture and bring through talent in our movement, whilst recognising and valuing the experience of sitting MPs.
"We all know that person. That talented, selfless and hardworking person who'd make a brilliant MP but would never dream of putting themselves forward. It's those people I want to raise up.
"

The collective knowledge and experience of our movement is Labour's greatest strength. Now is the time to unleash it. And that's why I support open selections for parliamentary candidates.
"We need a democratic revolution – both in the country and in our party. Our party must lead by shining example. If we can't democratise our own party, we will never be trusted to democratise workplaces, our economy and the country."
In addition to Open Selection, Long-Bailey attempted to differentiate herself from the other candidates in an article for the Guardian which contained a pledge to champion what she described as "progressive patriotism". However, whilst the content of her pitch was primarily about uniting all working class communities – "from ex-miners in Blyth Valley to migrant cleaners in Brixton, from small businesses in Stoke-on-Trent to the self-employed in Salford" – together with a clear, progressive vision for the future, many were critical of the use of the word "patriotism" to describe her approach.
Long-Bailey was both a key architect and an ardent supporter of Labour's left-wing policy platform under Jeremy Corbyn – and she has firmly pledged to both maintain it and build upon it if she becomes leader. Unlike all three other candidates, Long-Bailey has already made numerous firm commitments to maintain Labour's policies of nationalising Rail, Mail, Energy and Water – and challenged her rivals to make the same pledge.

Whilst the other three candidates have been reluctant to declare their support for the full policy, all 4 leadership candidates have now signed up to 10 pledges put forward by the pro-public ownership organisation, We Own It. These pledges include taking Rail, Mail, Water and Energy back into public ownership – as well as promises on reversing privatisation in the NHS, education, buses, council services, and the justice system, and also commits candidates to supporting the policy of providing free full-fibre broadband to all UK citizens.
In numerous interviews during the current Labour leadership campaign, Long-Bailey has also made it clear that her main priority as leader would be to build Labour's electoral vision around the Green Industrial Revolution policy that she pioneered.
Long-Bailey recently conducted an in-depth interview with Novara Media which goes into detail about her priorities and vision for the future – including the Green Industrial Revolution – which you can watch below:
Why are Labour members less enthusiastic about Long-Bailey than they were for Corbyn?
Despite Long-Bailey seemingly being the closest to Jeremy Corbyn in terms of politics and policies, there is no doubt that Labour's vast membership have been far less enthusiastic about her bid for the leadership as they were about Corbyn in both 2015 and 2016. Yet, whilst some of the membership's apathy towards her is undoubtedly attributed the candidate herself, much of it can also be attributed to just how much Jeremy Corbyn managed to win the political argument within the party during his time as leader.
In the 2015 leadership election, Jeremy Corbyn stood alone in advocating a stark shift back to Labour's truly left-wing, pro-nationalisation, pro-worker roots – in complete contrast to the 'Tory-lite' proposals offered by Andy Burnham and Yvette Cooper, and a world away from what can only be described as a full-on return to Blairism espoused by Liz Kendall.
Labour's surprising surge during the 2017 General Election – on the back of a highly popular, truly left-wing manifesto – effectively abolished both Blairism and Tory-lite as viable Labour strategies, and cemented Corbyn's agenda as the new centre-ground within the party.
With all four candidates now offering very little policy divergence amongst them, Long-Bailey's task of differentiating herself from the crowd has been far harder than it was for Corbyn.
With a consensus having seemingly been reached over policy within the party, and with Labour having now lost the last four General Elections in a row, the membership clearly appear to be ranking personal "electability" as the crucial deciding factor in their vote. And, unfortunately for Long-Bailey, Keir Starmer's highly polished public image, added to his long and distinguished career in human rights, currently appear to be swaying Labour members far more than either factional or policy differences.
Is Rebecca Long-Bailey the best choice to be Labour leader?
Most polls currently indicate that Keir Starmer will comfortably win the Labour leadership battle – but Rebecca Long-Bailey is still in with a shout, especially if she is able to force her opponents into mistakes during the final weeks before the ballot. This appears to be her thinking in challenging her rivals to commit to backing all of Labour's current nationalisation plans for Rail, Mail, Water and Energy – policies which are overwhelmingly supported by both the Labour membership and the general public at large, and which all three of her rivals have been palpably timid in fully committing to.
Furthermore, Labour's future stance on Brexit will be crucial to their chances of ousting the Tories in 2024 – and there is significant difference between the candidates on the issue. Indeed, in our previous profile of Keir Starmer, we highlighted his ardently pro-EU stance and how it has the potential to severely negatively affect Labour's chances of winning back crucial Northern Leave seats in the next General Election. Rebecca Long-Bailey's Brexit stance has always been far more nuanced, and it would be far harder for the Tories to try and convince the public that Labour might try and take Britain back into the EU, should she become leader.

Whilst Brexit may well have been resolved by the time of the next General Election, there is still the very real prospect of pro-EU campaigners putting significant pressure on Labour to reopen the debate and support rejoining – especially if Boris Johnson's Brexit deal does indeed lead to significant economic harm and social upheaval that many have predicted. However, any reopening of the debate so soon after leaving would almost certainly be toxic to Labour's chances of regaining power – and Long-Bailey's far more balanced view of Brexit means she would be far less likely than Starmer to capitulate to such a campaign.
Labour members now appear to be at a consensus that the party's domestic policy platform is the right one, and believe that in order for the party to get into power it simply needs the right face to promote this message to the country. If Brexit is no longer an issue at the next election, Labour's domestic agenda has the potential to absolutely trounce a Tory Party devoid of any genuine solutions to the ever-worsening effects of neoliberalism – and I think all four Labour leadership candidates would be able to do this, albeit with varying degrees of success, so long as Brexit remains a non-issue.
The current leadership election is completely different to the campaigns in 2015 and 2016, and each leadership candidate has their own unique qualities that they would be able to bring to the role. Personally, however, I think the pivotal factor in Labour winning the next election is for them to ensure, whatever happens, that the Brexit debate remains closed so the party can focus entirely on promoting their highly popular domestic agenda.
Out of the leadership candidates, Keir Starmer and Emily Thornberry are the most ardently pro-EU, and – given how quickly both were able to change their minds from respecting the result of the referendum to supporting a second referendum with remain on the ballot – they are almost certainly the most likely to reopen the debate in the event of economic harm. Both Rebecca Long-Bailey and Lisa Nandy are far more resolute in their stances, and have made it absolutely clear that the argument is now completely closed.
It is impossible to predict how public opinion might change if Britain suffers economic turmoil after Boris Johnson's Brexit deal – if he gets one at all – has finally been implemented. However, should the country suffer, Labour must not use it as an excuse to reopen the Brexit debate and support rejoining. Instead, Labour must seize the opportunity and blame the crisis solely on the Tories' shoddy deal and outright incompetence – in precisely the same way that the Tories used the 2008 financial crash against Labour. I believe that Rebecca Long-Bailey would do exactly this. Unfortunately, given his record on the EU and his catastrophic promotion of Labour's 2019 second referendum policy, I simply don't believe that Keir Starmer would be able to resist the allure of campaigning to rejoin.
For this reason, I personally believe Rebecca Long-Bailey would genuinely be a safer choice to be the next Labour leader than Keir Starmer.