Stay in touch!
Sign up to be updated with Evolve's latest stories, and for opportunities to get involved.
One of Jeremy Corbyn's key allies in the Labour Party, Richard Burgon, has accused the New Statesman's Deputy Editor Helen Lewis of perpetrating a 'bizarre' attack on him in her latest column.
The article slams Labour's Shadow Justice Secretary Burgon for supposedly committing a 'vanishing act' on prisons by seemingly failing to properly oppose the Tories' catastrophic oversight of the prison crisis.
In her scathing attack piece, Lewis asks:
…what the hell is Richard Burgon up to?
Before adding to her attack by joking that Burgon is:
 so inconspicuous that he might as well be in a witness protection scheme.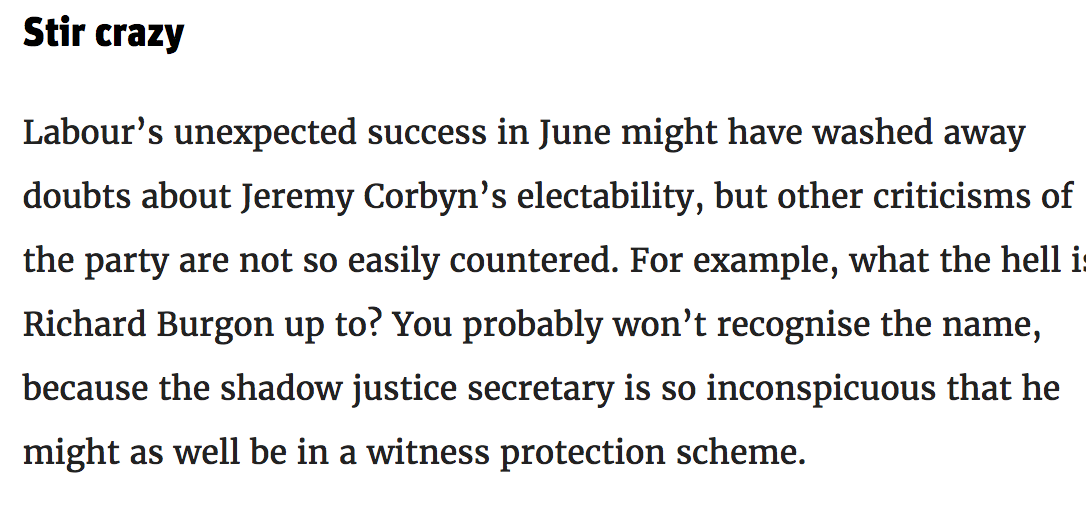 Lewis then attempts to back up her assertion that Burgon has apparently gone AWOL on the prison crisis by stating:
And yet, (despite the Tories overseeing a chaotic and dangerous prison system) at the time of writing, the latest tweet from Labour's leading spokesman on prisons is this bit of partisan poking: "Spirit of unity: @PeoplesMomentum activists giving up spare time in GE2017 to help candidates previously abusive to them and Labour leader." It's August now, Richard. The election is over. There's work to do.
However, after reading the attack, Labour's Shadow Justice Secretary himself posted an utterly scathing review of Lewis' attack piece on his Facebook page, accompanied by no less than eight screenshots proving he has in fact been extremely vocal about the subject.
Burgon stated:
Absolutely bizarre that Helen Lewis, the Deputy Editor of The New Statesman, has used her latest column to attack Labour on the basis she says she has looked at my Twitter feed and it shows I've done a "vanishing act" on prisons. This leads her to dramatically ask "What the hell is Richard Burgon doing?". Absolutely bizarre. Here are just some screenshots of recent examples from my Twitter feed that the Deputy Editor of The New Statesman somehow managed to miss when she was apparently looking at it to research her column. My Twitter feed also clearly shows that I've recently spoken on prisons in Parliament, on the news and in the papers and have, amongst other things, accompanied The Chief Inspector of Prisons on a prisons inspection. A bizarre attack on Labour!
It seems that Burgon hasn't been inconspicuous at all. What actually appears to be the problem here is that:
a) The entirety of the media hasn't bothered to do their job and properly report Labour's staunch opposition to the Tories' disastrous leadership – leading to a feeling that Labour have been quiet.
And then b) Helen Lewis has conducted obviously extensive and thoroughly professional journalistic research, consisting of briefly scanning Burgon's top tweet and assuming that because she hadn't seen anything in the news, he must not be doing anything.

Where Lewis is correct, however, is in her analysis of the British prison system, detailing the Tories' extensive failures on the issue, stating:
Our prison system, which has been creaking for years, is close to breaking point.

In July, the chief inspector of prisons found that not a single young offenders' institution was safe to house children. There have been riots at four prisons in the past year and a half. Chris Grayling stuffed the probation service up so comprehensively by carving off half of it to give to private companies that no one seems to know how to fix it.
But her attempt to frame Burgon as the reason why the Tories are taking no action on the prison crisis is utterly laughable, especially considering the vast array of speeches and interviews he has conducted on this exact issue.
What Helen Lewis is forgetting is that it's not just Labour's duty to hold the government of the day to account, it's also the job of the British media – a job which our mainstream journalists have utterly failed the public in.

Become An Evolve Politics Subscriber



Your subscriptions go directly into paying our writers a standard fee for every article they produce. So if you want to help us stay truly independent, please think about subscribing. We literally couldn't function without the support of our fantastic readers.
Subscribe
Or a One-Off Donation to Evolve Politics



If you don't want to subscribe, but still want to contribute to our project, you can make a one-off donation via the donate button below. All your donations go directly to our writers for their work in exposing injustice, inequality and unfairness.
Donate