Stay in touch!
Sign up to be updated with Evolve's latest stories, and for opportunities to get involved.
Astonishing leaked messages from a Conservative Party WhatsApp group have revealed that Tory MPs furiously lambasted the Tory Chairman after he repeatedly refused to rule out calling a snap General Election in 2019.
Following reports in several Sunday newspapers claiming that the Prime Minister Theresa May was planning another snap General Election for June 2019, numerous Tory MPs reacted with fury in a private Conservative Party WhatsApp group
In the messages leaked to BuzzFeed News, Tory MPs – many of whom have extremely slim constituency majorities – rounded on the Conservative Party Chairman, Brandon Lewis, and repeatedly asked him to deny the claims in the reports.
In response to the reports, Lewis initially responded with a particularly limp non-denial, simply telling the Tory MPs in the WhatsApp group that:
"CCHQ are focused on the local elections on May 2nd."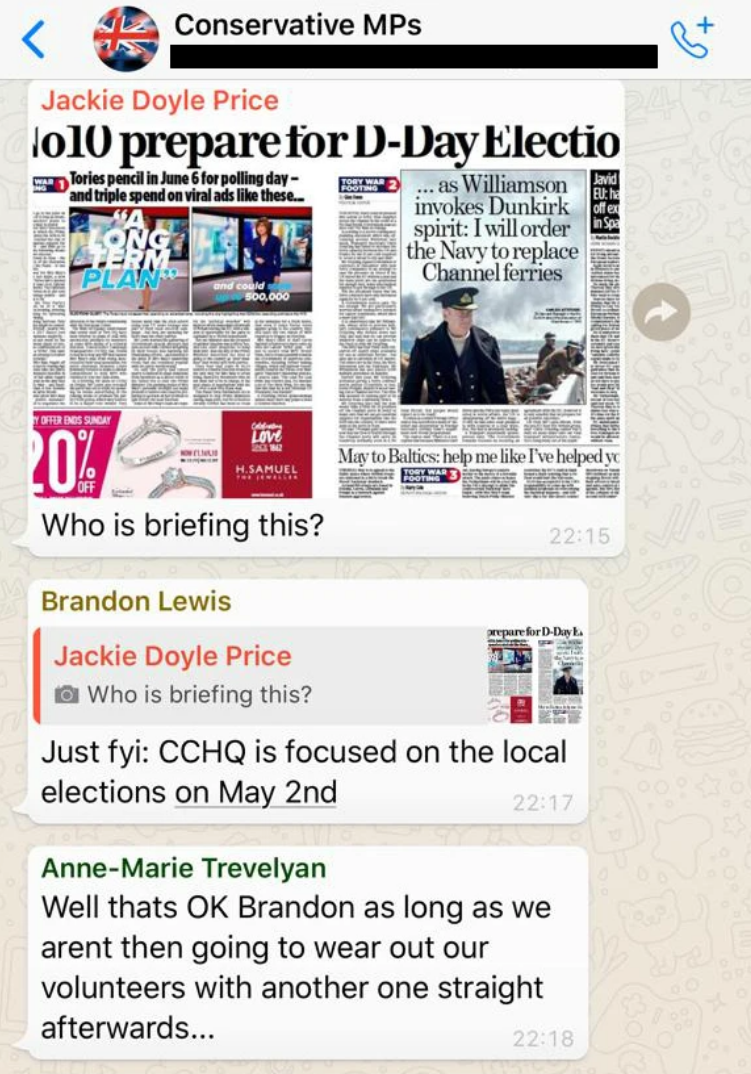 Unsurprisingly, Lewis' single-sentence deflective response failed to cut the mustard.
Tory MP Conor Burns – whose constituency saw a 13.2% swing in favour of Labour in the 2017 General Election – responded to Lewis' underwhelming statement by describing claims of a potential 2019 snap General Election as "very unsettling", and demanded the Tory Chairman reassure Tory MPs in the group that the reports were 'totally invented and untrue'.
However, no denial was forthcoming from the Tory Chairman.
Following Lewis' first bout of uncharacteristic silence, another Tory MP in the group – pro-Brexit MP Mark Francois – reiterated Burns' demand, asking Lewis:
"In order to reassure us all just please reply briefly and completely deny that there is any truth in the story. No weasel words."
Again, no reply was forthcoming: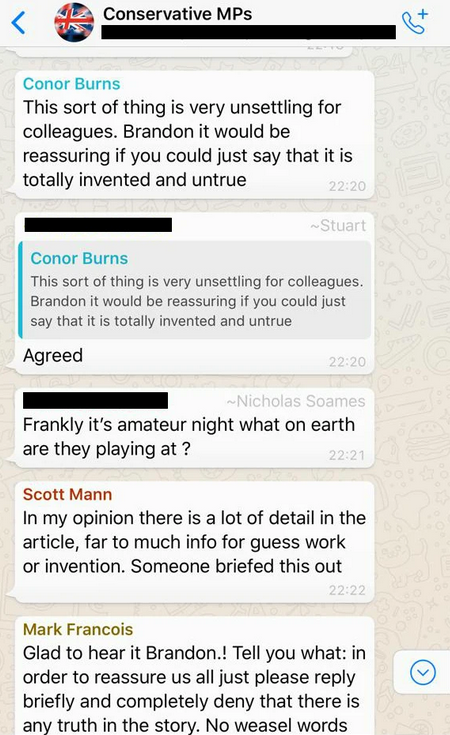 After another period of silence, a clearly irritated Francois wrote:
"We're all waiting Brandon"
Then another Tory MP, Gareth Johnson, slammed the Tory Chairman for issuing his initial 'non-denial', and then demanded a proper confirmation, stating:
"I am sorry Brandon but why come onto this forum to issue a 'non-denial'? It's not very reassuring!. I appreciate we are in febrile times but some form of denial would be very welcome. I cannot believe this story is true but we would all appreciate a confirmation of this."
Francois then again intervened, stating:
"We're still waiting….. Chairman …."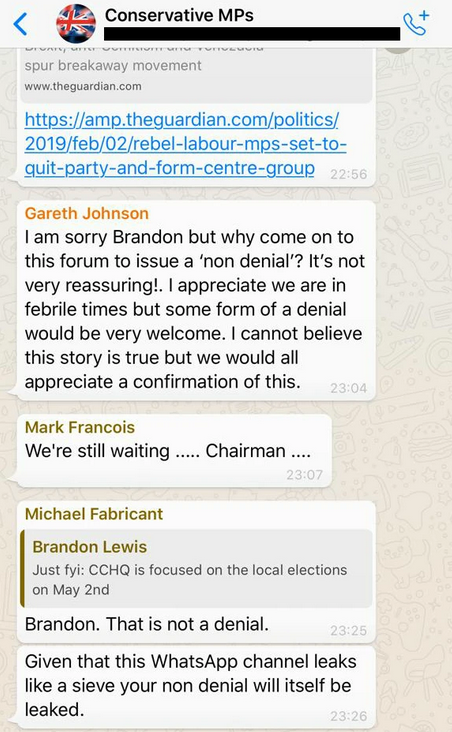 Eventually – after MPs in the group had also rounded on Theresa May's Chief of Staff, Gavin Barwell – Lewis finally responded, firmly stating that Tory HQ were definitely not planning a snap General Election… for LAST YEAR. Yes, seriously.
Lewis' response stated:
"My comment was aiming to be clear that we are focused on one set of elections, May 2nd. Press stories are not correct.
We are running big campaigns on NHS etc to outline the good work govt is doing and as we have always aimed to do, upping our peacetime work including mor CMs after a record fundraising year in 2018.
We are NOT looking for a 2018 GE, cannot imagine the public would thank us for that.
As a party we must focus on getting a good deal agreed and voted positively on, in Parliament to deliver Brexit.
And spend our weekends supporting Cllr's by campaigning for May 2nd :D"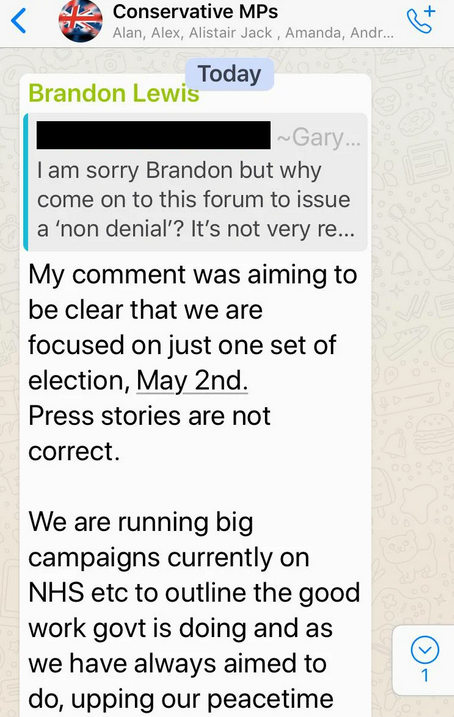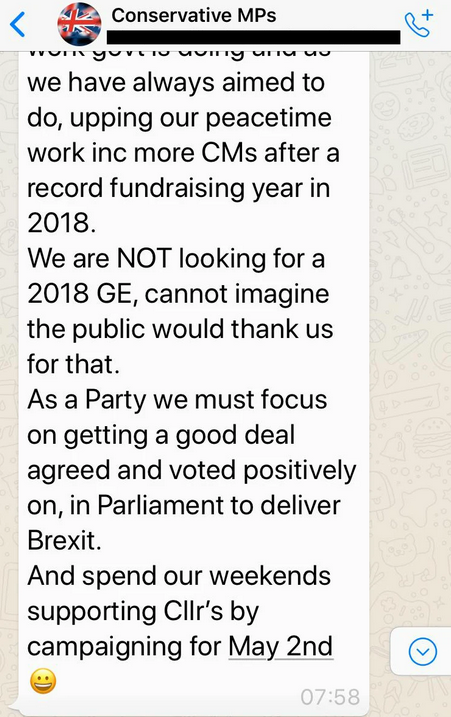 So there you have it. The Conservative Party will not be calling another snap General Election… LAST YEAR.
Either the Tory Chairman doesn't know what year it is, or he's just blagged through his teeth to his own MPs.
Only time will tell.