Stay in touch!
Sign up to be updated with Evolve's latest stories, and for opportunities to get involved.
After the Panama Papers put David Cameron's personal finance in the spotlight, many Conservative MPs inevitably came to the defence of the Prime Minister, uttering carefully choreographed spin in an attempt to quell the public outcry. However, it seemed that Conservative MP Alan Duncan did not get the memo. Instead, Duncan said what every member on the Conservative bench was probably thinking – with seemingly no regard to the reaction of the public he was about to insult.
Alan Duncan told critics of the Prime Minister that they ought to "snap out of their synthetic indignation" as they merely "hate anyone who's even got a hint of wealth in their life". Quite extreme for a party who attempt to ascribe themselves as the 'party of the workers', but this was in fact just the tip of iceberg in Duncan's grandiose tirade of sanctimony and pomposity.
A.
Alan Duncan continued, stating that:
we risk seeing a House of Commons which is stuffed full of low achievers, who hate enterprise, hate people who look after their own families and who know absolutely nothing about the outside world
It's safe to say that Social Media did not take Duncan's sweeping generalisations particularly well. The public backlash led to a flurry of his past misdemeanours being dug up (yes, a gardening pun, and it won't be the last) and shared for all of Social Media to scrutinise.
One particularly fruitful anecdote that continued to pop up was that the Conservative MP used the taxes of the very people he insulted, Duncan's "low achievers", to pay for £4,000 of upkeep to one of his presumably many gardens.
So a man who already has a very generous salary, with the added bonus of a spectacular pension scheme, was apparently so tight for cash that he felt obliged to spend our money to grow crocuses and orchids. Or perhaps he was attempting to grow a Magic Money Tree. Who knows.
The hilarity ensues when you look at what else Mr Duncan used taxpayer's money for. Duncan claimed expenses on a second home when he already owned three, as well as receiving a sizable rental income from one. He also appeared on Have I Got News For You where he smugly stated that the system of MP's frivolous expenses was 'fabulous'.
[embedyt] http://www.youtube.com/watch?v=y6xO4xEebNU[/embedyt]
To add insult to injury, Duncan was also recorded in July 2009 saying that MPs are having to "live on rations". The man earned over £60,000 a year in 2009 (now £74,962), with his third home paid for by the taxpayer, and a garden also maintained on taxpayer's money, with added travel expenses and any number of other taxpayer-funded expenses to pay for his daily living, claiming that poor old MPs don't get paid enough. No offence, Alan, but what f*cking planet are you living on?
In recognition of Alan Duncan's sound politics and principled stance, the good people of Facebook have dedicated a page to raise money for Duncan's ridiculously expensive garden.
The page is entitled "Help pay Alan Duncan MP's gardening expenses" and hilariously states that:
 Alan Duncan MP has an expensive gardening habit to pay for. He needs some low achievers like you who pay taxes to support him.
In support of the obviously frightful poverty Mr Duncan must be living in, the kind hearted creator of the page has pinned a post requesting donations to help the bedraggled Tory MP, stating:
If you want to help him out by sending what's left of your benefits at the end of the week, or some of your minimum wage, it will help him towards the £6 per hour he paid his gardener.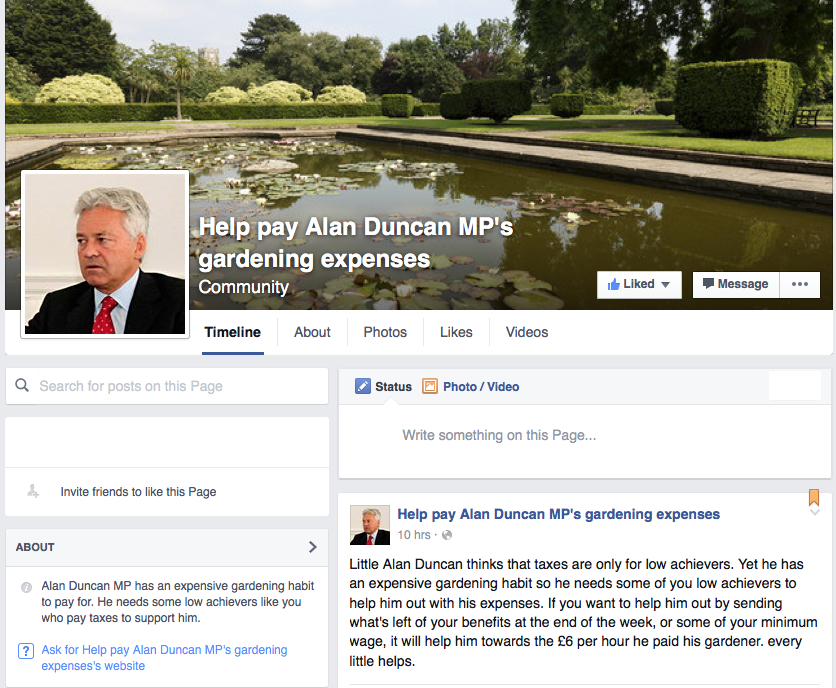 To add more peril to the situation, one unnamed source we spoke to on Tuesday said they had encountered an "unkempt and dishevelled" Tory MP resembling Mr Duncan exiting B&Q with pockets full to the brim with compost.
If true, it merely emphasises Mr Duncan's desperation to feed his addiction, and his perilous plight in the face of abject al-fresco poverty.
It remains to be seen whether the page can raise enough money to support Mr Duncan's fabulously expensive gardening habit, but with your help – the wonderfully generous low achievers of Great Britain – you can make a difference!
Please, have a heart. Donate to help Alan Duncan MP maintain his garden.