As many as a thousand hospital cleaners, security workers, porters and caterers all went on strike on Tuesday, but you wouldn't know it if you turned on the news this week.
Between December and April of this year, workers at hospitals across London including Mile End, Whipps Cross, Royal London and St Bartholomew's were fully privatised over to Serco, an infamous outsourcing company. The contract was worth a massive £600m, which you might assume would be a large enough amount that Serco would be on their best behaviour so they could keep all of that sweet taxpayer cash. If you did assume that, then remember this: never underestimate a mega corporation's capacity to disappoint you.
Within 3 days of the company's contract with the hospital commencing, they told the workforce that their 10-minute morning tea break was to be scrapped, without consultation. 120 workers immediately downed tools and barricaded themselves in the canteen, demanding the return of their break. Faced with the prospect of the situation escalating and making national news, Serco immediately reversed the changes.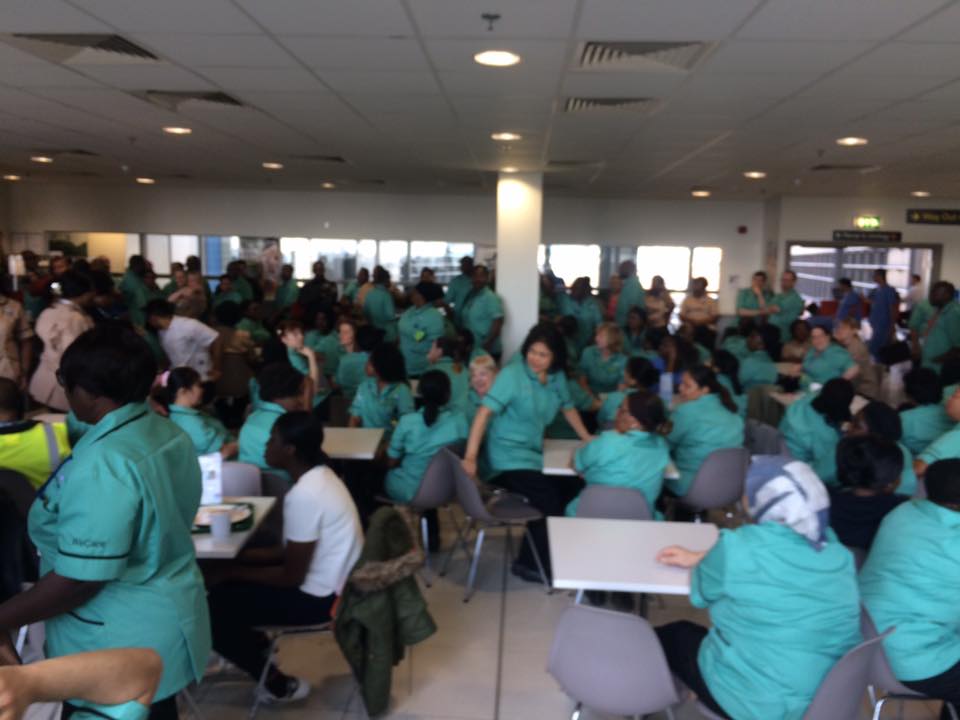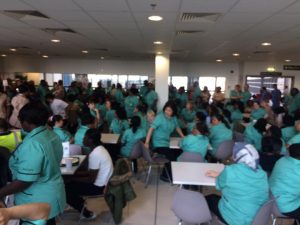 In the three months since then, the staff at these hospitals have faced a greatly increased workload, to such an extent that some staff are working extra hours for no additional pay. Additionally, many staff are allegedly becoming injured due to the increased workload, including developing swollen hands, aching joints and even tendinitis.
Electric. And all they want is fair pay. Tired of working through breaks #BartsStrike #NHS pic.twitter.com/QSbmntQFQU

— UniteServiceSector (@UniteHospo) July 4, 2017
In March, the staff submitted a pay claim for an increase of 30p per hour to cover the increasing travel costs and general inflation. This was, of course, rejected, despite their CEO making over £2m per year plus bonus. Serco clearly has the money available, and in 2016 they were making more money than they had originally expected. This is not a question of cost, but of how much they value their employees. Unfortunately, much like the majority of huge corporations, this is very little at all.
All of this is shocking in itself, but we have to ask – why did so few of us know about this? Beyond a hash tag on Twitter, it was not easy to find out about this monumental event. A strike on this scale for such a worthwhile cause should be something that is headline news, but the billionaire-owned media conglomerates would rather you didn't know. The initial act of barricading themselves in the cafeteria worked, and with any luck, persistent industrial action will work for them too. As depressing as it is seeing minimal reporting on this story, there is a silver lining. The staff at the St. Barts Trust have proven that ordinary people can fight the system, we can demand better living standards and we can get them. Our class must stand united to take on the greedy bosses and the 1% to ensure that everyone in Britain can live and work with dignity and respect. Let's follow the example set by the striking staff at St. Barts and work together to tear down the exploitative economic systems that allow this kind of abuse of power to flourish.
Become An Evolve Politics Subscriber
Your subscriptions go directly into paying our writers a standard fee for every article they produce. So if you want to help us stay truly independent, please think about subscribing. We literally couldn't function without the support of our fantastic readers.
Subscribe
Or a One-Off Donation to Evolve Politics
If you don't want to subscribe, but still want to contribute to our project, you can make a one-off donation via the donate button below. All your donations go directly to our writers for their work in exposing injustice, inequality and unfairness.
Donate