Stay in touch!
Sign up to be updated with Evolve's latest stories, and for opportunities to get involved.
Speaking on the Andrew Marr show on Sunday, the Former Conservative Education Secretary Michael Gove attempted to defend university tuition fees on the grounds that taxpayers who don't benefit from higher education shouldn't have to subsidise it.
Gove bluntly stated;
If you don't benefit from a uni education you shouldn't pay for those who do.
Given his astoundingly poor record whilst Education Secretary, Gove's blinding idiocy is, sadly, par for the course.
His tenure as Education Minister left him despised by almost the entire profession. And his most recent remarks show his ignorance hasn't improved much.
So, who really benefits from their taxes subsidising other people's university education?
Everybody.
Who benefits?
If you need medical attention your doctor will be a graduate like virtually all other medical professionals. Chances are you'd prefer a qualified professional to someone twirling a scalpel while thumbing through 'Brain Surgery for Dummies,' after all.
If you need a lawyer, you benefit from them having been to university. When your pets have treatment or check-ups, the vet has a degree. If you need a dentist, so do they. When you take your children to school, the teaching staff are graduates, also.
Even your local pharmacist has a degree. They're not pill-pushers or your average shop assistant, they're highly-qualified medical professionals. The buildings we live and work in were designed by architects. Guess where they earn their qualifications?
And so on, ad infinitum.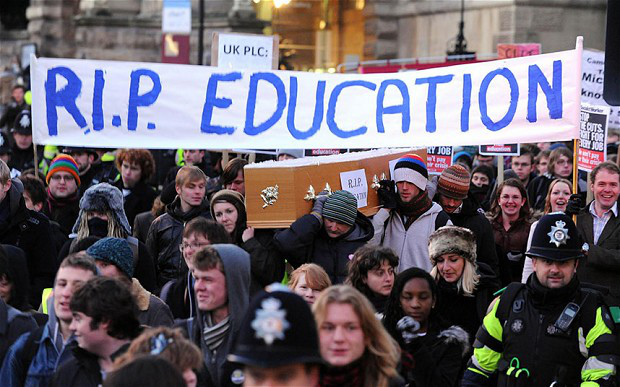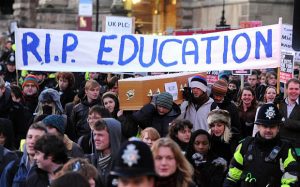 Benefiting the few, not the many.
Most British taxpayers, however, certainly don't benefit from others opportunistically using tax money for their own ends.
Society certainly doesn't benefit from abuse of Parliamentary expenses, something for which Gove himself has been guilty of. It doesn't benefit from the Tories quietly breaking up and selling off the NHS to their rich, powerful friends. Very few benefit from Tory tax bribes (sorry, tax breaks) for those already earning more per month than most earn in a year.
And who apart from ATOS and Capita benefits, in any way whatsoever, from the Tories' barbaric, cruel, frequently lethal welfare 'reforms'?

It isn't the sick and disabled, their friends and families.
And with the government said to be rewarding the massive and systemic failures of private companies such as ATOS and Capita, it certainly isn't the tax payer who gets a fair bang for their buck.
Gove the hypocrite.
But, according to Gove, those of us who didn't go to university shouldn't subsidise those who do because, supposedly, they're helping themselves to other people's money.
Irony, much?
Yes, there is. Gove is a graduate, like many other political figures. He went to Oxford, no less. Did he have to pay tuition fees? Of course not – it was free back then.
And given his position on tuition fees now, has Mr Gove offered to reimburse taxpayers the cost of his own university education?
Of course not.
Our entire society benefits from subsidising other people's academic advancement.
What it certainly doesn't benefit from is the Tories offering billion-pound bribes, of our money, to religious extremists just so they can cling on to power.
Become An Evolve Politics Subscriber
Your subscriptions go directly into paying our writers a standard fee for every article they produce. So if you want to help us stay truly independent, please think about subscribing. We literally couldn't function without the support of our fantastic readers. Subscribe
Or a One-Off Donation to Evolve Politics
If you don't want to subscribe, but still want to contribute to our project, you can make a one-off donation via the donate button below. All your donations go directly to our writers for their work in exposing injustice, inequality and unfairness. Donate