Stay in touch!
Sign up to be updated with Evolve's latest stories, and for opportunities to get involved.
Members of Parliament will be celebrating today after the announcement that their basic salary is set to rise yet again – this time by £1,300 or 1.8% – to almost three times the national average wage, at a whopping £77,379.
This latest payrise for MPs comes despite the Tories handing paltry pay rises of just 1% to Britain's heroic public sector workers such as nurses and police officers last year.
The latest announcement will mean that MPs will have seen their basic salaries rise by £9,319 in the last 4 years alone, whilst the rest of Britain has suffered stagnating wages thanks to the effects of 7 years of crippling Tory austerity on investment and productivity.
MPs pay rises are set by the Independent Parliamentary Standards Authority, and are meant to match pay rates for public sector workers. But this certainly hasn't been the case since the Tories came to power in 2010.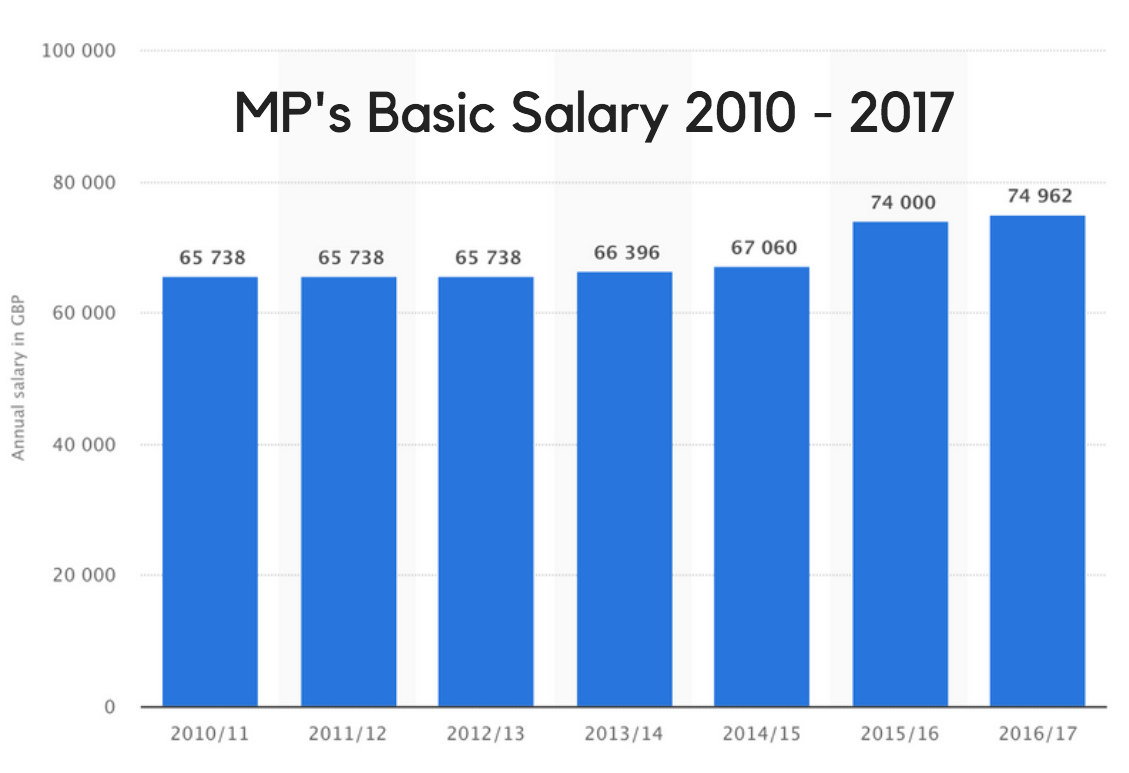 Whilst MPs have raked in extra money, nurses will see their salaries effectively cut in real terms by 12% by 2020 according to research carried out by the Health Foundation thinktank.
With the cost of living rising exponentially – making it far more expensive to buy the essentials like food and clothing – and with Tory policy ensuring already-wealthy landlords and property moguls continue raking in extortionate rents due to the artificially increased demand created by the Tories failing to build anywhere near enough houses, ordinary people are already struggling to make ends meet. And the announcement of today's latest payrise for MPs merely rubs salt in the very wounds our lawmakers have inflicted on ordinary people.
However, despite a huge percentage of MPs already being millionaires, a government spokesman attempted to defend this latest payrise by saying:
This is an independent decision by IPSA, independent of Government and Parliament.

Obviously it's important that MPs no longer set their own pay.

It's important to note that ministerial salaries​ remain frozen since 2010.
And whilst IPSA purport to be independent, their Chair Ruth Evans, also happens to sit on the board of an actual government department – the Serious Fraud Office. How someone can be independent from the government and literally work in a department for the incumbent government at the same time really is beyond me.
Here's an idea: how about we put all MPs and government officials on minimum wage and then see how quickly things change for the better, eh.
Become An Evolve Politics Subscriber



Your subscriptions go directly into paying our writers a standard fee for every article they produce. So if you want to help us stay truly independent, please think about subscribing. We literally couldn't function without the support of our fantastic readers.
Subscribe
Or a One-Off Donation to Evolve Politics



If you don't want to subscribe, but still want to contribute to our project, you can make a one-off donation via the donate button below. All your donations go directly to our writers for their work in exposing injustice, inequality and unfairness.
Donate