Damning new research carried out by an independent poverty thinktank has found that the policies enacted by successive Conservative governments since 2010 have resulted in child poverty rising to almost their highest levels since records began – with 1 in every 3 children in Tory Britain now estimated to live below the poverty line.
Research from the Resolution Foundation's 'nowcast' series – a statistical extrapolation and adjustment method that regularly predicts forthcoming figures –  has revealed that child poverty in Britain has risen by a staggering 3.1% in the last year alone, from 30.3% of all children in the country living below the poverty line, up to 33.4% living below it now.
The startling figures have exposed the fact that Conservative policies since 2010 have now led to the almost entire reversal of gains made by the last Labour government in drastically cutting the levels of child poverty in Britain.
From 1997 until 2010 when Labour were in charge, the Resolution Foundation research shows that the rate of child poverty dropped by around 8% – from almost 35% when John Major was defeated by Labour in 1997, to around 27% when the coalition government came to power in 2010.
However, since the Tories got their hands on the levers of power 2010, the level of child poverty has skyrocketed back up, and it shows no signs of abating: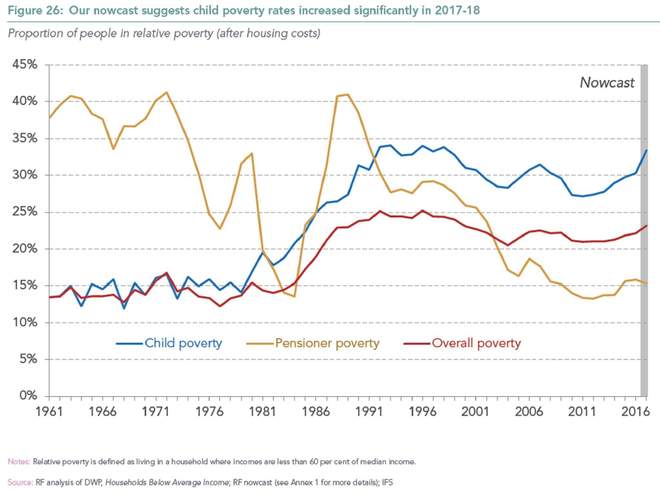 The thinktank's projections also reveal that there has been the largest rise in poverty in Britain since Margaret Thatcher was Prime Minister, with the official poverty rate estimated to have risen by 1.1% last year alone, from 22.1% to 23.2%.
This damning figure is estimated to have risen in part due to the incomes of the poorest third of people having plummeting during 2017-18, as well as a result of Tory cuts to benefits such as tax credits.
Child poverty rose sharply in 2017/18 according to @resfoundation projections, reaching its highest rate in at least 15 years. Essential reading. https://t.co/N6CopHGVql pic.twitter.com/yaOA7RlZ30

— Gavin Kelly (@GavinJKelly1) July 24, 2018
The Resolution Foundation's Living Standards Audit also estimates that the last Labour government did in fact hit their pledge to 'cut child poverty in half', despite official figures showing they fell short by 600,000.
Child poverty during the 2000s is estimated to have fallen far more quickly than previously thought, dropping from around 3m children to around 1.6m during Labour's reign.

And in an even more damning indictment of this current Tory government's policies, the thinktank's latest research suggests that child poverty has now actually been rising at double the rate that official Tory figures show since 2011.
What this latest dataset shows is that the despicable injustice of child poverty can be dramatically cut, as long as we have a government in charge who are truly willing to implement policies that benefit the entire population.
Tony Blair's government is reviled for numerous, fully-justified reasons – such as the Iraq war, increasing and unnecessary privatisation, and implementing disastrous PFI projects which have financially burdened the NHS – but the Labour government also did a lot of good, and the child poverty figure prove it.
This current Tory shambles have absolutely no intention of reducing poverty in any respect – they see needless human suffering as a necessary evil to ensure bosses have the upper hand over an increasingly desperate workforce.
The Tories' ideology of greed is failing in every respect, and these latest soaring child poverty figures should make everybody in Britain sit up and realise that now is truly the time to implement a new and better system. One which actually puts people over profit, and the needs of the many before the selfish wants of the super-rich few.