The Daily Express has continued its unashamedly ridiculous campaign of bile against the Labour leader Jeremy Corbyn, and this time we can categorically prove that they have published 100% bona fide fake news.
The Express, owned by billionaire porn baron Richard Desmond, picked up on a 20-year old story that was originally published in The Times. A story in which The Express claims that Labour leader Jeremy Corbyn shouted "F**k the rich" at a student protest in 1997.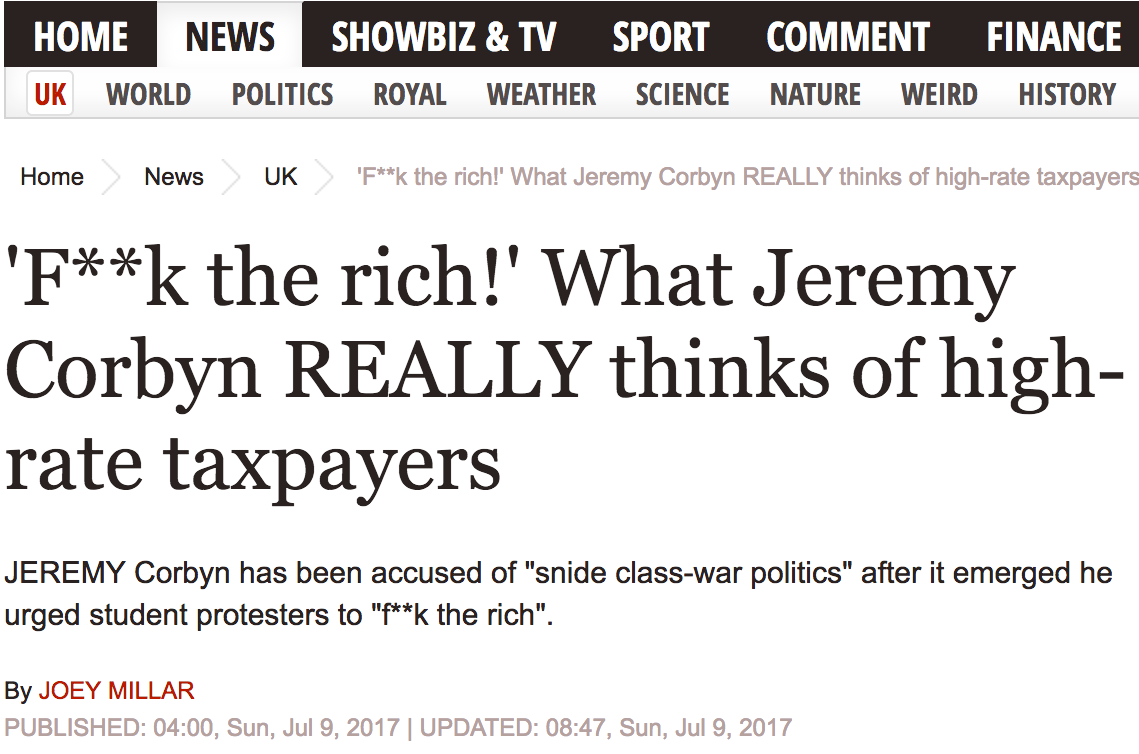 The article also includes comments from Alex Wild, a member of the notoriously pro-Tory, pro-Neoliberal 'thinktank' the Taxpayer's Alliance –  an organisation who pose as an independent body, but are funded by a vast array of Conservative donors.
The Express quotes Wild as saying of Corbyn's supposed comments:
Jeremy Corbyn has been lining his pockets with taxpayers' money for more than four decades so perhaps he should stop for a moment to think about who's been paying for his comfortable lifestyle. 

But unfortunately this is exactly the kind of snide class-war politics we've come to expect from someone who despises success and aspiration. 

"It the kind of language you'd expect to hear from a tin-pot dictator.
However, you only need to do a brief investigation into the funding of the "Taxpayer's Alliance" to show you exactly why they are releasing quotes against the Labour leader in this way.
As the Guardian stated in 2008:
A Guardian investigation has established that a large part of its (Taxpayer's Alliance) funds come from wealthy donors, many of whom are prominent supporters of the Conservative party. Sixty per cent of donations come from individuals or groups giving more than £5,000. The Midlands Industrial Council, which has donated £1.5m to the Conservatives since 2003, said it has given around £80,000 on behalf of 32 owners of private companies. Tony Gallagher, owner of Gallagher UK, a property company that gave the Conservatives £250,000 in 2007, is a member of the MIC, as is Christopher Kelly who owns the international haulage firm Keltruck, and Robert Edmiston who owns IM Group, a large car importer.
And to top off the unrelenting bias in the Express' hit-piece, the "f**ck the rich" quote that they have attributed to Jeremy Corbyn is 100% wrong. He never said it.
What Corbyn actually said at the student rally in 1997 was:
Tax the rich
How do we know?
Because The Times ran the story on November 27 1997, but were forced to issue a retraction just a few days later because they had misquoted Corbyn:
Here's the 1997 Times article in which Corbyn is quoted as saying "fuck the rich" http://t.co/cdnmQChOEJ pic.twitter.com/R6j9ymL3Ej

— Barney Guiton (@BarneyGuiton) September 4, 2015
And here is the proof of the correction:

Newsweek may well have amended their article to reflect the fact that Corbyn categorially did not say "f*ck the rich", but they forgot to amend the URL to their article which contained their previous headline:

If you were still in any doubt about the veracity of our claim, the incident was also documented in Rosa Prince's book 'Comrade Corbyn':

But despite the fact that all of this information is freely available online, the Express and their apparently 'trained journalists' were a little too eager to smear Corbyn, publishing fake news without doing any proper research whatsoever.
It is astounding that organisations like Evolve Politics and The Canary get continually delegitimised and accused of running fake news, whilst mainstream media outlets like The Express are allowed to get away with precisely what the right-wing Tory media accuse us of.
Get Involved
If you want to make sure The Express is forced into publishing a correction for this piece of fake news, you can make a complaint to IPSO (Independent Press Standards Organisation) here
Become An Evolve Politics Subscriber



Your subscriptions go directly into paying our writers a standard fee for every article they produce. So if you want to help us stay truly independent, please think about subscribing. We literally couldn't function without the support of our fantastic readers.
Subscribe
Or a One-Off Donation to Evolve Politics



If you don't want to subscribe, but still want to contribute to our project, you can make a one-off donation via the donate button below. All your donations go directly to our writers for their work in exposing injustice, inequality and unfairness.
Donate