With only 10 months left to go until the United Kingdom leaves the European Union, Theresa May's Tories have been desperately attempting to provide a workable solution to the extraordinarily complex dilemma of how to maintain a 'frictionless' post-Brexit border between the Republic of Ireland – who will remain in the EU – and Northern Ireland, who will join the rest of the United Kingdom in leaving the European bloc.
With the Conservative Party seemingly hellbent on pushing through the hardest of hard Brexits – taking the United Kingdom out of both the Single Market and the Customs Union – the Tory Brexit department have spent the last year proposing numerous completely unworkable and widely-ridiculed 'solutions' that EU negotiators have already rejected as completely unviable.
But now, with the Brexit clock ticking down, and absolutely no agreement between the EU and the government looking possible, Brexit Secretary David Davis has taken Tory incompetence to new and dangerously bizarre levels with his latest bright idea to thrash out an Irish border compromise.
Davis' new 'solution' to the Irish border dilemma is to implement a 10-mile 'buffer zone' between the Republic and Northern Ireland.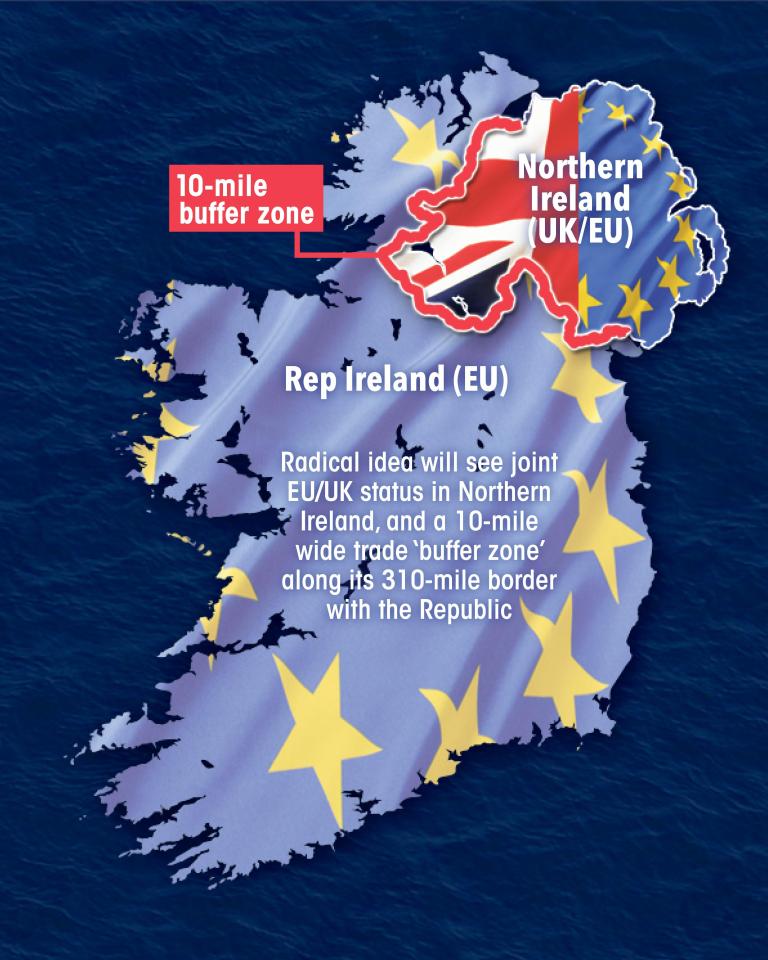 In order to work, the Tories' latest bright idea would also reportedly require Northern Ireland to essentially remain in the EU  – something which the DUP, who are propping up Theresa May's minority government, have already ruled out, and would almost certainly be utterly furious about.
Arlene Foster's Democratic Unionist Party have made it crystal clear from the very start of their 'confidence and supply' deal with the Tories that they would not accept any post-Brexit differences in regulation between Northern Ireland and the rest of the United Kingdom.
Furthermore, should the Tories allow Northern Ireland to essentially remain in the EU, Scotland – who voted 2/3 to remain – would almost certainly demand they are given the same benefits of combined UK/EU membership.
Davis is said to have pushed for the new Irish border 'solution' after the Tories' previous plan – the so-called 'Max Fac' solution – was shelved after concerns about physical infrastructure being used on the border to check the movement of goods between the Republic and the North.
Northern Ireland's most Senior police officer warned the Tories in February that such security installations could become targets for Republican paramilitaries.
However, not only does the Tories' latest buffer zone 'solution' completely ignore the red lines of Northern Ireland and Scotland, many have already pointed out that it is also – like all of the Tories' previous plans that have come before it – completely and utterly unworkable:

Right. So the Max-Fac solution, which was the technology solution, is having all the technology taken away? And the border issue is fixed by making it ten miles wide instead of six inches wide? And Northern Ireland will be both in and out of the EU?
This is fucking ludicrous.

— Is anybody there? (@gudnameztaken) May 31, 2018
In case you don't want to click on the Sun, here's where we're at now:

2016: "End EU red tape!"
2018: "Add UK red tape to EU red tape"

2016: No border in Ireland.
2018: Border in Ireland to be 10 miles wide.

Wish I was joking but it's really that stupidhttps://t.co/jqILajvcHG

— David Schneider (@davidschneider) June 1, 2018
Honestly the urge to just file "if the Secretary of State won't take Brexit seriously, why should I?" is pretty strong this morning: https://t.co/X7LvZDPQCX

— Stephen Bush (@stephenkb) June 1, 2018
My question for the enterprising young ppl of Derry is: will the border of the border have a border?

— TallVenti (@tallventi) May 31, 2018
David Davis seems to take every suggestion that things couldn't possibly get worse as a personal challenge. https://t.co/KPhDnXYszs

— James O'Brien (@mrjamesob) June 1, 2018
#Brexit minister presents new unworkable plan. David Davis intends to give Northern Ireland 'joint UK, EU' status #brexitshambles
https://t.co/Z3P8lFL2nW

— Grahame Lucas (@GrahameLucas) June 1, 2018
Schrodinger's Ireland.

— RogerJarman (@pedanteric5) May 31, 2018
https://twitter.com/TheStephenRalph/status/1002329313725878278
— JK #rEUnionist #freenazanin (@2di2d) May 31, 2018
Plans for the Tory Brexit buffer zone were leaked to The S*n, who report that implementing such a scheme would also mean that factories in Northern Ireland would have to "run two different production lines." Yes, you heard that right.
And, as if that wasn't enough, just to add one final layer of incompetence to this latest bizarre tale, it was reported that the Tories' bonkers proposal is almost certainly not even their own work:
Very good point. The irish border buffer zone 'idea' seems to come directly from Legatum's Brexit work, which @hayward_katy has thoroughly disproved and which charity commission has now ruled was 'not consistent' with charity's objectives https://t.co/Z0ftqWNCkr

— Peter Geoghegan (@PeterKGeoghegan) June 1, 2018
So with just 10 months to go until we leave the EU, the best the Tories can come up with to solve an absolutely critical Brexit conundrum, is to propose a completely unworkable scheme that completely contradicts everything they've said, as well as everything everybody else has said – and to top it all off, the Tories didn't even manage to devise this utterly ludicrous scheme themselves.

It'd be funny if it wasn't so deadly serious.