In recent years the Horton General Hospital in Banbury, North Oxfordshire has been the subject of several attempts to downgrade its services.  It's a massively important local issue in the area and as Parliamentary candidate for the Green Party in Banbury I've been involved to a small extent in the campaign to support it.
In its last period in government Labour proposed drastic changes to services and was met with strong opposition by local residents and the then Tory MP Tony Baldry.  Last year its troubles began again when the Oxford University Hospitals Foundation Trust presented their "emerging options" proposals to the public.  These included a series of major downgrades to services ranging from A&E to acute services.
Later it was announced that, due to the resignation of a number of clinical fellows, the consultant led maternity unit would be downgraded to a midwife led unit only, with emergency cases being referred to the John Radcliffe hospital some 25 miles away.
Dangerous Proposals
This would involve women who suddenly develop potentially life threatening complications during labour being transported by ambulance in a journey that even by best estimates would take 45 minutes, and perhaps twice that during rush hour.  Even in the ambulance that the CCG were promising to have on permanent standby outside the Horton, the transfer to the Oxford's already overstretched facilities is seen by campaigners and health professionals alike as a dangerous and unworkable alternative.
Initially the downgrade was sold as being only a temporary measure whilst the trust recruited a new team of consultants.  But many saw the writing on the wall, and this month it was announced that the downgrade would be permanent.  Other services, including A&E, are now also looking likely to go under the current programme of NHS cuts being imposed by Health Hecretary Jeremy Hunt, prosaically entitled Sustainability and Transformation Plans (STP).
As well as being sent to the Health Secretary and being the subject of judicial review, the proposals in Oxfordshire are now being referred to the Independent Reconfiguration Panel – a group of experts on NHS service change backed by the government who previously blocked attempts to undermine services in Banbury.
Westminster Silence
Throughout this process local Tory MPs have been vocal on the subject in the press and in local forums, although it has to be said that none of them have been particularly forthright in Parliament itself.  Indeed the MP for Banbury, Victoria Prentis, whilst making great claims for her support of the hospital that she never tires of telling people she was born in, has only ever mentioned it in passing in a handful of debates.  Even then her criticisms and concerns have been directed at the local health trust and the clinical commissioning group.
She has been extremely keen to grandstand her support for the Horton on many occasions locally. She was also vocal about the issue during the recent general election campaign where I and other candidates had the opportunity of challenging her on the subject.
I have never doubted the genuine nature of her support for the hospital.  After all, why wouldn't she want a major medical facility on her doorstep?  I know that she's been grateful for its services over the years, not least the excellent maternity department that has been equally popular with other residents of Oxfordshire.
But her support appears to stop at the doors of Westminster, and she draws a very clear line between her wish to see all medical services retained at the Horton and her support for her Tory colleagues that cause many of the problems with the NHS in Banbury and around the country.
The closest she has ever come to publicly involving Jeremy Hunt was when she sneaked him into the town just before the last election.  He was shown around the outside of the Horton where he stayed for some photo opportunities, after which he was swiftly whisked away before the locals got wind of his presence or any of the staff inside the hospital noticed him.  This caused considerable local anger at the time.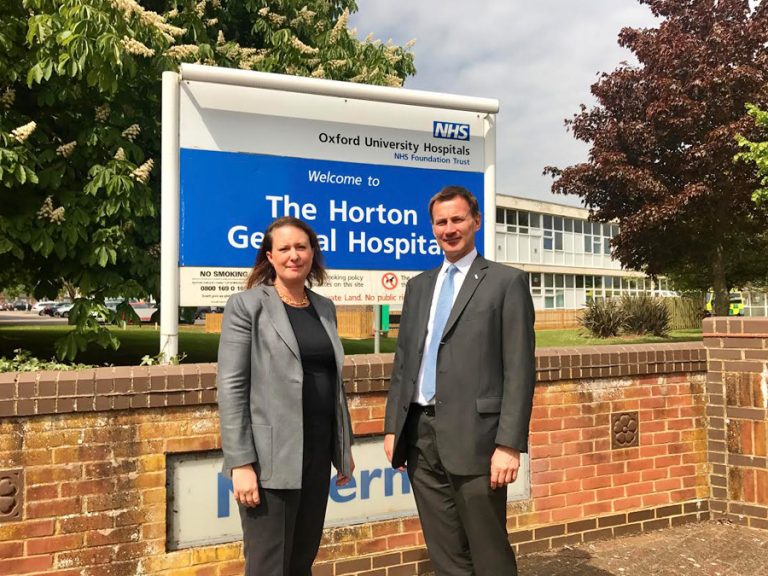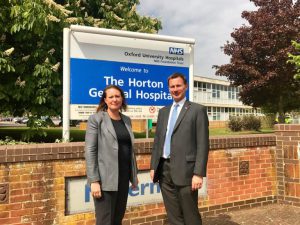 I've struggled for some time to see how Prentis and her ilk can reconcile the dichotomy of supporting policies that have been roundly and robustly identified by health chiefs, campaigners and even the likes of Professor Stephen Hawking as being directly damaging to the NHS, and their claims to be on the side of campaigners seeking to resist those very same policies.
Hypocrisy and Cognitive Dissonance
It's fair to characterise this as straightforward hypocrisy, and on the face of it this is a reasonable accusation.  Not least when we see incidents like those earlier this month when South Northamptonshire MP and Leader of the House Andrea Leadsom wrote to Oxfordshire health chiefs complaining about their plans in Banbury.  She copied Jeremy Hunt into the letter, but her criticisms and veiled warnings were squarely aimed at the Clinical Commissioning Group(CCG).  Victoria Prentis, Witney MP Robert Courts and Stratford-upon-Avon MP Nahhim Zahawi, (both Tories), have also written to the CCG along similar lines.
And here I think may be the answer to my quandary.  Yes there is certainly hypocrisy in politicians saying one thing and doing another, but I think it now goes deeper than that.  Even though they're Tories they can't be completely devoid of conscience (can they?), so they have to construct a moralistic fantasy that allows them to rationalise their position.  In the case of the NHS cuts they have established a scapegoat that has allowed them to indulge in industrial qualities of cognitive dissonance.
In this cynical scenario, it's not the government's fault that the NHS is under pressure and underfunded and its staff demoralised and demonised to the point where recruiting a few obstetricians becomes an almost impossible task.  No, it's apparently all the fault of the managers that the government gave the dirty job of imposing the cuts to.
Whipping Boys
The CCGs, introduced following the iniquitous Health and Social Care Act in 2012, can bear all the blame for the government as they push through cuts via funding reductions.  They have become the whipping boys that give MPs and ministers the opportunity to wring their hands and cry their crocodile tears.  As in many other spheres, the government, under the guise of localism, have abrogated responsibility for the dirty work they've passed on to others.  They are thus given arms length deniability that they peddle at every opportunity.
Never mind that it's their own policies of austerity and privatisation by stealth that are forcing CCGs into making cuts, that in Oxfordshire alone mean they must find savings of £200m, health chiefs can now shoulder the blame so that politicians can still look like they're fighting the good fight for their constituents.
But this disingenuousness is now being called out for what it is.  Indeed this has already started to happen in Banbury.  After Victoria Prentis posted further claims of support for the Horton on Facebook and Twitter pages recently she was roundly rebuffed by several locals. However these responses were repeatedly deleted until finally comments were closed amid claims of online abuse.  I saw no evidence of abuse, just concerned locals calling her on her apparent hypocrisy.
Stand Up Or Shut Up
It's time these MPs stopped hiding behind their self-deluding flags of convenience and finally stood up for something they claim to be supportive of. And if they really do want to make a difference they now have a golden opportunity to prove it by threatening their government's slim majority and withholding their vote on key issues.  That's something that both I and the Banbury Labour candidate have publicly called on Victoria Prentis to do over the downgrade of the Horton.  But to do that they will have to accept their role in the health crisis and that of the government they support and facilitate.
It remains to be seen if any of them will rise to that challenge and put actions behind their fine words, or if their own positions are more important to them than lives and well being of the people they represent.  I won't be holding my breath.
Become An Evolve Politics Subscriber



Your subscriptions go directly into paying our writers a
standard fee for every article they produce. So if you want to help us stay truly independent,
please think about subscribing. We literally couldn't function without the support of our
fantastic readers.

Subscribe
Or a One-Off Donation to Evolve Politics



If you don't want to subscribe, but still want to contribute to our
project, you can make a one-off donation via the donate button below. All your donations go
directly to our writers for their work in exposing injustice, inequality and unfairness.
Donate