Hannah and Lauren Campbell, the daughters of an NHS nurse from Milnrow in Rochdale, have sent a letter to David Cameron pointing out the significant injustices, and personal impacts of his government's policies.
Lauren aged 9 and Hannah aged 5, ask the Prime Minister why their mum, who 'works long hours every day' and 'even nights and weekends' – unlike Mr Cameron, deserves a pay rise of just 1% whilst the Prime Minister is happy to accept an 11% pay rise.
The sisters also point out that the fact that 'bankers who sit down all day' are also getting average pay increases of 35%, whilst nurses who save lives – unlike politicians and bankers – get a measly 1% raise.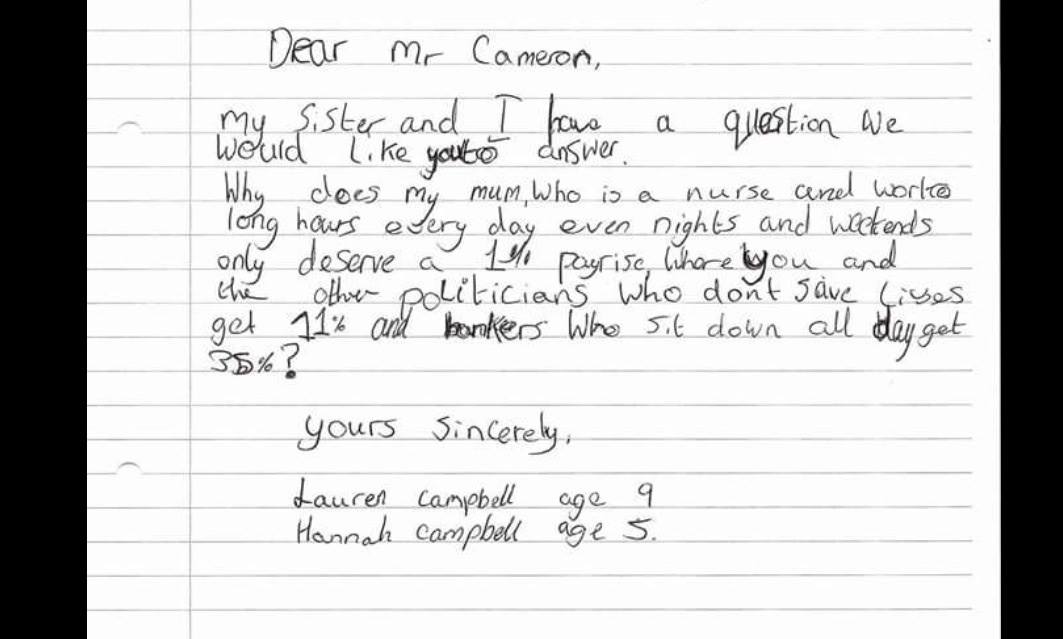 It's clear from reading the girl's letter that they are personally and emotionally affected by these issues. Their mum, as a nurse, works long and hard hours for a salary that will likely just about cover the essentials.
NHS staff don't pursue their careers for fun or to become rich. Far from it. They pursue them because they care about people and they want to truly make a difference to people's live. Inevitably, however, doctors and nurses miss out on spending quality time with their children, and as such, they should be rewarded for their dedication to duty with a wage that reflects their hard-work and dedication.
The letter will be a stark reminder to the government that their policies are becoming increasingly conspicuous in their bias toward top earners.
David Cameron's lack of care for the NHS and his antipathy toward the heroic work of nurses has just been magnificently exposed by two young girls.