Stay in touch!
Sign up to be updated with Evolve's latest stories, and for opportunities to get involved.
With the recent release of the Paradise Papers detailing further sneaky accounting and tax evasion by the super-rich, the famous, and the influential, tax dodging in the UK is at an unprecedented level.
Yet while companies continue to use loopholes and trickery to hide their assets, our public services continue to suffer from underfunding – investment that is lost as a direct result of underhand tax evasion and avoidance tactics.
One company using such tactics is Third Energy, a company that has filed plans to frack for shale gas in Kirby Misperton, and been based at the site since May 2016.
Frack Free Yorkshire reported that Third Energy has been registered to an offshore Cayman Islands location since 2011 through their holding company 'Third Energy Holdings Limited'.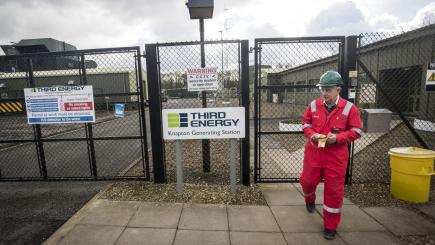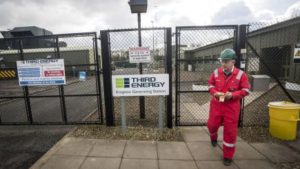 But the Barclays-backed (the bank owned 97% of shares until May 2017) company has failed to file its accounts almost a month after their September 2017 deadline, raising serious questions.
By neglecting transparency with Companies House, Third Energy immediately raises the red flag, especially considering their connections to a renowned tax haven, which Barack Obama cited was, "either the biggest building in the world, or the biggest tax scam in the world."
Offshore tax havens prevent countries like the UK from collecting on their owed tax revenue which should go back into the system to fund crucial infrastructure in crisis, such as the emergency services. The money hidden away offshore could also go towards developing renewable energy, which would negate the perceived need to frack for shale gas and choose sustainable alternatives instead.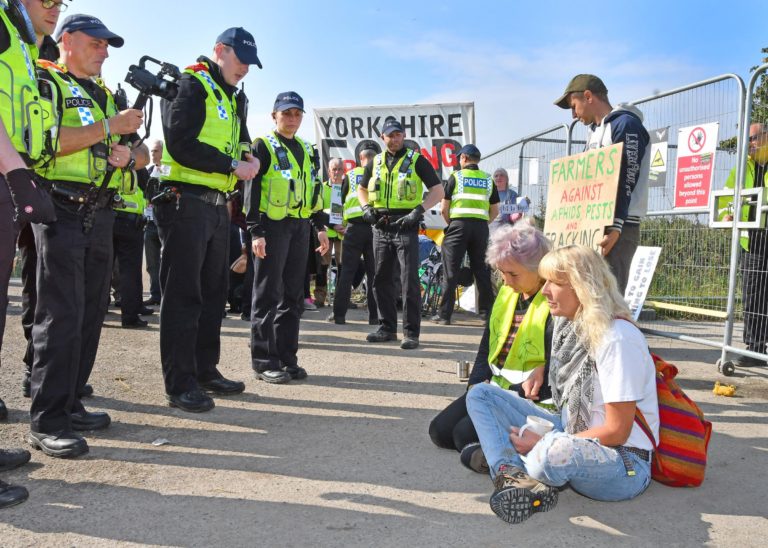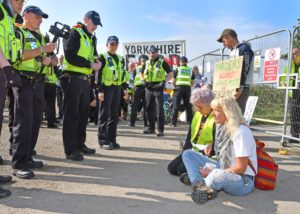 But the lack of official go-ahead hasn't stopped the site being populated for over a year, with Third Energy installing a constant police presence at the site in order to 'keep the peace' while they prepare to start fracking.
Residents up in arms also populate the site at the long running fracking-opposition Kirby Misperton Community Protection Camp.
Fracking – or hydraulic fracturing – is the process of drilling deep into the earth and firing a high-pressure water mixture at the rock to release the gas inside. The practice often results in water contamination, chemical pollution, and environmental destruction.
The Huffington Post revealed that fracking released 5.3 billion pounds of methane into the atmosphere in America in 2014 in one stage of the process, which equates to as much pollution as 22 coal plants produce in a year. The concerns are that the true nature of how dangerous fracking can be won't be realised until it's too late, despite the science-backed cries from protesters.    
Government cuts will greatly affect the police budget over the next 3 years, yet 40-60 police officers were arriving daily in order to escort the mainly elderly non-violent protesters away from the fracking site in their back yard.
Despite no official word on when to start, Third Energy systematically moved personnel and equipment into the site. Over 20 arrests have been made at the Kirby Misperton fracking site since September 2017, including that of a 66-year old woman.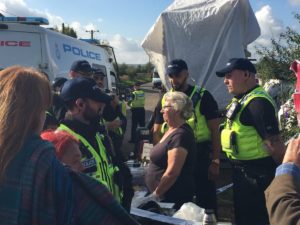 Countless stories have come to light of heavy-handed security outside the fracking site, with people reportedly being moved on, despite their right to protest. While Third Energy continues to push forwards, despite lack of approval and transparent accounting, the site at Kirby Misperton is costing police approximately £180,000 and counting since May 2016.
On November 4, more than 200 people took part in a trade union protest against fracking at the site, which looks to be just a gateway to further fracking throughout the country. Union bosses are in uproar about the unsafe practices involved in fracking, which could directly impact the lives and livelihoods of the residents of the North Yorkshire town. Residents believe they should have the final say as to whether the process occurs or not, and feel that that decision has been snatched away.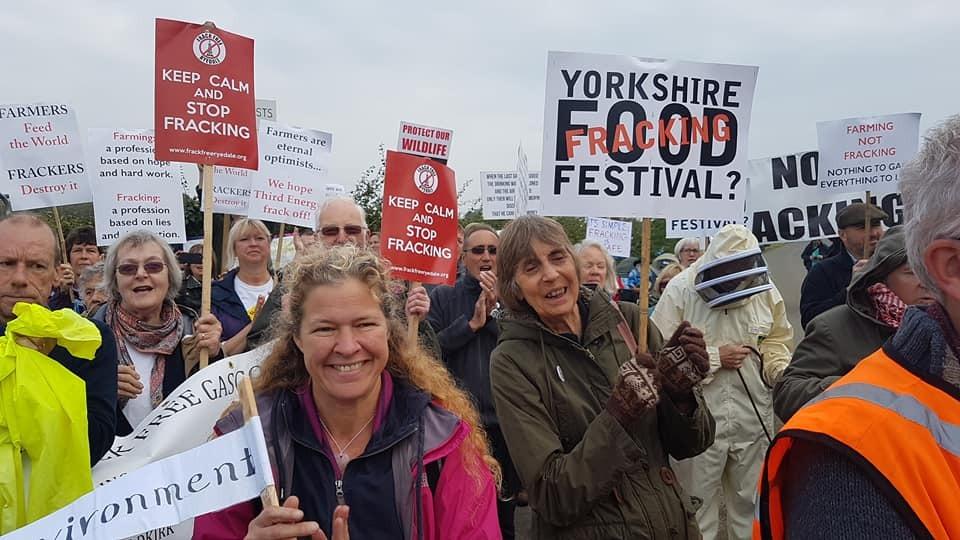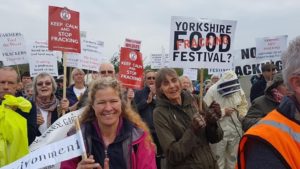 A recent demonstration saw 3 protesters scaling a 60ft rig at the site in October 2017 after reportedly seeing confirmation that the frack would go-ahead.
The move marks a watershed moment in the Kirby Misperton saga as protesters vow to 'put their lives on the line'. Three people were charged with criminal damage and trespass, under the code of 'obstructing lawful work', despite the fact that only planning permission on the site has been granted. There is still time to oppose fracking at the site, which would act as a precedent for hydraulic fracturing throughout the country.
Should the Kirby Misperton frack go ahead and be successful, there is no doubt that countless more companies will cite it as a reason to go ahead with further fracking. Should the frack be unsuccessful, Third Energy will move onto other pastures, while the residents of the farming area will have their lives turned upside down.     
Become An Evolve Politics Subscriber



Your subscriptions go directly into paying our writers a standard fee for every article they produce. So if you want to help us stay truly independent, please think about subscribing. We literally couldn't function without the support of our fantastic readers.
Subscribe
Or a One-Off Donation to Evolve Politics



If you don't want to subscribe, but still want to contribute to our project, you can make a one-off donation via the donate button below. All your donations go directly to our writers for their work in exposing injustice, inequality and unfairness.
Donate