Stay in touch!
Sign up to be updated with Evolve's latest stories, and for opportunities to get involved.
Figures just released by NHS Digital show that NHS staff have suffered pay cuts of up to £7,500 a year in real terms because of the cap on public sector pay. Ambulance staff are the worst affected – their take-home pay hasn't changed since 2010 – but some of the lowest paid staff are also very badly hit.
Clinical support staff, on wages of around £17,000, have lost some £1,807 a year after taking inflation into account. The average NHS worker's pay is now £3,800 a year lower than it would have been had it risen in line with inflation.
There's little sign of sympathy from the government for the plight of these essential workers, who are being forced to pay the price for the financial crash of 2008. Recently, Chancellor Philip Hammond was reported to have said that public sector workers were 'overpaid' – when confronted with this claim on the Andrew Marr show, he failed to deny it, saying only that,
"I'm not going to talk about what was or wasn't said in a cabinet meeting"
And when Jeremy Corbyn raised a question about the pay cap during Prime Minister's Questions, Theresa May accused him of asking for 'more money to be spent on this, that and the other'.
Public sector workers may not have been impressed to find their financial plight dismissed as 'this, that and the other', and it illustrated perfectly how out of touch May is with the mood of the country.
This determination to reduce the pay of public sector workers does not, needless to say, apply to those public sector workers who sit in the House of Commons. MPs saw a massive 10% increase in their pay in 2015, followed by a further 1.4% in April this year, taking their pay to over £76,000 a year. Theresa May had nothing to say about this, but her spokesman said that it was 'a matter for MPs'. Indeed.
The NHS is currently experiencing a recruitment crisis of unprecedented proportions, with tens of thousands of posts unfilled. The Royal College of Nursing has warned that "a lethal cocktail of factors is resulting in too few nurses and patient care is suffering" due to 'low pay, relentless pressure and new training costs'.
Things are likely to get even worse as Brexit approaches – as we've already seen a 96% drop in EU nurses registering to work in the United Kingdom since the Brexit vote.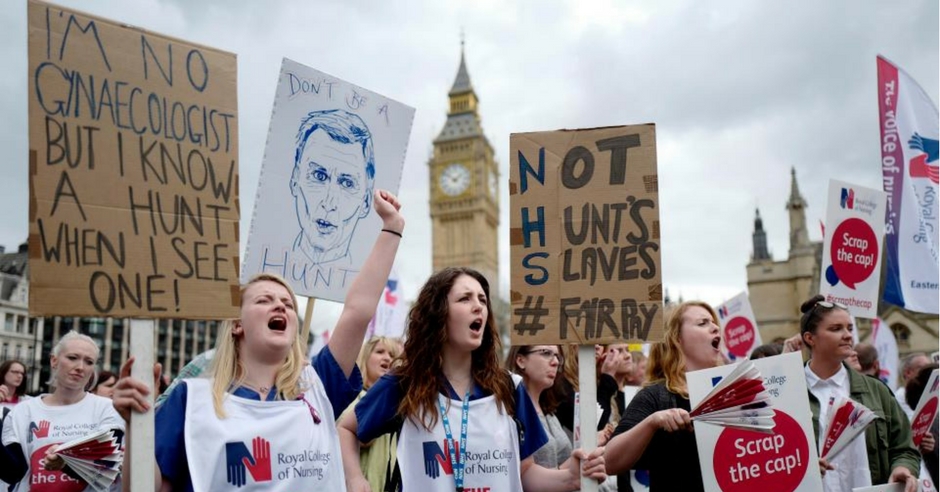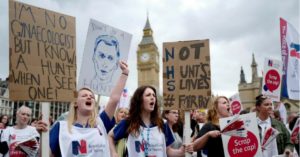 Recently, Theresa May declared that she would end the 1% cap on public sector pay but initially this would only affect police and prison officers. Other public sector workers, including NHS staff, would have to wait until the 2018/19 pay round.
But with inflation running at 2.7%, pay is likely to continue to fall in real terms, and no pay rise will make up for the thousands of pounds lost by the average worker since 2010. Janet Davies, the general secretary of the Royal College of Nursing – who perhaps knows a little more about the NHS than Theresa May – could not be clearer:
"For the sake of patient safety, the Chancellor must scrap the cap on pay."
We're inclined to believe her over Theresa May and her chaotic cabinet any day of the week.
Become An Evolve Politics Subscriber



Your subscriptions go directly into paying our writers a
standard fee for every article they produce. So if you want to help us stay truly independent,
please think about subscribing. We literally couldn't function without the support of our
fantastic readers.

Subscribe
Or a One-Off Donation to Evolve Politics



If you don't want to subscribe, but still want to contribute to our
project, you can make a one-off donation via the donate button below. All your donations go
directly to our writers for their work in exposing injustice, inequality and unfairness.
Donate