Despite a relentless barrage of attacks from the vast majority of mainstream media publications over the past weeks, the British public's support for Jeremy Corbyn's Labour Party has actually increased, with a new poll from one of Britain's most reputable polling companies showing Labour opening up a stunning four point lead on the Conservative Party.
According to latest poll by Survation, the Labour Party are now polling at 41%, an increase of 1% since July, whilst support for the Tories has decreased by 1% since the same period to 37%.
Furthermore, Survation's latest survey also shows that Jeremy Corbyn is now level with Theresa May on 32% in terms of personal approval ratings for his leadership – a result which marks a significant change from the findings of numerous other polling companies which have Corbyn trailing May by almost double figures in some personal approval rating polls.
The poll also shows support for the Lib Dems has slumped massively, dropping 4 points to a lowly 6%, whilst public approval of Brexit was split evenly at 50/50.
In addition to both Lib Dem and Tory support dropping by a combined 5 points, support for UKIP had risen by 4 points to 7%.
Fieldwork for the latest poll was conducted between August 31st and September 1st, indicating that the British media's relentless attacks on Labour over the ongoing antisemitism row has had absolutely no negative effect on the party's support whatsoever.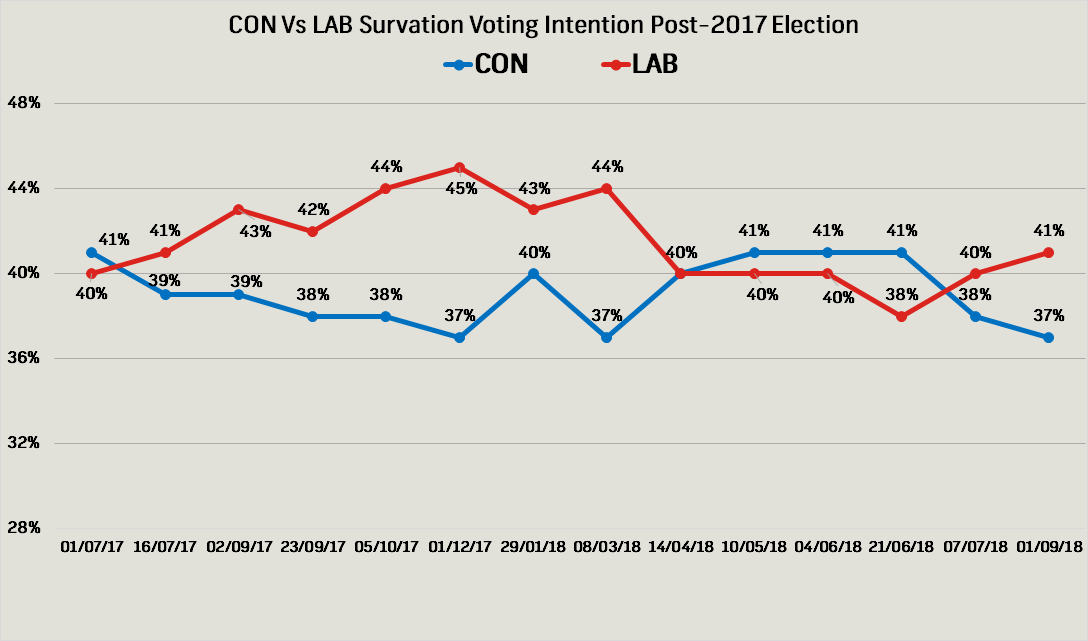 Along with YouGov, Survation were the most accurate of any British pollster in the run up to the 2017 General Election, correctly tracking the Corbyn surge throughout the campaign, and accurately predicting a hung Parliament on the eve of the results at the same time that virtually every other polling company was still predicting a Tory landslide.
Therefore, given Survation's excellent track record of correctly predicting the public mood, it is safe to assume that, given the unprecedented barrage of anti-Labour news stories in the past few weeks, that the media's influence over public opinion is waning significantly.
After a summer of co-ordinated hate against Labour – by billionaire press, echoed by BBC – this poll suggests the market is wide open for honest, left-leaning media groups

— Paul Mason (@paulmasonnews) September 5, 2018