The Telegraph newspaper is widely known as the Torygraph for a number of reasons. Mainly, though, because of its unmitigated and unwavering support for the Conservatives – a fanaticism which often borders on the utterly ridiculous.
Owned by super-rich media moguls the Barclay Brothers, The Daily Telegraph hasn't exactly hidden their opposition to Labour leader Jeremy Corbyn in recent years.

But their latest Corbyn attack piece is so ridiculous it'll leave you questioning whether they've finally run out of bilious scrapings from the bottom of their billionaire-backed barrel.
The Telegraph article in question leads with an utterly damning headline, which stated:
Jeremy Corbyn pictured enjoying pizza with controversial pro-Assad campaigner who denied genocide in Srebrenica
The Telegraph then goes on to insinuate that Corbyn was trying to hide his meeting with this obviously shady character by apparently cropping him out of the images.
As Telegraph journalist, Kate McCann, wrote:
A picture posted on Twitter by a member of staff at Pizza Pappagone near Finsbury Park, in Mr Corbyn's constituency, showed Mr Corbyn enjoying a meal but Mr Papadopoulos had been cropped out.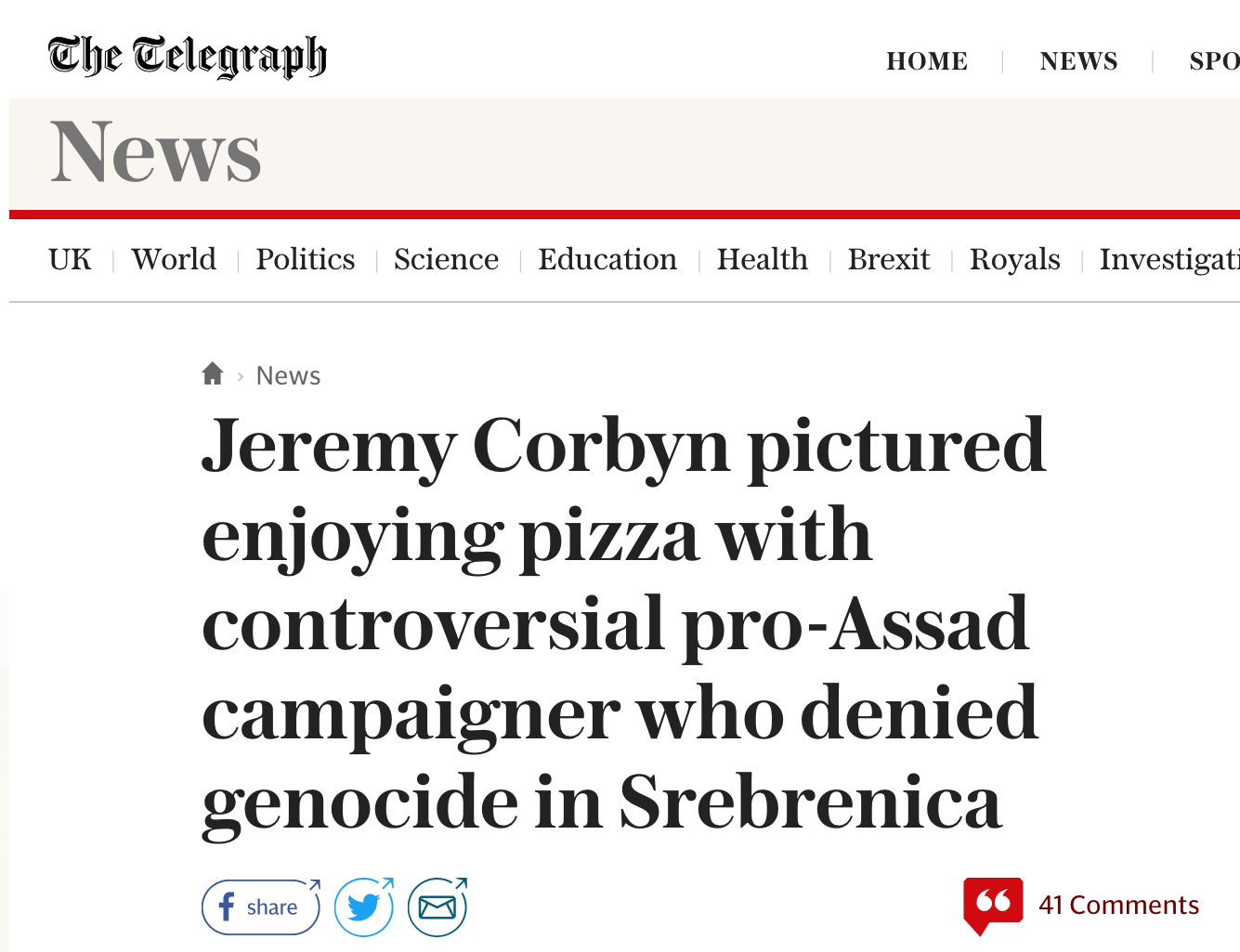 The Telegraph article continues:
However another photo later emerged showing the two men together in a photo thought to have been taken on Monday evening. 
Yes, a photo did indeed 'emerge'. From an extremely unlikely and secretive source indeed: the man himself. Using his personal account on that insidious covert dark-web social media site, Twitter:
I'm having a wonderful dinner and discussion with hopefully the next Prime Minister of the United Kingdom…@jeremycorbyn pic.twitter.com/VnHc7gDDzH

— Dr Marcus Papadopoulos (@DrMarcusP) July 10, 2017
But who is this elusive Mr Papdopoulos that The Telegraph are referring to as a genocide denier? Is he an evil hate preacher?

No, he's not. He's the director of First Publishing Limited, the trading name of Politics First – a political magazine that's based in Westminster and regularly features interviews with politicians and articles written by politicians.
Dr Marcus Papadopoulos also has a PhD in British/Russian history and has personally interviewed numerous high profile politicians, including Tory MPs Liam Fox and Speaker of the House, John Bercow.
But, I hear you say, that doesn't prove anything. And you would be correct.
Unfortunately for the Telegraph, and Guido Fawkes – who also picked up on the story without seemingly doing any research (or conveniently decided to leave out the following information), Papadopoulos also had intimate business connections to a current serving Tory MP.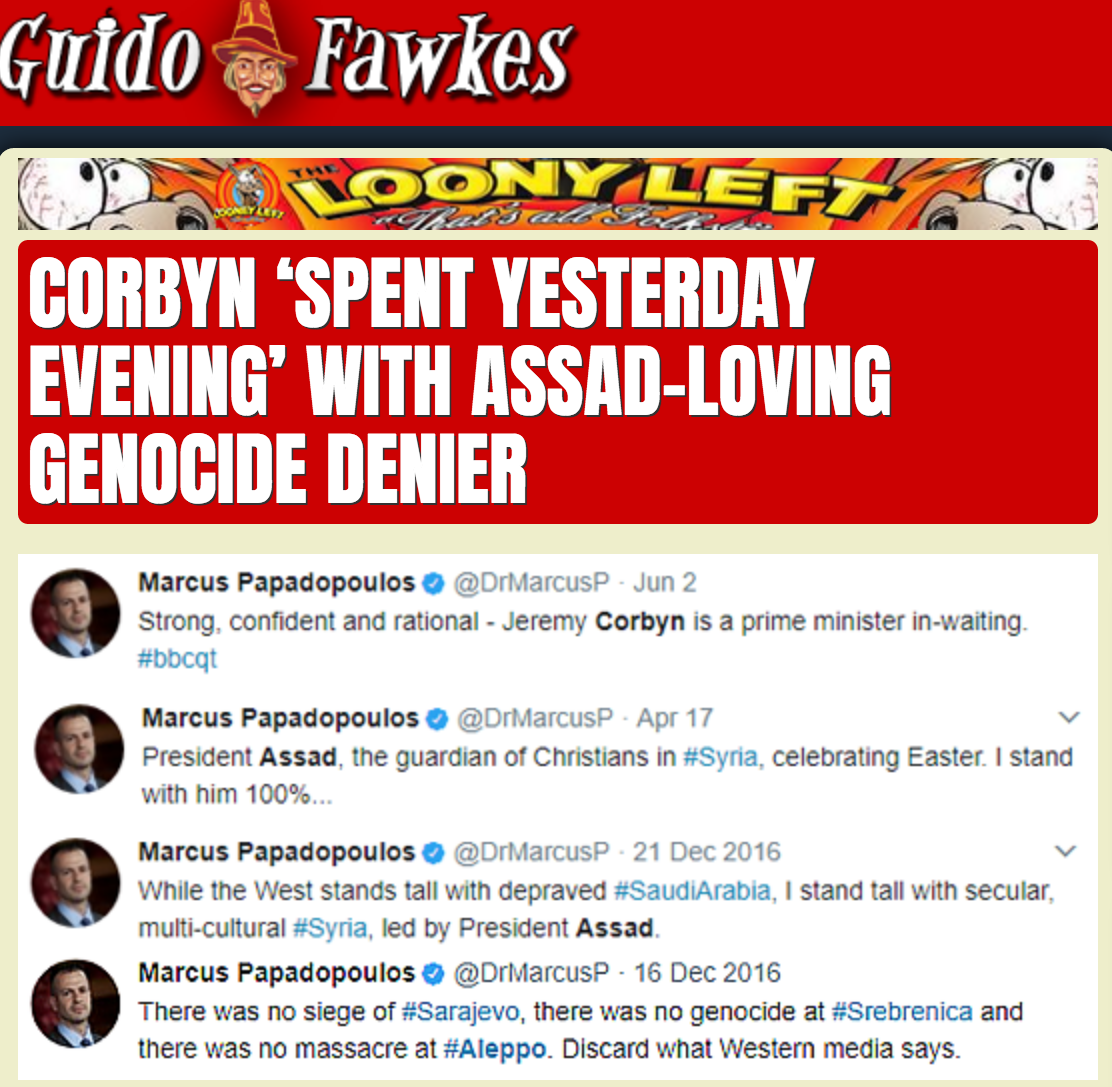 Yes, that's right. What both The Telegraph and Guido Fawkes fail to mention is that Mr Papadopoulos' magazine, Politics First, has an editorial board – and just take a wild guess who was on that board…
Up until at least April 2016, the editorial board of Dr Marcus Papadopoulos' company contained a certain Esther McVey – the now Conservative MP for Tatton, and former Tory MP in Wirral West until her defeat in 2015.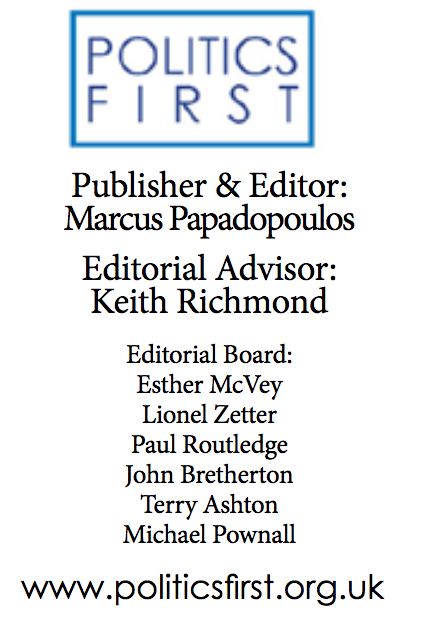 The Politics First editorial board also contained Lionel Zetter, a Conservative blogger and lobbyist.

Isn't it odd that the right-wing media decided to omit that information from their Corbyn hit-pieces, eh?
Become An Evolve Politics Subscriber



Your subscriptions go directly into paying our writers a standard fee for every article they produce. So if you want to help us stay truly independent, please think about subscribing. We literally couldn't function without the support of our fantastic readers.
Subscribe
Or a One-Off Donation to Evolve Politics



If you don't want to subscribe, but still want to contribute to our project, you can make a one-off donation via the donate button below. All your donations go directly to our writers for their work in exposing injustice, inequality and unfairness.
Donate