The Huddersfield schoolboy who strangled and waterboarded a Syrian refugee classmate in an apparent racist attack at a school in Huddersfield has been identified on social media as a fanatical supporter of the far-right racist, Stephen Yaxley-Lennon, more commonly known by his pseudonym, Tommy Robinson.
A disturbing video showing an apparently racist attack on a 15-year old Syrian refugee schoolboy went viral on social media yesterday.
The video initially shows a teenage thug approaching his victim amid fellow pupils at Almondbury Community School in Huddersfield, before knocking him to the ground, then strangling him and pouring liquid over his face.
It is believed that the victim is a Syrian refugee named Jamal who had already endured months of bullying at the school.
The video, which has now been viewed over two million times across all platforms, also clearly shows that the victim was suffering with a broken arm at the time of this latest attack, with several social media users also suggesting that this injury may have been caused by a previous attack perpetrated by a member of the same group of thugs.
However, following the video going viral across social media, it has also now emerged that the alleged attacker appears to be a fanatical supporter of the far-right racist, Stephen Yaxley-Lennon, better known as Tommy Robinson.

The alleged attacker's open Facebook page contains posts from far-right groups such as Britain First, as well as one referencing Tory Brexiteer Boris Johnson's letterbox jibe against Muslim women who wear burkhas.
However, research conducted by Evolve has found that a shocking number of the reported attacker's Facebook posts come from the same source: Tommy Robinson.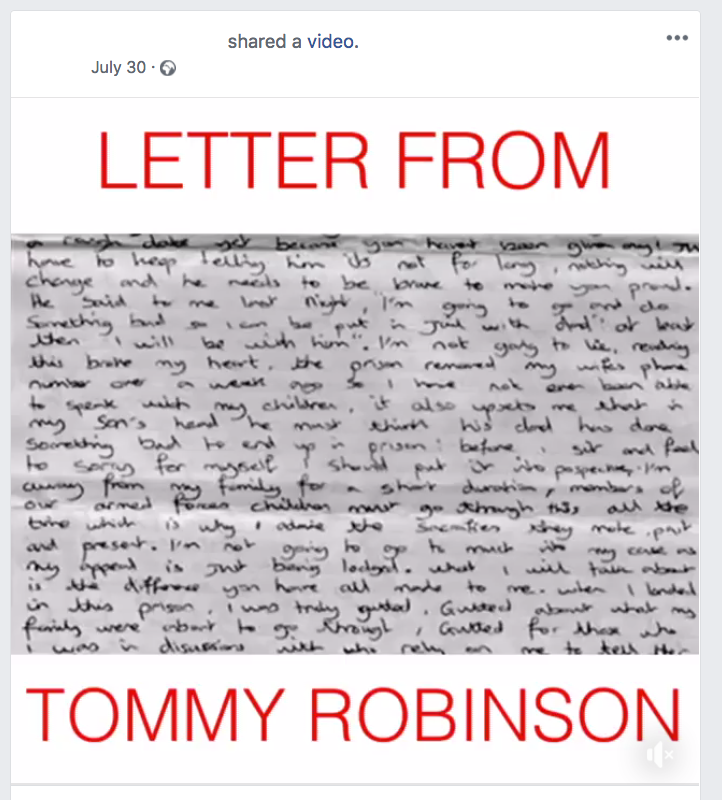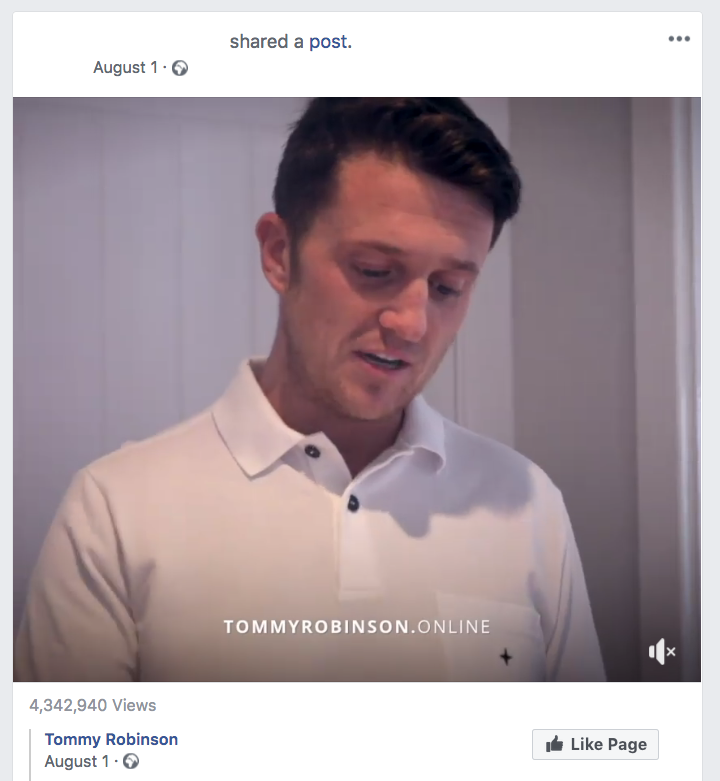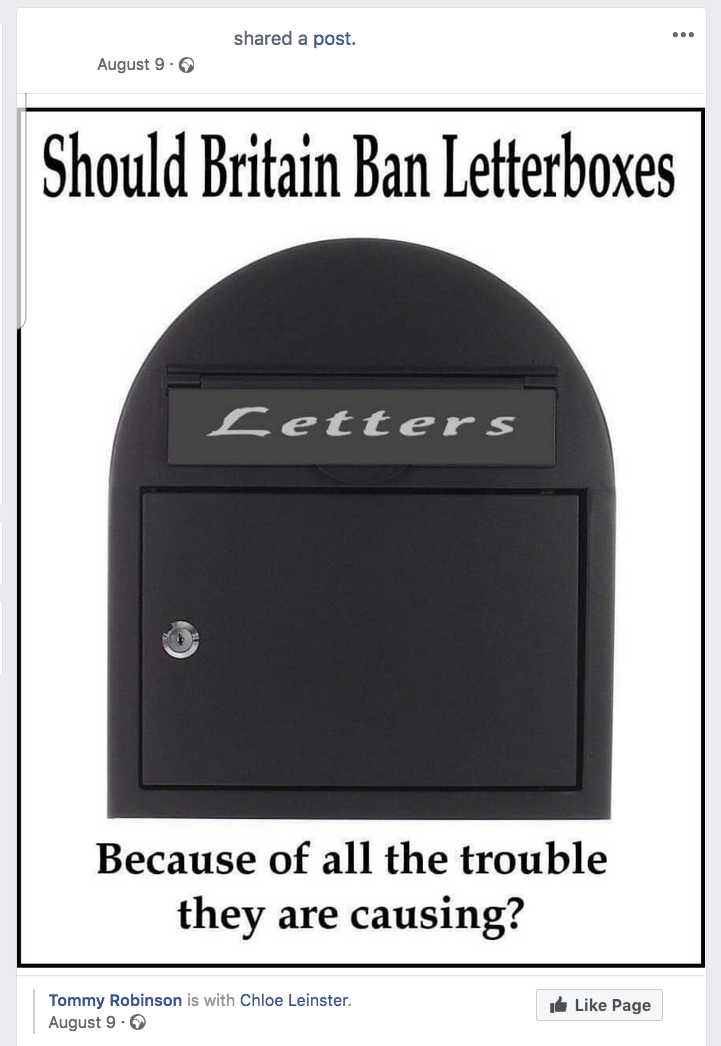 Furthermore, according to another report, one of the alleged perpetrators has also shared images of himself personally meeting Robinson:
One of the alleged perpetrators allegedly has images of himself taken with UKIP's Stephen Yaxley-Lennon, and is sharing pro-EDL content.

— Oz Katerji (@OzKaterji) November 27, 2018
A police investigation has reportedly been launched into the incident.
However, despite this, numerous social media posts have already identified the same Huddersfield schoolboy – who we are unable to name for legal reasons – as the alleged attacker.

A police investigation is underway into the video from a local school. Neither us nor the school condone violence in any form and behaviour like this will not be tolerated

— Kirklees Council (@KirkleesCouncil) November 27, 2018
Steve Dodds, the Superintendent of West Yorkshire police Kirklees district, said:
"We are investigating a report of a racially aggravated assault of a 15-year-old boy which occurred on playing fields at Almondbury Community School at about 1pm on 25 October."
"A 16-year-old boy has been interviewed by voluntary attendance in connection with the incident and we are continuing to progress the investigation."
The open Facebook page of the alleged attacker has since been overwhelmed with comments from people outraged at his reported part in the racist attack.
Following this incident going viral, the headteacher of Almondbury Community School, Trevor Bowen, said:
"The safety and welfare of students is of paramount importance to us and this was a very serious incident.
We are not able to comment further as we are supporting the police with their investigation but I want to be clear that we do not tolerate unacceptable behaviour of any sort in our school."
However, other reports have suggested that the incident was not recent, and may in fact have happened over a month ago on 25th October:
The attack allegedly happened a month ago, but the video, allegedly filmed by a friend of the attacker, is now being shared widely on social media.
The head teacher of the school involved has spoken to local Huddersfield news website @examiner, who have covered the story. pic.twitter.com/y96bm8ryhF

— Oz Katerji (@OzKaterji) November 27, 2018
The victim's solicitor is also reportedly urging people not to share the video any further across social media.
An official GoFundMe page has been set up for the victim, and it has already raised over £37,000.
The page states:
"A video has been circulating the internet of a child being bullied at his school. He already has a broken arm as you can see in the video and he was thrown to the ground, choked and water boarded. 
The victim Jamal is a refugee in the UK who has been subject to months of bullying along with his little sister. To the point where his little sister has broken the lenses in her glasses and attempted to cut her own wrists in school toilets. 
Jamal's family are refugees in the UK and they struggle to meet the basic necessities of life. We want to raise money for the family to ease their situation and hopefully they can use the funds to help improve their quality of life and to put a smile on their faces. Having left a war torn country, the least they deserve is to live in peace without being harassed. Please donate generously and let's change this horrible situation into a blessing in disguise for them."
You can donate to the fund here.