Stay in touch!
Sign up to be updated with Evolve's latest stories, and for opportunities to get involved.
A Tory councillor has been forced to apologise and delete her social media accounts after retweeting a tweet that accused the Grenfell Tower survivors of 'complaining' too much.
Nadia Cenci, who is the leader of the Conservative group on Ipswich Council, retweeted a tweet that claimed:
"Support for Grenfell residents is fading. They have been offered money, food, clothing, housing and full support, yet they still complain."
Cenci then added her own comment to the tweet, seemingly suggesting that Grenfell residents should not be complaining as they got out of the woefully inadequate building alive:
"Not forgetting that they actually came out of it alive. Afraid I feel you might be right."
In a separate conversation, she also said:
"I've just stopped listening and my sympathy is diminishing – I can't pretend otherwise."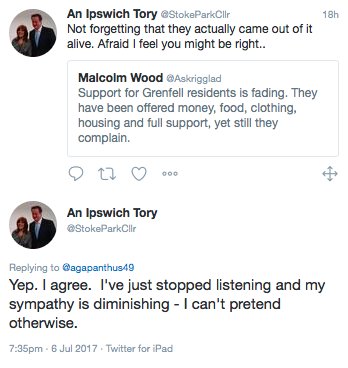 Her despicable comments caused outrage on social media, and was condemned as a tasteless tirade that proves once again that the Conservatives are out of touch with the needs of not only the survivors of the Grenfell disaster, but ordinary working people up and down the country. Many have been calling for Cenci to resign her position on Ipswich Council.
nice people, @Conservatives. so much empathy. pic.twitter.com/GuhvZLLXP3

— Sjoerd Levelt (@SLevelt) July 7, 2017
This Tory councillor things the #Grenfell victims are complaining to much….can we get this awful person called to account. https://t.co/V4b4trknBd

— GhostofTomPaine (@champagne_lefty) July 7, 2017
https://twitter.com/AdamMcGibbon/status/883370402252283904
In a statement issued last night, Councillor Cenci apologised for the 'offence caused' by her opinion, but whether she has reneged on her vile insinuation that the Grenfell survivors are asking for too much is unknown:
"I am very sorry for any offence my recent tweets regarding Grenfell Tower have caused.

This was not in any way my intention and I regret writing anything that could be interpreted as me being anything but shocked and saddened by this tragedy and the impact it has had on people in North Kensington.

I have been deeply saddened by these events. I have decided to delete my entire Twitter account so that none of my tweets can cause any further offence and sincerely apologise to anyone upset or offended, particularly those directly affected by the fire."
This isn't the first time in recent months that Conservatives have shown their true colours on social media, and it certainly won't be the last. Their spin doctors and their propagandists in the mainstream media can try and market them as "Compassionate Conservatives" all they want, but as long as these mindless Tories keep on exposing themselves on social media, we can all see what the Conservative Party really stand for.
Become An Evolve Politics Subscriber
Your subscriptions go directly into paying our writers a standard fee for every article they produce. So if you want to help us stay truly independent, please think about subscribing. We literally couldn't function without the support of our fantastic readers.
Subscribe
Or a One-Off Donation to Evolve Politics



If you don't want to subscribe, but still want to contribute to our project, you can make a one-off donation via the donate button below. All your donations go directly to our writers for their work in exposing injustice, inequality and unfairness.
Donate