It has become clear over recent months that truly independent media outlets such as ourselves, The Canary and Skwawkbox are beginning to frighten the pants off the right-wing media.
Just a few years ago, publications such as The S*n and the Daily Mail dominated public opinion and held a virtual monopoly over the way the public perceived politics.
However, with the emergence of outlets such as our own – outlets that have no financial backers and absolutely no ties to big business – the right-wing media have sought to try and destroy our credibility in their usual pathetic manner: by running jumped up smears to try and tarnish our reputation.
A few weeks ago, both The Sun and The Daily Mail ran a pathetic hit-piece attack on the founder of Skwawkbox, Steve Walker.
The S*n's piece, headlined 'Boss of pro-Corbyn conspiracy website is entepreneur who cashed in on NHS privatisation' attempted to label Mr Walker of being a corporate 'tycoon' and also said that the Skwawkbox owner 'sells' services to the NHS and therefore 'profits from privatisation' in the process.
However, the Murdoch rag has been forced to issue a grovelling retraction after realising that their accusations were in fact completely made-up.
The S*n was forced into admitting that Mr Walker's company does not in fact 'sell' things to the NHS – it provides a service FOR FREE.

They also had to clarify that they were also completely wrong in their headline. The Skwawkbox owner does not benefit from NHS privatisation because the NHS organisations that use his company's service are not privatised.
In a final humiliating climbdown, The S*n finally admitted that Mr Walker's company does not actually profit from NHS privatisation in any way.
Why are we not surprised?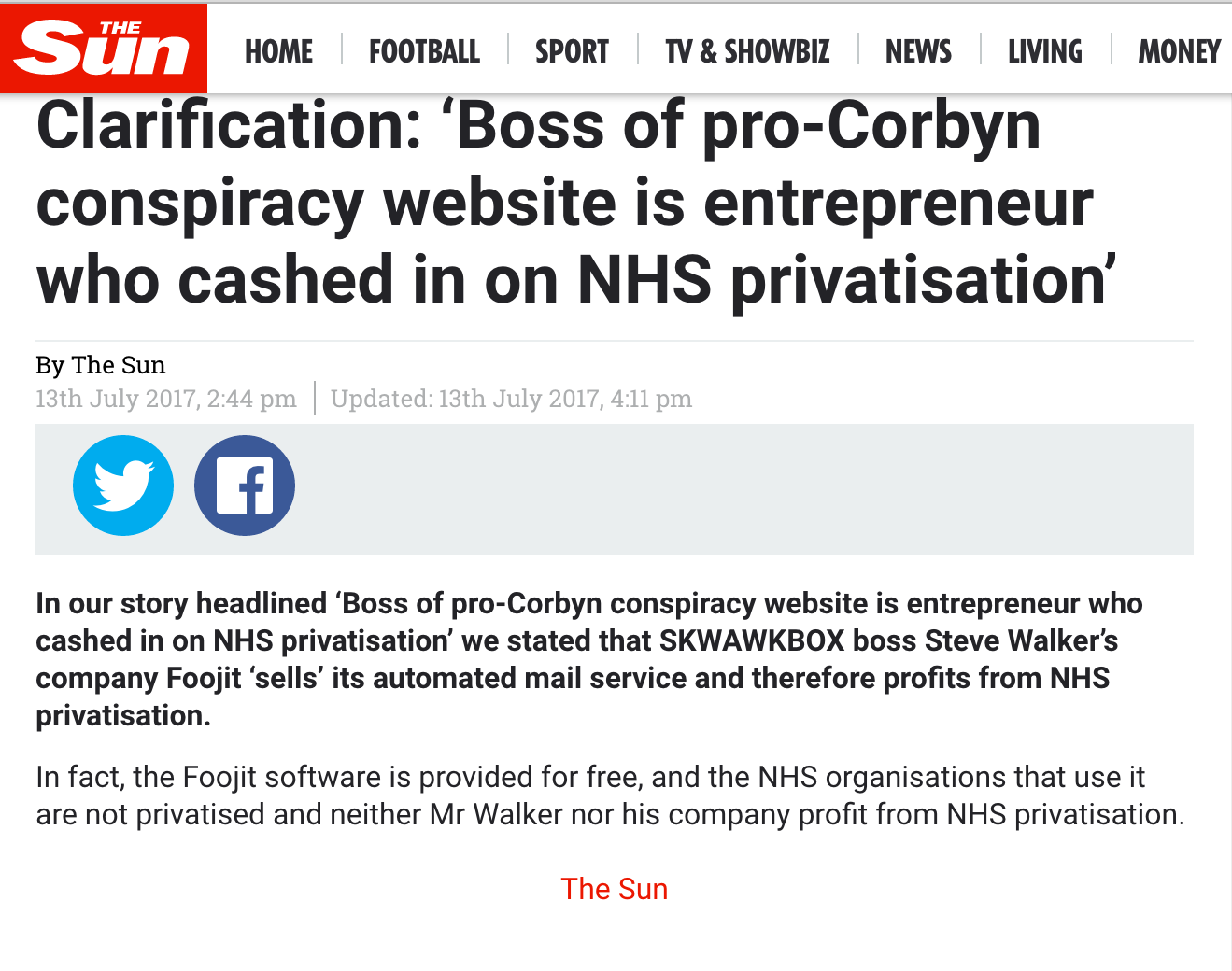 It also appears that The Sun has completely deleted their pathetic hit piece attack against Skwawbox from their website entirely.  

It remains to be seen whether The Daily Mail follow suit and remove similar accusations from their own story:



We aim to bring you more developments on this story shortly.
Become An Evolve Politics Subscriber



Your subscriptions go directly into paying our writers a standard fee for every article they produce. So if you want to help us stay truly independent, please think about subscribing. We literally couldn't function without the support of our fantastic readers.
Subscribe
Or a One-Off Donation to Evolve Politics



If you don't want to subscribe, but still want to contribute to our project, you can make a one-off donation via the donate button below. All your donations go directly to our writers for their work in exposing injustice, inequality and unfairness.
Donate