After a week of unmitigated turmoil surrounding David Cameron's tax affairs, the Prime Minister probably expected to face a barrage of criticism as MPs reconvened for Parliament after the Easter break. Today's events did not disappoint.
Denis Skinner was ejected by the Speaker John Bercow after again referring to Cameron as 'Dodgy Dave' and failing to retract the adjective. This despite the Prime Minister referring to Skinner as 'Jurassic Park' back in 2015, with no rebuke from the Speaker.
Tory MP Alan Duncan attempted to defend Cameron, but instead managed to insult and deride the majority of the country. Duncan sneeringly labelled people 'who aren't millionaires' as 'low achievers' – so that would include Nurses, Teachers, Firemen, and you know, people who actually graft for a living and dutifully pay their taxes.
And just as things looked like they couldn't get any more toxic for the Prime Minister, an eBayer named 'blackteabowl' has just listed David Cameron on eBay in the 'Statues and Lawn Ornaments' category, and under the condition of 'for parts or not working'.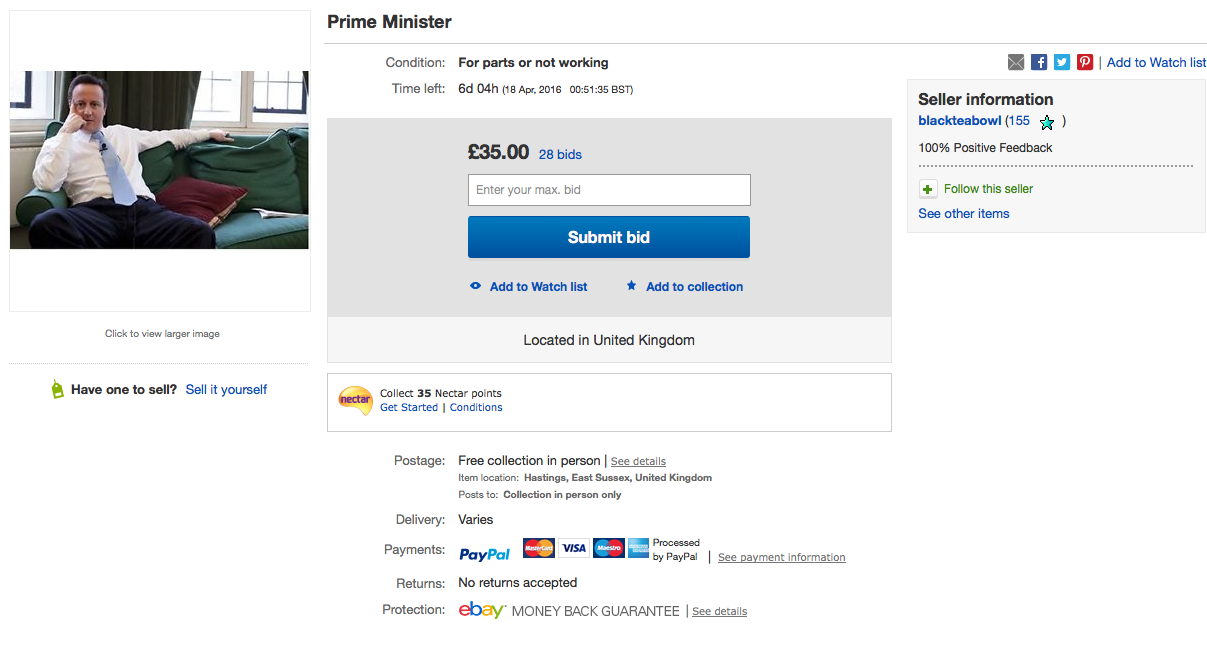 With 6 days and 4 hours remaining on his auction (correct at time of writing) the current bid for Mr Cameron is £35.00 with 28 bids being already placed in total.
Mr Cameron has been described as 'No longer needed' and 'In need of a bit of TLC'.
Unfortunately for potential buyers the Prime Minister comes with 'no box or instructions' as the 'Seller [is] not prepared to touch item.'
The seller goes on to say that all proceeds of the sale will go to 'Mr Ethical's campaign to expose massive HSBC fraud and Cameron's cover-up'.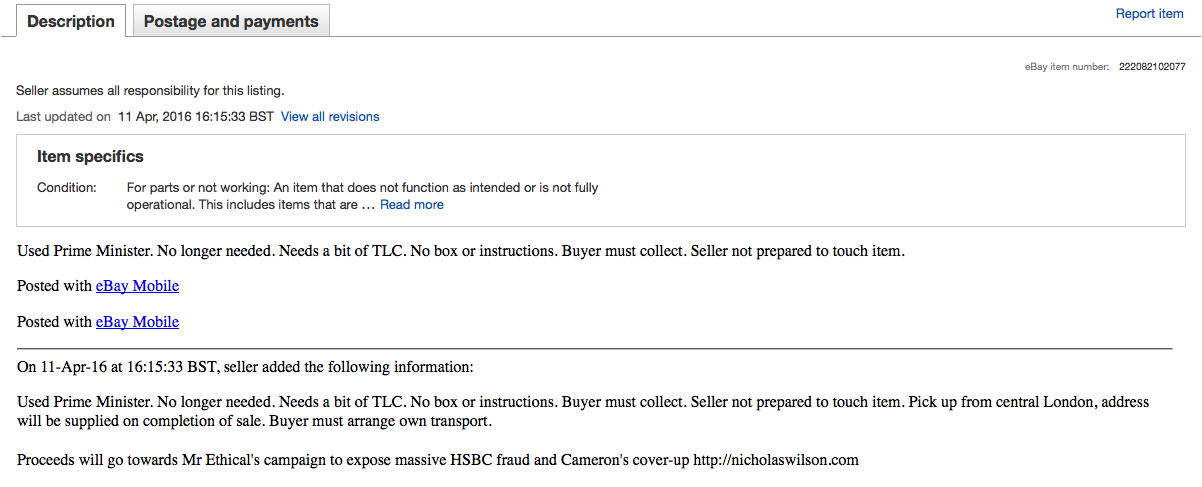 To find out more about Mr Ethical's campaign to expose HSBC, please follow this link, or check him out on Twitter.