Stay in touch!
Sign up to be updated with Evolve's latest stories, and for opportunities to get involved.
A devastating new United Nations report has revealed that the UK has had the worst wage growth out of every advanced economy in the G20 for every single year since the Conservative Party came to power, with Tory economic policies also leading to workers across Britain seeing their wage packets actually decrease in real terms since 2010.
The Global Wage Report 2018/19 was conducted by the United Nations Agency, the International Labour Organization, and showed that in the two years following the financial crash in 2008, UK wage growth actually remained relatively stable, decreasing only slightly amid the fallout of the crisis created by a reckless casino-culture within major banking institutions.
However, in 2010 – the year that the Conservative Party went into coalition with the Liberal Democrats following the end of 13 unbroken years of a Labour government – the UK first ranked bottom for wage growth amongst advanced economies in the G20.
And for every year since, British wage growth has remained the lowest among advanced G20 economies – consistently ranking below South Korea, Germany, France, the USA, Canada, Japan, and Italy.
The report showed that, since 2010, South Korean workers have effectively had a pay rise of 15%. This compares to 11% in Germany, 9% in Australia, 8% in both France and the USA, and 5% in Canada, whilst Japanese workers' wages have remained the same.
However, whilst Italian workers have effectively had a pay cut of around 4%, British workers fared even worse, seeing their take home pay decrease by 5% in real terms since the Conservative Party came to power.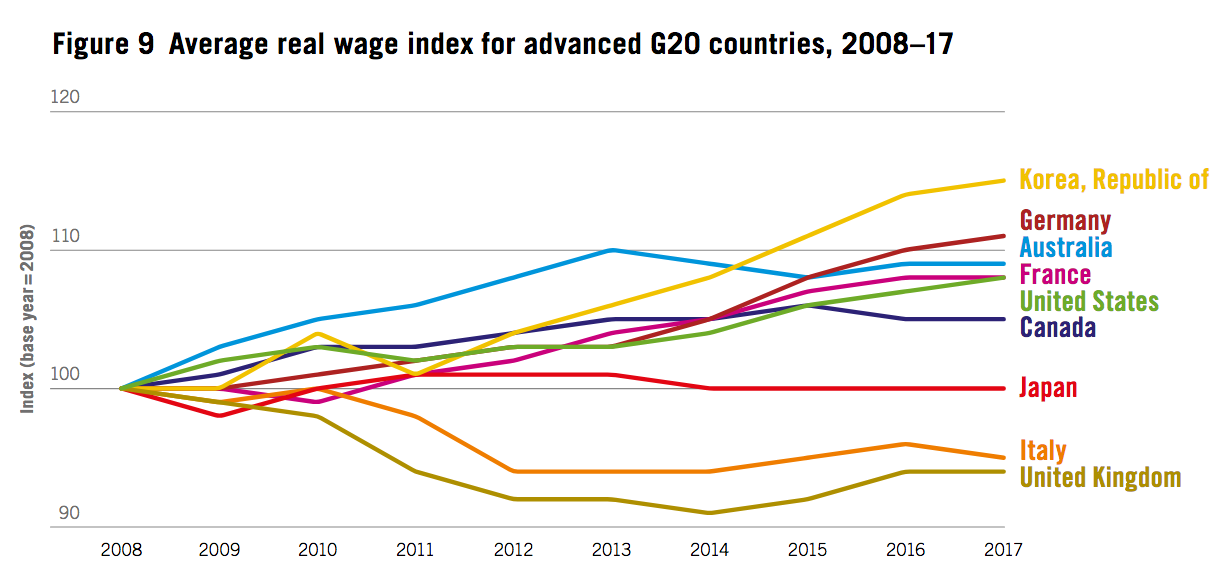 This latest UN report is a devastating indictment on the Tories' claims to have stabilised the UK economy, and also provides significant evidence as to why poverty, including homelessness and rough sleeping, has soared across the country since 2010.
Furthermore, a separate UN report, also conducted this month, showed that the Conservative Party's social and economic policies had inflicted "great misery" upon people across the UK.
UN Rapporteur, Philip Alston, conducted a two-week fact finding mission which found that Tory policy had to led to levels of child poverty that were now so bad that they were "not just a disgrace, but a social calamity and an economic disaster".
Alston's unprecedented findings showed that a staggering 14 million people across the UK were now living below the poverty line – a full one fifth of the entire population – and that 1.5 million people were also completely destitute, meaning they literally did not have enough money to afford the necessities for life.
Furthermore, Alston's report stated that this staggering increase in poverty was no accident, but that it had occurred as the result of the Tories' "punitive, mean-spirited, and often callous" austerity policies, which had been undertaken, not out of economic necessity, but in an attempt to re-engineer society in favour of the already wealthy.
The two excoriating UN reports to emerge this month show without any shadow of a doubt that the Conservative Party's policies are destroying both the social and economic fabric of the UK, with Alston's report also stating that the effects of Tory austerity had directly led to the vote for Brexit.
However, whilst it is unclear whether Brexit will solve a single one of Britain's problems, kicking the Tories out of government definitely will.