Stay in touch!
Sign up to be updated with Evolve's latest stories, and for opportunities to get involved.
For a long time, children have been praised for having good attendance at school. However, in recent years there has been a dramatic change in the way this praise is approached.
The bar for what counts as 'good' attendance seems to have been raised to impossibly high levels. Worryingly, children are now being penalised for not achieving the national average of 95%, even when the absences are linked to medical conditions.
Whilst parents disagree on many aspects of schooling, the majority seem in agreement that the way schools are approaching attendance needs to change.
Medical conditions
In January, Jessica Smullen set up a petition after her five-year-old son, who suffers with severe asthma, was told he would not allowed to attend his school's Christmas celebration. The reason? He had not achieved 98% attendance after being sent home 'after the school said that he was too ill to be in'. Smullen's petition urges schools to "stop penalising children with medical conditions for their attendance" and so far has more than 140,000 signatures.
When children and parents are constantly pressurised into high attendance, it results in sick children being sent into school. A child like Noah is more likely to catch illnesses due to an ongoing medical condition, and so will end up battling not only their own symptoms, but everyone else's illnesses, too. Did Noah ever really have a chance at achieving 98% attendance?
The school didn't even inform his mother of their decision, instead they simply told Noah that he was to stay in the classroom during the party. He was, essentially, punished for having a medical condition. One would be well within their rights to question if this is discrimination.
Parents' decision
Of course, not all schools punish their children for not achieving attendance expectations, but they do all praise them for high attendance. Surely, a child being lucky enough to not catch an illness, or being forced to attend despite an illness, is not praiseworthy. Especially if it means that other children feel like they are 'bad' for being kept home by their parents.
Schools are laying a tremendous amount of pressure on parents' to conform to their strict policies. Here is an example of a typical school newsletter: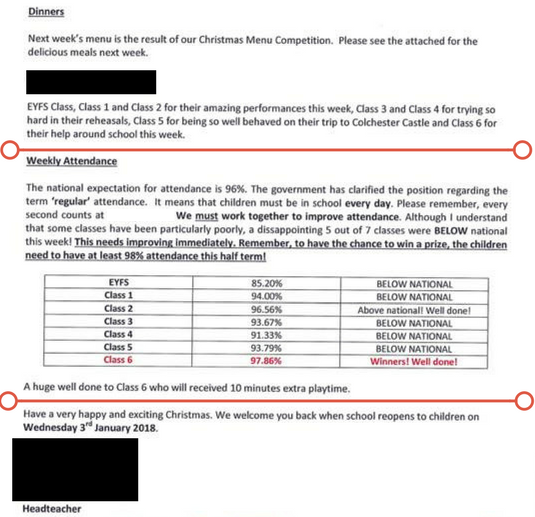 The common example seen above is replicated all over the country; children being judged on their attendance and parents being constantly told to try harder.
The children experience a lot of negativity from this pressure, too. It certainly would not be foolish to assume that the child who is ill and kept home by their parents, consequently dragging the class average down, will be judged by their peers as a 'let down'.
There are full assemblies dedicated to rewarding the highest attendees with certificates, medals and treats, while the kids whose parents chose not to send them in with sickness bugs, fevers and tonsillitis look on sadly.
With teachers under pressure from their bosses to drill their students about high attendance, and parents ordered to continue the attack at home, children are being brainwashed, borderline bullied, into never missing a day. Schools seem obsessed with achieving the 95% average attendance and are passing on the obsession to the children, which manifests in very unhealthy ways:

Freedom to change the approach
Schools have the freedom to impose their own policies, often taking influence from other schools resulting in similarly replicated policies across the country. For example, it's common for parents to receive a letter if their children's attendance drops below 95%. Many schools will meet with parents if it drops below 90%. In fact, parents might even get a talking to from an "Attendance Officer" if the school feels it needs to be dealt with further.
Of course, it's important for schools to talk through attendance issues with parents – after all, there could be an underlying problem that needs to be dealt with. Nobody is denying that regular attendance, if possible, is important.
However, alienating parents with authoritarian approaches towards too high expectations is not going to give people the impression that schools are taking this approach in order to help families. They seem to be strictly enforcing these rules and 'punishments' in order to meet quotas set by the government, rather than for the good of their pupils. These patronising and sometimes rude attempts to bring the numbers up often confuse and upset parents.

What are the implications of forcing children and parents into such strict attendance? Could serious, long term illnesses go undiagnosed because the child is too scared to say they're ill? Are parents damaging their child's trust in them by constantly pushing them out the door?
Sometimes, children get ill. Sometimes, children need a holiday with their family. Sometimes children need a day of rest because they are under so much pressure to achieve, that they're burning out.
Yes, attendance is important. However, making a generation of children terrified of getting poorly is not the way forward.
Boycott Attendance Rewards
Social media comments are widely supportive of the end of all forms of praise for attendance, because it's just too much pressure for children. Parents from all sides are in solidarity.
So, whilst it's clearly essential that children with medical conditions should never be penalised by schools for their attendance, could we perhaps go a step further and say that enough is enough for all the children?
Perhaps the key to change is a lot simpler than we imagine. What if enough parents choose to say NO to all forms of attendance rewards and punishment? Even if their child is one of the 'good' ones, telling the school that they will not be participating in the reward scheme will speak volumes. Sure, it may be nice for a child to receive a reward for high attendance, but when it's at the cost of the majority's emotional well-being it is simply not acceptable.
Get Involved
If just a handful of parents per school were to participate in a boycott of attendance reward schemes, then schools would be forced to look into reassessing their policies.
We urge you to boycott attendance reward policies. Encourage your friends, family and other parents at the school to join in and tell them that we will no longer participate in schemes that are damaging our children.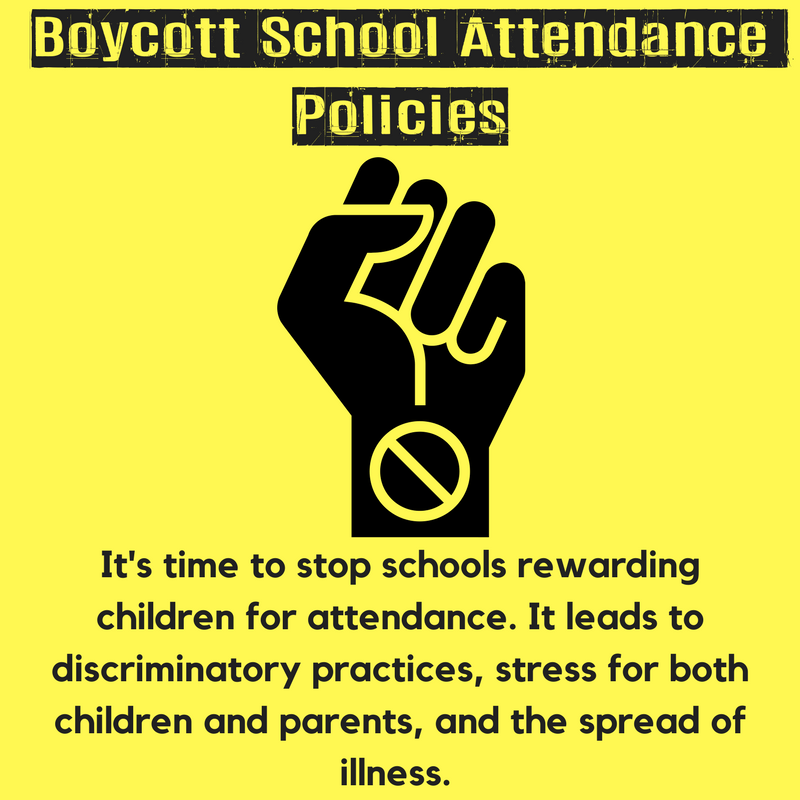 You can Sign Jessica's petition for schools to stop penalising children with medical conditions for their attendance here
Become An Evolve Politics Subscriber



Your subscriptions go directly into paying our writers a standard fee for every article they produce. So if you want to help us stay truly independent, please think about subscribing. We literally couldn't function without the support of our fantastic readers.
Subscribe
Or a One-Off Donation to Evolve Politics



If you don't want to subscribe, but still want to contribute to our project, you can make a one-off donation via the donate button below. All your donations go directly to our writers for their work in exposing injustice, inequality and unfairness.
Donate