In a bizarre twist to the current dominant media narrative surrounding Labour leader Jeremy Corbyn's supposed links to a former Czech Spy, the man himself, Ján Sarkocy, has now, incredibly, reportedly claimed personal credit for launching Live Aid in an interview with a Slovakian publication yesterday.
Mr Sarkocy, who is said to have met with Corbyn three times during the 1980s under the guise of Czech diplomat, also claimed during the interview that the Labour leader gave him information about exactly what Margaret "Thatcher would have for breakfast, lunch and dinner, and what she would wear next day".
The highly peculiar and deeply implausible quotes have surfaced following an 'Exclusive' interview Mr Sarkocy held with the publication Nový čas yesterday, a tabloid newspaper/magazine sold in Slovakia.
The bizarre quotes will also put the credibility of Mr Sarkocy as a source firmly in the spotlight after numerous British publications used quotes from him regarding Mr Corbyn as the main source to support their latest story surrounding the Labour leader's supposed links to Communist spies during the Cold War.
After the Nový čas journalist had asked Mr Sarkocy 'What information did Corbyn give you?', the formed Czech spy reportedly responded (translated):
I'll tell you this. I knew what Thatcher would have for breakfast, lunch and dinner, and what she would wear next day. Corbyn's money was given by another person who is currently a prominent MP. The check-in took place under Russian protection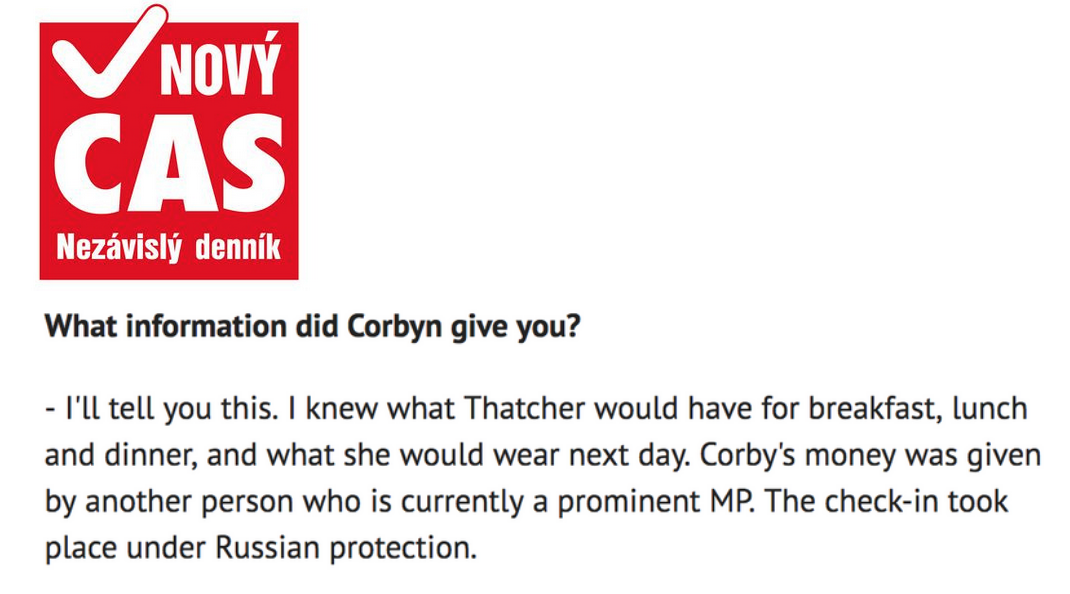 Quite how Mr Corbyn – who was a backbench Labour MP during the time, with no privileged Ministerial experience until his election as Labour leader in 2015 – was supposed to have in depth knowledge of the Conservative Prime Minister Mrs Thatcher's personal eating habits and future wardrobe choices, is a question many will be pondering following this latest bizarre revelation.
However, the interview with Mr Sarkocy becomes even more strange, with the former Czech spy actually claiming personal credit for launching the Live Aid concert in 1985.
During the interview Sarkocy – who was given the name 'Jan Dymic' during his time working for the Czech State Security (StB) – began talking about his supposed links to former South African leader Nelson Mandela, before stating (translated):

Through the unions and peace movements, questions were addressed to Nelson Mandela. It is because he and his team have been involved in the preparation of supporting events. We finally made a concert in Wembley. It was funded by Czechoslovakia.
To which the interviewer asks Mr Sarkocy:
Do you mean Live Aid?
Sarkocy, incredibly, responded by claiming:

I did that. He maintained good contacts with Mandela's wife. Women are a good source.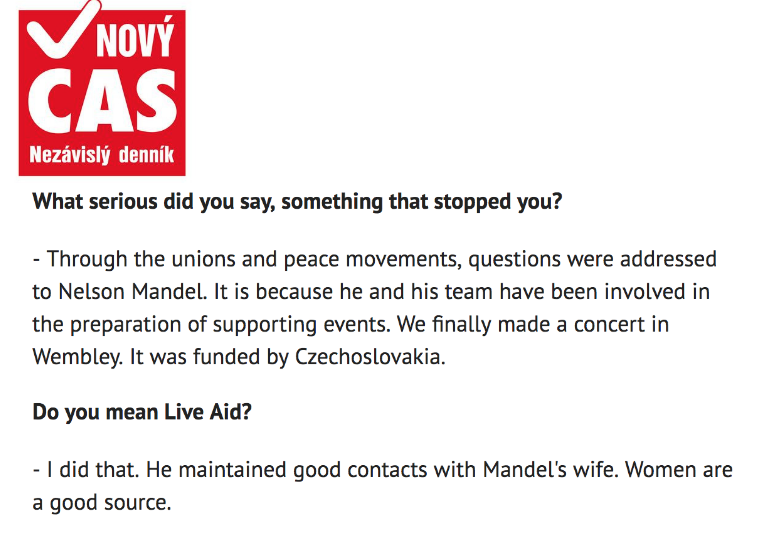 It is thought that, rather than Live Aid, Mr Sarkocy may have been referring to the Free Nelson Mandela concert held at Wembley in 1988, but even then there is absolutely no record, to our knowledge, of the Czech state funding this event in any way either.
Both highly peculiar quotes from the former Czech spy will surely raise yet more huge questions about the veracity of the claims first published in The Sun.
Even before the bizarre quote from the former Czech spy, Labour had labelled The Sun's claims as a 'ridiculous smear', whilst even the head of the Czech Security Forces, Svetlana Ptáčníková, dismissed the claims as nonsense, stating:

Mr. Corbyn was neither registered [by the StB] as a collaborator, nor does this [his alleged collaboration] stem from archive documents

We sincerely look forward to The Sun updating their article to include the aforementioned facts. Will won't be holding our breath.
Become An Evolve Politics Subscriber



Your subscriptions go directly into paying our writers a standard fee for every article they produce. So if you want to help us stay truly independent, please think about subscribing. We literally couldn't function without the support of our fantastic readers.
Subscribe
Or a One-Off Donation to Evolve Politics



If you don't want to subscribe, but still want to contribute to our project, you can make a one-off donation via the donate button below. All your donations go directly to our writers for their work in exposing injustice, inequality and unfairness.
Donate