The right-wing media outlet, The Daily Mail, has been named and shamed as the most unreliable and untrustworthy news organisation in the country for the third year in a row after yet again racking up more sanctions from the Independent Press Standards Organisation (IPSO) than and other title in 2018.

The Daily Mail, and its sister-titles MailOnline and the Mail on Sunday, managed to clock up an astonishing 28 offences combined, almost all of which were for publishing either misleading or factually inaccurate reporting.
However, despite gaining a dubious hat-trick of titles, 2018's results were actually a vast improvement on 2017, when the Daily Mail faced a staggering 50 separate sanctions from IPSO.
In second place for 2018, moving up from fifth place in 2017, was the supposedly respectable Murdoch-owned newspaper, The Times, who chalked up 18 sanctions.
And, surprise surprise, another Murdoch title found itself in third place – The Sun, who managed to commit 16 separate offences over the course of last year.
The results for 2018 are yet more clear proof that right-wing, pro-establishment newspapers are by far and away the most untrustworthy outlets in the country.
A survey carried out in 2017 found that the British press was the least trusted throughout Europe, and the staggering amount of misleading and factually inaccurate reporting from British Newspapers in 2018 will surely only have further ingrained this distrust amongst the public.
Furthermore, the continued widespread misreporting from the British press clearly shows that IPSO's sanctions are having little to no effect on media standards.
When found guilty of misreporting by IPSO, rather than being forced to publish a prominent correction, media outlets are usually allowed to get away with publishing a tiny correction hidden away on an obscure page, or sneaking out a correction on their website in the early hours of the morning.

One example of this utter ridiculousness was when the Daily Mail published a ridiculously inaccurate story on their front page.
The Mail's front page story reported that British taxpayers faced paying "massive compensation bills" to an Iraqi insurgent, who the Mail claimed was "caught red-handed with a bomb", because he was supposedly held in custody for too long.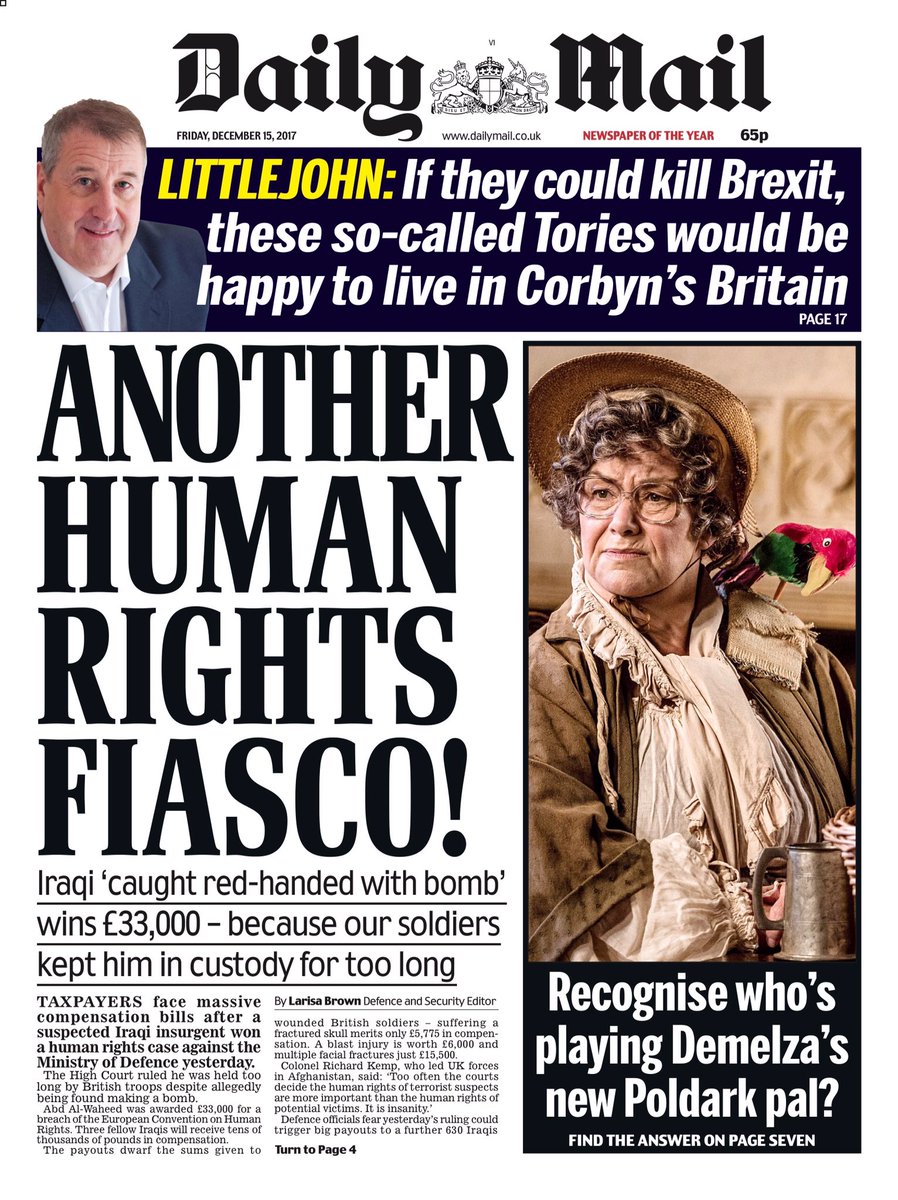 However, over six months later, the Mail published a tiny little correction reporting the not insubstantial facts that, not only was the Iraqi man in question found innocent of any crimes, but that the £33,000 in compensation was actually awarded to him because British soldiers had literally beaten him whilst he was in custody.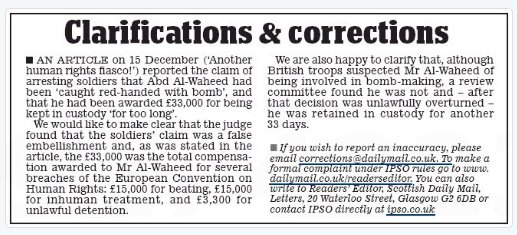 Daily Mail has admitted two key aspects of their "Another Human Rights Fiasco" headline splash were false
1. £33,000 awarded was not just for being held too long, it was *almost all* for being beaten by soldiers
2. The claimant was *not* involved in bombmaking
HT @Will4Privacy pic.twitter.com/iUs6KRBmEC

— Adam Wagner (@AdamWagner1) December 20, 2017
When you realise that the IPSO Board is literally comprised of representatives from many of the publications it is supposed to regulate, it's pretty clear why so little is actually being done to hold the press to account over such brazenly false reporting.