Terrorist sympathiser. Moderates. Old-Fashioned Politics: three phrases which, no doubt, you will have heard innumerable times during the past few months since Jeremy Corbyn was elected to lead the Labour party with an astounding and unprecedented mandate.
However, almost everybody will have heard the phrase 'one man's terrorist is another man's freedom fighter' (Gerald Seymour, in his 1975 book 'Harry's Game), and this axiom speaks volumes about one aspect of the new generation of political activists.
Jeremy Hunt recently quoted an article in The Times calling on 'Moderate' doctors to defeat the 'militants'.
The word militant stirs up immediate connotations of violence, and this is the innate intention of the ever spin-savvy health secretary Jeremy Hunt. The definition of 'militant' is 'favouring confrontational or violent methods in support of a political or social cause.'.
To describe them as militant is not only a linguistic falsehood, it exposes Hunt as a person looking to push an agenda through spin, rather than truth.
Furthermore, to call on 'moderate' doctors to oppose anyone who disagrees with Hunt's position on the proposed contracts rouses suggestions that anybody who agrees with Hunt should be considered righteous and fair-minded. It's as if Mr Hunt wants the public to think that Junior Doctors are being unreasonable, when it's clear that his failure to negotiate fairly is causing the tension.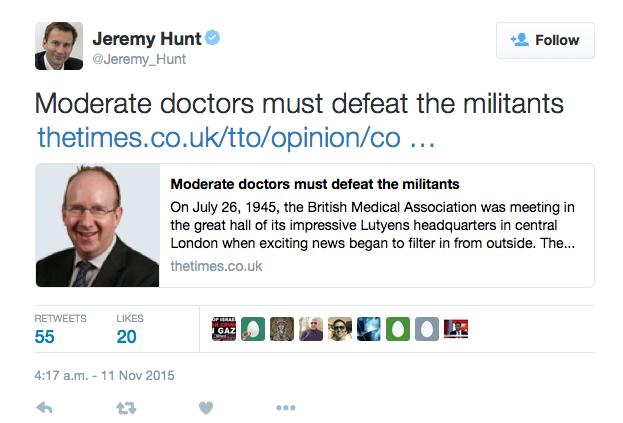 Such a hijacking of the English language from right-wing politicians has become so ingrained on our culture that some of us have become complacent and unconcerned. A large section of the populace fail to see the sociopathic nature of this unabashed spin, and consequently the perception of the general public becomes swayed as a result.
Examples can be seen right throughout the media. 'Hard-left Labour leader Jeremy Corbyn', 'Terrorist Sympathiser', 'Unpatriotic'. We've all seen the headlines, and we are far too complacent about the consequences that these words have on undecided voters.
What EvolvePolitics is trying to do is to evolve the political debate and find ways to bring political discussion back from the brink of insanity. The mainstream media will not cease in their attempt to sway the public's perception for its own agenda, and so we need to engage in this war of words in our own way. A new way.
Rather than join in the consensus and let right-wing politics dominate the language of our discussions, we need to turn the tables. We need to start fighting a war of words.
Whilst Jeremy Corbyn is undoubtedly a left wing politician, he is not, and has never been 'hard-left'. If the mainstream media wants to describe Mr Corbyn as hard left, we should describe Theresa May's immigration policies as far-right.
If mainstream media wants to portray junior doctors as 'militants', we should describe Jeremy Hunt as an 'authoritarian'.
If mainstream media want to describe Jeremy Corbyn's ethical policies as 'old-fashioned', then we need to describe the Tories' policies as 'Thatcherite', 'Rehashed' or 'Ignorant of evidence'.
And if mainstream media insists on describing Jeremy Corbyn as a terrorist sympathiser, we need to start turning the tables on states such as Saudi Arabia, which by all logical definition, use their power to terrorise and brutalise a population into submission.
Also, David Cameron has continued the selling of arms to states such as Qatar who are a well-known supporter of extremism, and Saudi Arabia who are continually linked with the funding of terrorist organisations. By all logical definitions, this makes David Cameron, and the Conservative Party as a whole, supporters and sympathisers of terrorism. We cannot let these people get away with such flagrant immorality and double standards. We need to take the language of political debate back.
Language plays as understated part in our society and culture, and for too long we have submitted to the agenda of the mainstream media. If we truly want to start evolving a political discussion, we need to take our language back.
We need to turn the tables on a culturally sociopathic political debate and use their tactics to expose their innate weaknesses. The weaknesses being that right-wing politics is inherently divisive and serves nobody but individuals and faceless corporations, rather than society as a whole.
If we want to live in a society where everybody is treated with the same amount of respect; a society where nobody has to go hungry, and our public services remain free to use, we all need to play our part.
We need to use our intelligence to overwhelm their linguistic aggression. We need to use our morality to expose their dishonesty and spin. We need to conduct a modern war of words on an industrial scale.