An official document published under the Conservative government has advised immigrants who they are deporting to Jamaica – such as many in the Windrush generation who have lived in Britain for over 50 years – to "Try to be Jamaican" and to "use local accents" as "overseas accents can attract attention".
The guide for deportees – ironically named "Coming home to Jamaica" – was published by the Home Office in 2013 under the Tories and has been widely slammed on social media after being unearthed following the current row surrounding the Tories' apparent deportation of many people of the Windrush generation.
The 'Windrush generation' refers to thousands of immigrants from Commonwealth countries such as Jamaica, Trinidad and Tobago and other islands, who were welcomed into Britain as a response to labour shortages from the 1950s until the 1970s.
Those in the Windrush generation – a name relating to the ship bringing the first wave of Commonwealth immigrants, the MV Empire Windrush – were given indefinite leave to remain under the 1971 Immigration Act, but many are now said to have been detained or even wrongly deported by the Conservative government for not having official documents.
The Home Office failed to keep a record of those in the Windrush generation, and did not issue them with official documentation – meaning it is impossible for many to prove they are in the UK legally.
The case of Elwaldo Romeo – who came to Britain from Antigua at the age of 4 under the Windrush scheme – was raised by The Guardian, after he was told by the Home Office that he was in the UK illegally despite living in Britain for 59 years and holding a British passport.
As reported by The Guardian:
Sign up to be notified of new Evolve Politics articles
"A man who has lived in Britain for almost 60 years has been told by the Home Office he is in the UK illegally.
Elwaldo Romeo moved from Antigua to the UK when he was four, 59 years ago, and has lived and worked here continuously ever since.
He was extremely distressed to receive a Home Office letter earlier this month informing him that he was "liable to be detained" because he was a "person without leave".
The letter continued: "You have NOT been given leave to enter the United Kingdom within the meaning of the Immigration Act 1971."
He has been told to report fortnightly to Home Office premises. The letter also offered advice on "help and support on returning home voluntarily".

And now, the crass advice published by the Tory government to deportees to 'Try to be Jamaican' has been exposed in a list of 'do's and don'ts' near the end of an official home Office document.
The list also goes on to advise deportees to keep 'cash and personal items hidden from view'.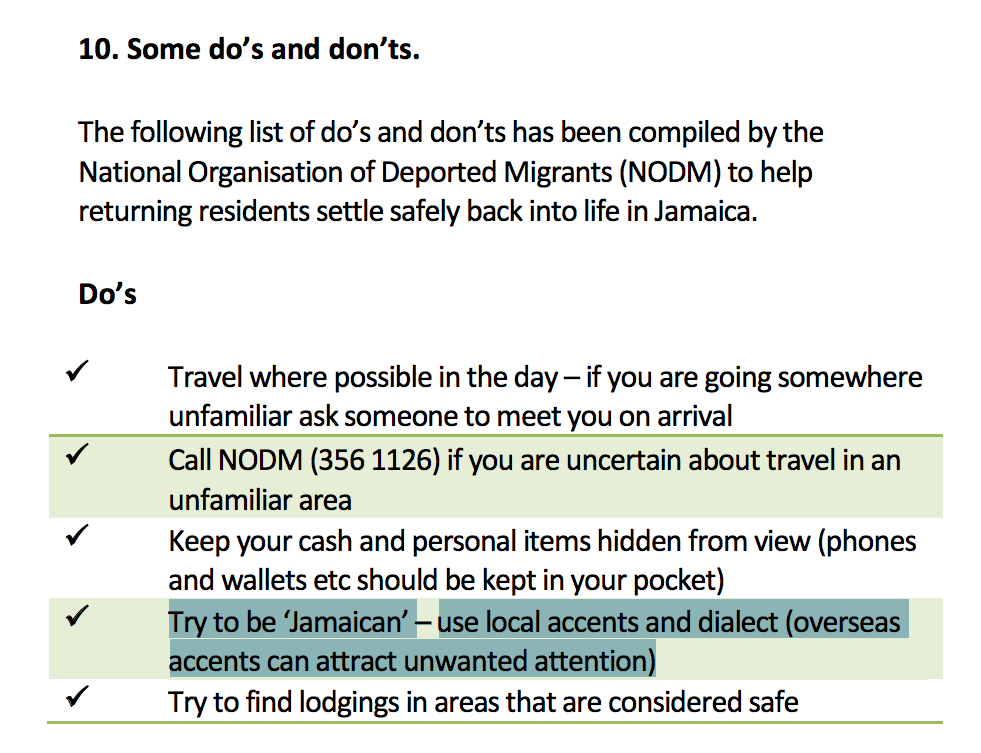 The crass advice has been widely slammed and ridiculed on social media:
The Home Office has – helpfully – provided travel advice for those long-term British residents it's deporting to Jamaica, including "trying to be Jamaican" by "using local accents and dialects." Yes, this is real. https://t.co/iQQBdEyD7u pic.twitter.com/XbriC2L5to

— Thomas Colson (@tpgcolson) April 16, 2018
Sickening. "Try to be 'Jamaican'"; perversely, a clear acknowledgment that someone shouldn't be deported at all!! #homeoffice #Windrush https://t.co/gDcYd94nT0

— Sarah Day (@sarahday436) April 16, 2018
been off twitter most of today and I honestly thought the government saying "try doing a Jamaican accent" to deportees had to be some kind of grim spoof, but no, no, no it isn't https://t.co/qwijUu03oZ

— Tom Phillips (@flashboy) April 16, 2018
"Try to be Jamaican" reveals the Kafkaesque nature of the deportations because it tacitly admits these people are not Jamaican. https://t.co/8L3XkLLDIe

— Gwilym David Blunt (@GDBlunt) April 16, 2018
We Need Your Help!
Evolve Politics can only continue publishing our truly independent journalism because of the financial support of our readers. If you value our work, please consider subscribing or donating any amount you can afford. Every penny you contribute goes directly to our writers for their work.