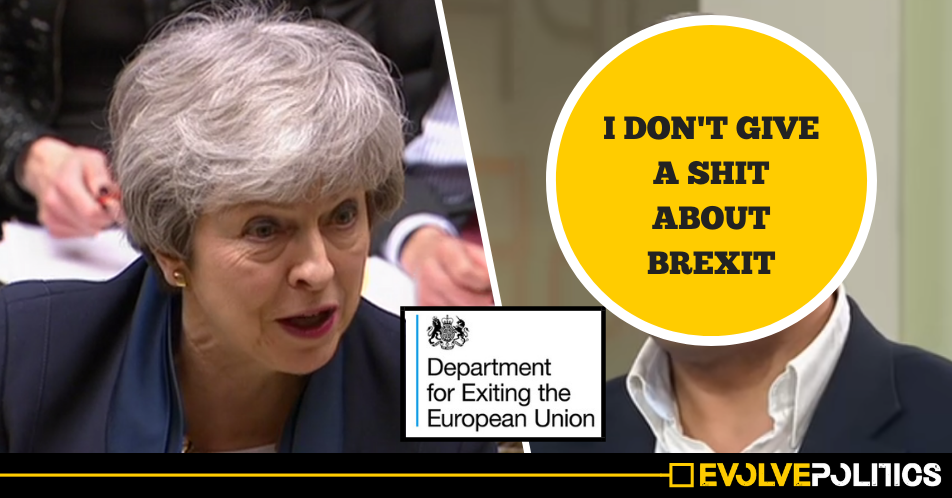 Stay in touch!
Sign up to be updated with Evolve's latest stories, and for opportunities to get involved.
After seeing a staggering 31 Ministers resign from her top team since becoming Prime Minister in 2016 – by far the worst record of any recent Prime Minister – it is little wonder that Theresa May has been forced to scrape the barrel to try and get Tory MPs to join her government. But her latest appointment could well be the most ridiculous of the lot.
On Wednesday, following her announcement that she would seek a longer Brexit extension and enter into talks with Jeremy Corbyn to find a compromised cross-party solution, Theresa May saw another two Ministers resign.
Nigel Adams, a government Whip and the Under-Secretary of State for Wales, and Chris Heaton Harris, a Brexit Minister, both quit in disgust at the Prime Minister's pivot towards a soft Brexit.
In response, Theresa May quickly replaced her former Wales Minister with the little known MP for Torbay, Kevin Foster.
However, given the fact that six Ministers had now resigned from her Brexit department, it took Mrs May a little more time to solve this particular conundrum.
Eventually, the Prime Minister decided to promote the Conservative Party's vice Chairman, James Cleverly, to her Brexit department.
Cleverly's appointment as a Brexit Minister came as a shock to many – not least because just 6 months ago Mr Cleverly literally stated:
"I don't give a sh*t about Brexit"
Cleverly's comments came during a speech to the Tory Reform Group at a fringe event held at Tory Conference in October 2018, and, unsurprisingly, sparked significant anger amongst pro-Brexit Tory activists:
James Cleverly at a Tory Reform Group meeting saying he "doesn't give a shit about Brexit".

Not sure that's quite the message the Tories want to get out. pic.twitter.com/d9gOJlZkwC

— Steven Edginton (@StevenEdginton) October 2, 2018
Following his statement, Cleverly attempted to defend his remarks by claiming that "It's about the result, not the process" – an excuse which did not sit well with Tory colleagues:
Last night Deputy Chairman of the Tories @JamesCleverly told the TRG he "doesn't give a shit about Brexit". @Tim_R_Dawson and I asked him how he could say that when millions of Tory voters believe so strongly in it. Watch his response…

FULL STORY: https://t.co/9TInRI6rb6 pic.twitter.com/OkbDqvijxd

— Steven Edginton (@StevenEdginton) October 3, 2018
An unbelievable explanation from @JamesCleverly (who I admire) suggesting his remarks – "I don't give a shit about Brexit" – were based around process. At which point PR guy from TRG tried to shut @StevenEdginton
and me down and Cleverly – to his credit – agreed to talk further.

— Tim Dawson (@Tim_R_Dawson) October 2, 2018
The Tories have already lost a significant numbers of members after Theresa May signalled her intent to switch to a softer Brexit by entering into talks with the Labour Party.
However, it is unlikely that her appointment of a man who literally stated that he doesn't care whatsoever about Brexit to her Brexit department will stem this outward tide of pro-Brexit support.