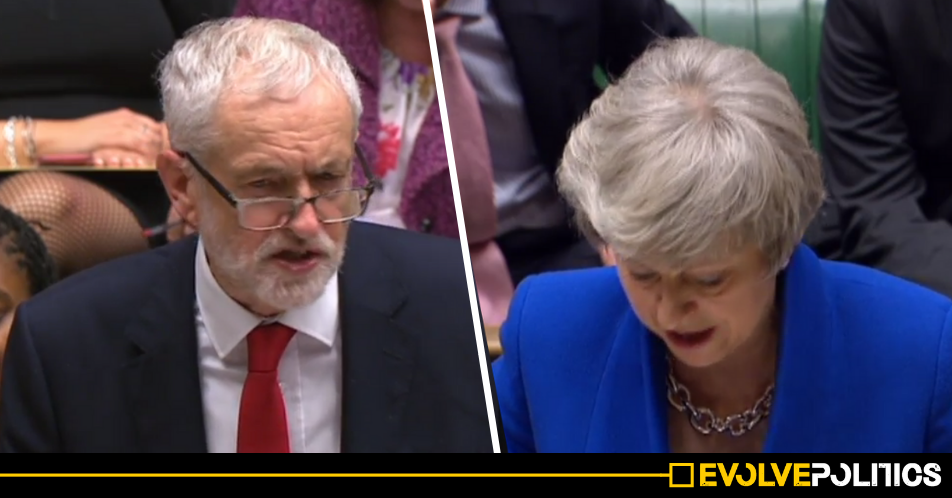 After suffering crushing defeat on her Brexit withdrawal bill last night, Theresa May responded to the crisis by offering an olive branch to opposition parties, proposing "cross-party talks" in order to find a workable solution to the current Brexit stalemate. However, this morning it has emerged that the Prime Minister is now steadfastly refusing to engage with the Labour leader Jeremy Corbyn in the talks – a baffling decision which has led to widespread condemnation, as well as accusations that the Prime Minister is merely trying to play for time.
Speaking to the BBC this morning, the Tory Leader of the House Andrea Leadsom admitted that Theresa May had not invited Jeremy Corbyn to cross-party Brexit talks, stating that the government was only willing to talk to parliamentarians who were willing to "talk constructively."
Leadsom also bizarrely attempted to claim that Mrs May's decision to exclude the Corbyn – who has consistently stated that Labour's Brexit plan was for a permanent Customs Union, access to the single market, and guarantees to workers' rights and environmental standards – was because the Labour leader supposedly hadn't got any plan for Brexit, stating:
"Let us look at what Jeremy Corbyn is doing here: He had the opportunity to put to the house what his proposals were. He clearly hasn't any and what he seeks to do is to disrupt government and the nation at a crucial time as he seeks a general election."
Adding that:
"The PM will be engaging right across the house with people … who want to talk constructively."
However, following Leadsom's statement, the high-profile Labour backbencher Yvette Cooper responded in furious fashion, blasting the Prime Minister's decision for cross-party talks without the opposition leader as "Ludicrous & unworkable", tweeting:
"Leadsom making a mockery of Theresa May's proposal for cross-party talks this morning. Ludicrous & unworkable if PM won't even talk to @jeremycorbyn & other party leaders. PM has to accept she failed by 230 votes – she can't just keep digging in."
Andrea Leadsom making a mockery of Theresa May's proposal for cross party talks this morning. Ludicrous & unworkable if PM won't even talk to @jeremycorbyn & other party leaders. PM has to accept she failed by 230 votes – she can't just keep digging in

— Yvette Cooper (@YvetteCooperMP) January 16, 2019
Furthermore, the Prime Minister faced numerous questions on the subject of cross-party talks at PMQs, and, astonishingly, she repeatedly refused to even name the Labour Party as one of the parties she would be engaging in during the discussions – instead, ridiculously, claiming that she would be holding "cross-party talks" with colleagues within her own party and her coalition partners, the DUP.
And following PMQs, Jeremy Corbyn confirmed to the House of Commons that he had not received a phone call from the Prime Minister regarding Brexit discussions, leading to cries of "shame"  in the direction of Theresa May.
Earlier this morning, numerous sources indicated that Theresa May was attempting to enter discussions with various Labour backbenchers over a Brexit solution, but following Yvette Cooper's blistering response to Theresa May's decision of excluding Jeremy Corbyn, such talks are now a complete non-starter.
Given her monstrous 230-vote defeat last night, the fact is that Theresa May needs far more than just a few opposition backbenchers to be swayed if she is to get a deal through Parliament, so what exactly is she trying to do?
The Prime Minister knows that there is no majority for either her deal or No Deal, but that if MPs are faced with the binary choice between the two, they would almost certainly be forced to choose her deal. And, given that – due to legislation passed at the start of the Brexit process – the UK has just 10 weeks left until we leave the EU with No Deal by default, it is clear that Theresa May's latest antics are simply another cynical plot to try and buy more time.
Mrs May stated in her response to last night's defeat that the government would not attempt to simply run down the clock to try and force MPs into a binary choice between her deal and No Deal, but her feeble attempts to forge a cross-party consensus prove that, yet again, she was deceiving both the public and the House of Commons.
Also following last night's crushing defeat, the European Union remained adamant that no legally binding changes to the withdrawal bill were possible, but did leave the option for the UK to extend article 50 open, with Brexit coordinator Guy Verhofstadt stating that the EU "understand the UK could need more time" to negotiate a deal which could command the support of Parliament.
However, as yet, the Prime Minister and her frontbench team have made absolutely no indication that they would consider extending Article 50. Indeed, as recently as this morning, Andrea Leadsom definitively stated that the government "won't be delaying Article 50" and "won't be revoking it", meaning that the Brexit clock is still ticking down with absolutely no prospect of an amicably revised deal being put before Parliament.

Theresa May is not interested in finding an amicable solution. She is only interested in getting her own way and forcing her atrocious deal through Parliament. But she knows the only way of doing this is by running down the clock – an astonishingly high-stakes gamble which, if MPs choose to again reject her deal at the last minute, would lead to the UK crashing out of the EU with No Deal.

MPs are currently debating a motion of No Confidence, tabled by the Labour leader Jeremy Corbyn, in Theresa May's government. And, with the support of the entire Conservative Party – in addition to all 10 DUP MPs – the motion is widely expected to fail. However, when it becomes clear that Theresa May's tactic is to simply try and run down the clock – as it inevitably will in the coming weeks – her pro-EU backbench so-called 'Tory rebels' will be left with an astonishing dilemma: either vote alongside Labour in another motion of No Confidence, or allow their own party to risk consigning the country to a catastrophic No Deal Brexit.
Whilst Theresa May's government is likely to survive today's vote, the Prime Minister's stunning belligerence, and reality-denying stubbornness will, ultimately, prove to be her downfall before March 29th.