Durham University has been forced to apologise to miners after one of its rugby teams planned a 'Thatcher's government vs the Miners' social event.
Rugby forwards from Durham's Trevelyan College (known by students as 'Trevs') were told to come as miners: 'We want flat caps, filth and a general disregard for personal safety…think pickaxes, think lamps, think 12% unemployment in 1984'.
Meanwhile the backs were supposed to be 'Thatcher's government', with one person to come as 'the Iron Lady herself'. In addition:
We want variety, so a few working-class-beating [sic] bobbies wouldn't come amiss. Nor would a few Falklands war heroes. You get the gist.
Both sides were told to expect 'a confrontation bigger than the battle of Orgreave'.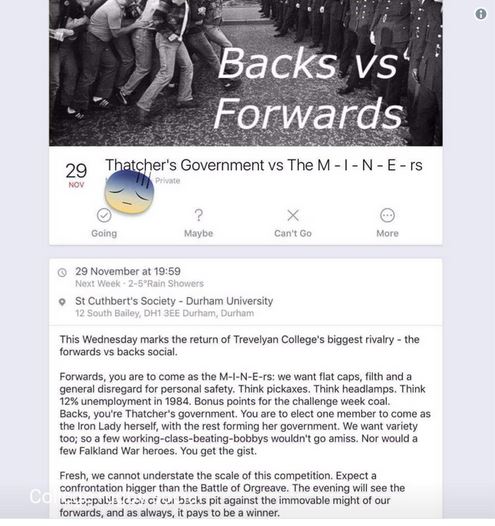 The Battle of Orgreave took place in 1984, long before any of the students planning to play dress-up were born. It was one of the most violent events of the miners' strike. Police – many on horseback – attacked picketing miners, subsequently charging 95 of them with riot or violent disorder. All of the trials collapsed because of unreliable police evidence, and the police were made to pay compensation to dozens of those arrested. Historian Tristram Hunt has described the event as 'a brutal example of legalised state violence'.

Needless to say, genuine miners were less than impressed by the students' plans.
The Durham Miners' Association said:
We were appalled to learn of a social event advertised by Trevelyan College rugby club which referred to miners in incredibly derogatory terms and sought to trivialise the police violence at Orgreave.
It's not the first time that Durham University has had trouble with its more entitled students. Last year, it was in the news when police had to be called to deal with rowdy behaviour at a £99-a-head party run by the university's 'Champagne Society'. Durham admits fewer state-educated students than almost all other UK universities and has a reputation for being 'posh'.

As it turned out, university leaders were not so keen on the students' plan to reenact the Battle of Orgreave. They said they 'utterly deplore[d]' the event, and that it had been cancelled. They said they would be speaking to the students involved and 'considering what further action to take'.
In response, the Durham Miners' Association said:
We are pleased that Durham University and Trevelyan College took very prompt and appropriate action by cancelling this event. Unfortunately, this episode has caused a great deal of hurt and anger for many in the local community who are rightly very proud of their mining heritage.
Has a lesson been learnt? Or are the students involved already planning their next 'mock the lower classes' event?
Become An Evolve Politics Subscriber



Your subscriptions go directly into paying our writers a standard fee for every article they produce. So if you want to help us stay truly independent, please think about subscribing. We literally couldn't function without the support of our fantastic readers.
Subscribe
Or a One-Off Donation to Evolve Politics



If you don't want to subscribe, but still want to contribute to our project, you can make a one-off donation via the donate button below. All your donations go directly to our writers for their work in exposing injustice, inequality and unfairness.
Donate