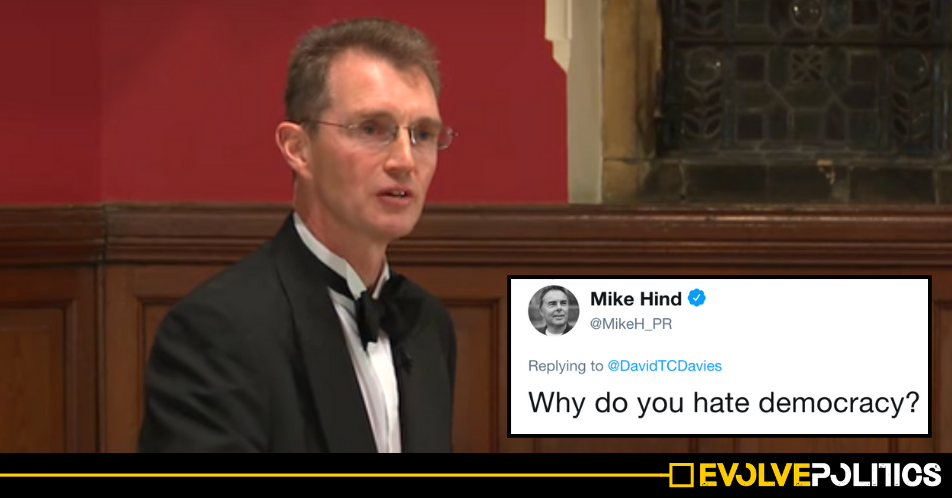 Stay in touch!
Sign up to be updated with Evolve's latest stories, and for opportunities to get involved.
A pro-Brexit Tory MP has been severely criticised and accused of 'hating democracy' after appearing to show disgust over the fact that Councils across the country are sending letters to inform EU Nationals who reside in the UK of their right to vote in the upcoming European Parliament Elections, due to be held at the end of May.
Almost four million EU Nationals currently live in the UK, and whilst they are not eligible to vote in General Elections, they are eligible to vote for Councillors in Local Elections and MEPs in UK European Parliament (EP) Elections.
However, because EU Nationals have the choice to either vote for their MEP in the UK or in their home country – but not both – they are required to sign a form before voting to confirm whether they wish to vote in the UK's EP elections.
During the 2014 EP elections, vast numbers of EU citizens living in the UK were effectively disenfranchised because they were not informed of this necessary process.
Following the 2014 debacle, the Electoral Commission criticised councils for not informing EU citizens that they needed to complete the extra step in order to be eligible to vote in EU elections.
Furthermore, in 2015, the House of Commons Political and Constitutional Reform Committee recommended that all councils should inform EU citizens of the process.
And now, following Theresa May's decision to extend Article 50 earlier this month – a decision which makes the UK's participation in the upcoming EP elections virtually unavoidable – councils across the country have heeded the recommendations and are now sending letters to EU Nationals living in their areas.
However, the arch Brexiteer and Tory MP for Monmouth, David Davies, appears to be extremely unhappy that people are being informed of their rights, writing on Twitter:
"For the first time I can remember, non-UK citizens from EU countries are getting letters & forms to encourage them to vote in the EU elections in this country."
https://twitter.com/DavidTCDavies/status/1117503090226286593
Unsurprisingly, Davies' apparent disgust at the democratic process came in for significant criticism:
Bloody [squints] people with the right to vote getting [squints again] encouraged to vote

— James Felton (@JimMFelton) April 14, 2019
Why do you hate democracy?

— Mike Hind (@MikeH_PR) April 15, 2019
https://twitter.com/fjgodfrey/status/1117581758827040768
https://twitter.com/Two_Penneth/status/1117531021292056576
i'll shock you even more…we can also vote in local UK elections…expect a surge of a few million EU27 voters not voting for xenophobic thickheads like you…

— patrick h. lauke #toryScum #clapForFlagWankers (@patrick_h_lauke) April 15, 2019
The rules @DavidTCDavies. Read them. pic.twitter.com/V1ocADucqn

— Adam (@adamtweets85) April 14, 2019
https://twitter.com/mathobbs1/status/1117518151304921088
Your point is? Say it loud. Disgraceful

— Shown (@northernlad18) April 14, 2019
https://twitter.com/BrexitBin/status/1117555342601326592
To encourage them to take up their legal entitlement?
I thought you liked democracy. Getting confused David?

— Arch Godbotherer Tony Sloane #FBPE (@TonySloane10) April 14, 2019
Now why on earth would an arch Tory Brexiteer not want EU citizens to exercise their democratic rights in the UK's upcoming EP elections?
It may have something to do with the fact that no EU National in their right mind would ever vote for the very party who instigated Brexit – a process which literally threatens their very existence in this country.