Rupert Murdoch's publications have a long and distinguished reputation for attacking the Labour party, and since Jeremy Corbyn's election as Labour leader, Murdoch's two Tory-supporting comics, The Sun and The Times, have excelled themselves attempting to manipulate public opinion against the party.
Today we have the ridiculous scenario where the British mainstream media have started describing people that support a properly funded NHS as extremists, whilst describing those who support selling weapons to the alleged war-crime committing Saudi dictatorship as 'moderates'.
And now, in what must be considered one of the most shamelessly desperate examples of media spin that Evolve have ever seen, The Times have gone one linguistic step further in their quest to turn public opinion against a resurgent and ideologically-restored Labour party.
This morning The Times reported the shocking headline that 'Hard left activists' have apparently 'seized' Labour moderate Chris Leslie's constituency: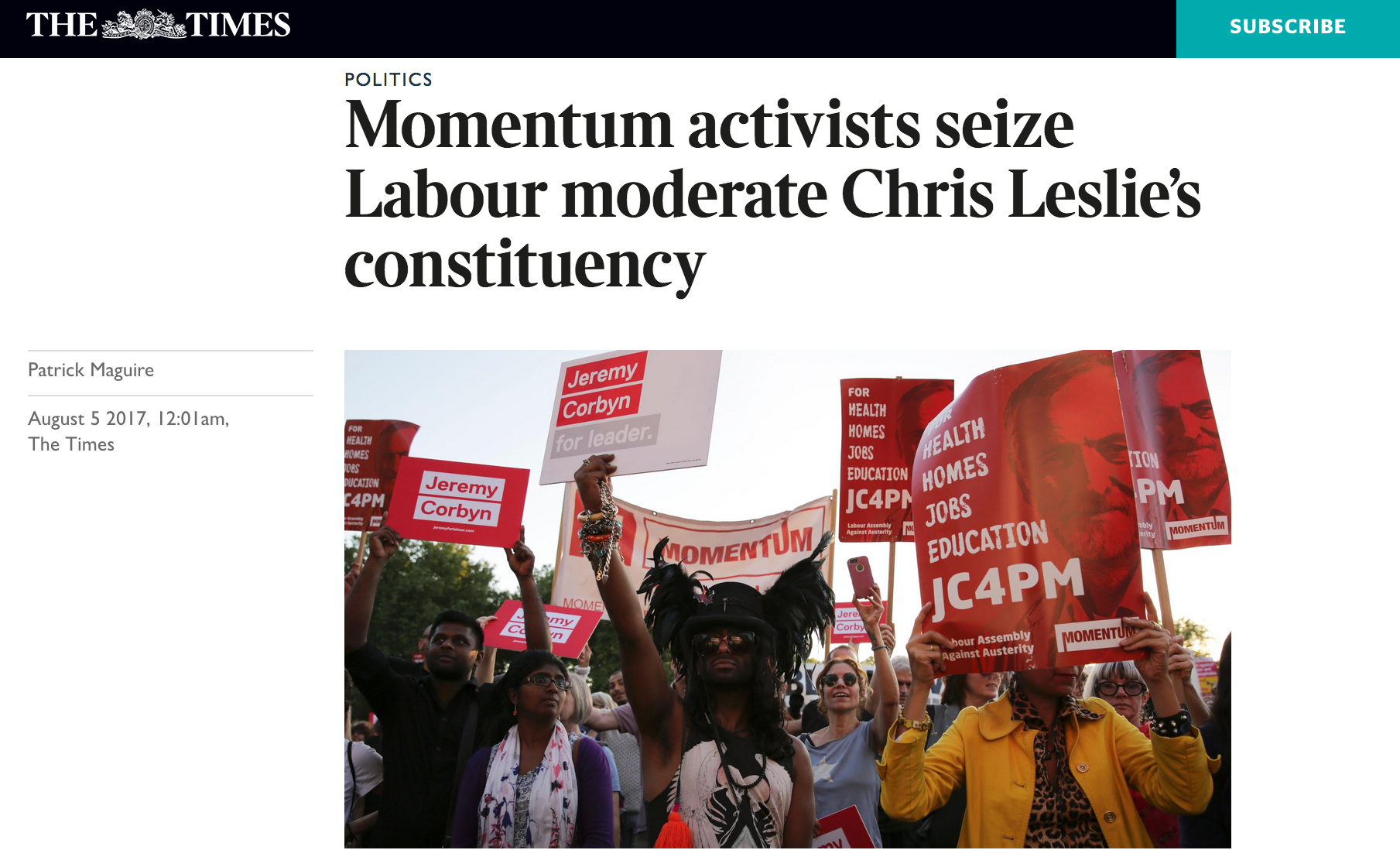 Hard-left activists seize Chris Leslie's constituencyhttps://t.co/furS7uj7Uw

— Sam Coates Sky (@SamCoatesSky) August 5, 2017
An extremely worrying development, you might think. Some on social media were livid…

After the headline, the article opens with a paragraph describing what appear to be outrageously undemocratic actions by Momentum members in the constituency, dramatically stating that:
Hard-left activists emboldened by Jeremy Corbyn's election success have staged a takeover of a leading moderate MP's constituency party, renewing fears that centrist MPs could be at risk of deselection.
Oh my god! They 'staged a takeover'? That's horrendous! How incredibly undemocratic! Maybe those commenting on social media were right? We should definitely crack down on this!
Well, you might think so.
Unless you actually bother to read the second paragraph, which begrudgingly reveals that:
Last week a slate of candidates backed by Momentum, the grassroots network supportive of the Labour leader, won all but one position on the party executive
Yes, that's right, it seems that when Labour party members exercise their democratic rights, the right wing media believe this is tantamount to seizing control by 'staging a takeover'.
And what's more depressing is that a large amount of extraordinarily gullible people on social media have fallen for the Murdoch rag's linguistic gymnastics.

Hard-left activists staged takeover of moderate MP's constituency party centrist MPs could be at risk of deselection https://t.co/7uxCdoEFDQ

— Suzan Veale (@suzyveale) August 5, 2017
https://twitter.com/P_G_Thompson/status/893785890975350784
Almost like the UK is sleepwalking into Communist statehood promoted by left wing radicals who have infiltrated the MSM

— Del Smith (@SmithNN8) August 5, 2017
However, the always-amazing Corbyn-supporting outlet EL4C gave a reply to Times author Sam Coates that exposes just how incredibly ridiculous The Times' headline spin was in comparison to reality:
Alternative headline: "Members use their democratic rights in accordance with the rules"….. No? Thought not.

— EL4C (@EL4JC) August 5, 2017
However, despite the fact that Momentum activists are being democratically elected up and down the country, the right-wing press are desperate to try and frame them as extremists by using words associated with Communist ideology – especially the words 'seize' and 'coup'.
This media tactic was summed up perfectly by Frank Sobotka on Twitter:
Weird how it's always seize & coup when it's the left, using same mechanisms as centre did. Looking forward to articles about Tory putsches.

— Frank Sobotka (@cymrurouge) August 5, 2017
Yet, despite the media using every dirty tactic in the book to smear them, Jeremy Corbyn's reinvigorated party still maintain a lead over the Tories – even managing to INCREASE the lead in the latest YouGov poll.
And the more obvious it becomes that these shameless media attacks are not having the desired effect, the more desperate and far-fetched the media's attacks are becoming.
After decades of getting virtually everything wrong, the mainstream media are justifiably distrusted by a huge proportion of the general public public, and ridiculous attacks like this latest one by The Times show exactly why huge numbers of people are flocking to truly independent alternative media run by ordinary people rather than billionaires.
Quite frankly, people are sick of being told what to think by the rich – people who provably have no clue what is actually going on in the real world. But people are beginning to realise they are being made fools of.

It was Jeremy Corbyn who, in 2015 after his election as Labour leader, was ridiculed for saying that:
Things can, and WILL, change.
And it truly seems like this prophecy is beginning to come true, and not a moment too soon.
Become An Evolve Politics Subscriber



Your subscriptions go directly into paying our writers a standard fee for every article they produce. So if you want to help us stay truly independent, please think about subscribing. We literally couldn't function without the support of our fantastic readers.
Subscribe
Or a One-Off Donation to Evolve Politics



If you don't want to subscribe, but still want to contribute to our project, you can make a one-off donation via the donate button below. All your donations go directly to our writers for their work in exposing injustice, inequality and unfairness.
Donate