Disability Labour, an affiliated group who represent disabled Labour Party members, has hit out at a Department for Work and Pensions-endorsed disability event, describing it as a "disgraceful" attempt to "sell out" disabled people to corporations, and accusing the Tories of trying to lure disabled people into a trap so the DWP can slash their benefits.

The Labour disability organisation, who have just recently elected an entire new executive, issued a press-release slamming the Tory-endorsed disability day event, nicknamed 'Purple Tuesday'.
Purple Tuesday describes itself as "the UK's first accessible shopping day, established to recognise the importance and needs of disabled consumers and promote inclusive shopping."
The Tory-led initiative is taking place on Tuesday 13th of November across the UK, and several major retailers such as Sainsburys, Asda, M&S and Argos have signed up to take part.
It is being run by a company called Purple, (formerly known as We are Purple), and is endorsed by The Department for Work and Pensions. Purple were previously registered as a charity but are now a Limited Company who claim to assist disabled people into work.
Retailers who take part are asked to make a long-term commitment to improve their services for disabled customers, with examples such as regular 'quiet hours' or disabled friendly marketing are floated on the events website.
However, Disability Labour – which, in the interests of openness, I am a member of – issued a strongly worded press release slamming the event, stating:

"Disability Labour deplores the concept of Purple Tuesday. This  event, which is being held on Tuesday 13th November is an initiative endorsed by the DWP and run by a company called We are Purple to build a "partnership" between disabled people and businesses."
Fran Springfield Co-Chair of Disability Labour said:
"This is a disgraceful attempt to "sell out" disabled people to commercial entities. Every day should be an accessible shopping day!
Disability Labour are deeply concerned that the DWP which harasses and persecutes disabled people on a daily basis will use video footage to identify if claimants are shopping, what they're purchasing and even how far they are walking."
And Kathy Bole, Co-Vice Chair of Disability, said;
"Sainsbury's already has form in relation to sharing CCTV footage to spy on disabled benefit claimants. Their surveillance of disabled people has led to increased distress and isolation."
Disability Labour also went on to state that:
"We are dismayed that supermarkets such as Sainsbury's, Argos, M&S, and shopping centres as well as Barclays Bank have chosen to become involved in such a day.
Disability Labour will be contacting them to express our views and to encourage them not to participate in any similar schemes by We are Purple.
Disability Labour calls on Labour Party members to boycott all the shops, businesses and banks taking part on 13th November, the day of Purple Tuesday.
Disability Labour also calls on DPAC to support this boycott and to campaign with us against the dodgy principles behind Purple Tuesday.
Disabled Access Day on 16th March 2019 would be a far more appropriate day for businesses to support and engage with disabled people."
DWP Snooping
The group singled out Sainsbury's specifically for good reason. Earlier this year, Canary journalist and welfare campaigner Steve Topple reported that Sainsbury's had been sharing CCTV footage from their stores with the DWP.
The DWP claimed that this was to assist in detecting benefit fraud, telling The Canary at the time;
"The DWP uncovers thousands of benefit fraud cases every year and recovered a record £1.1bn in overpaid benefits last year."
However, as I've previously written, benefit fraud isn't the scourge that it's been made out to be.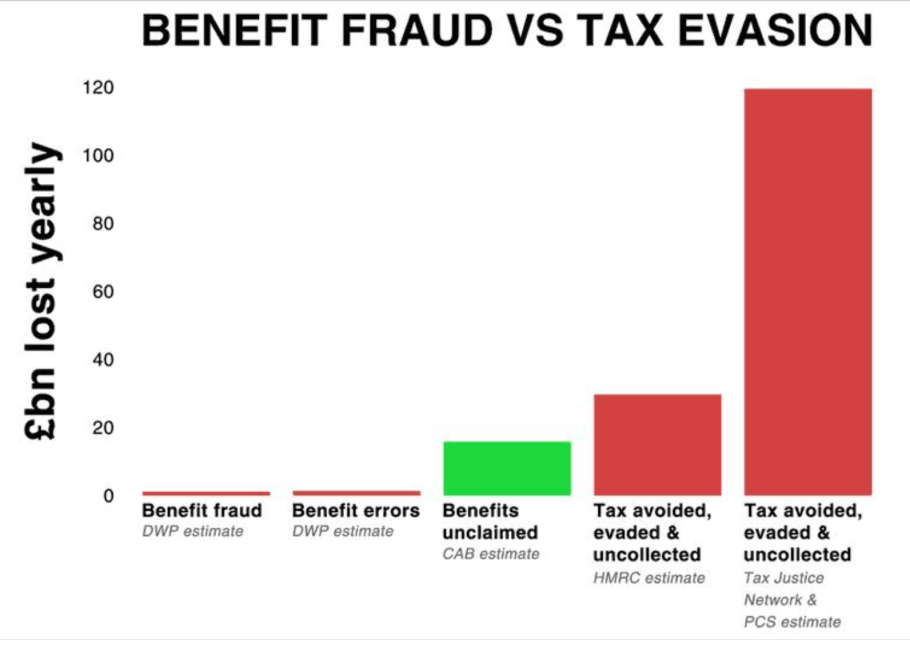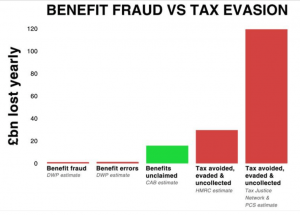 As you can see from the graph, in the grand scheme of things, benefit fraud is a tiny problem compared to Tax evasion.
Furthermore, the amount of benefits that go unclaimed by entitled UK citizens adds up to more than 15 times the amount totaled by people claiming benefits fraudulently, leaving the DWP up by a cool £13 billion.
Purple Tuesday seems to be yet another PR attempt by the government, incidentally taking place precisely at the same time as The United Nations are in the UK to investigate how austerity has affected poverty and human rights.
Last time the UN visited the UK, they described the government's treatment of disabled people as creating a "human catastrophe." This is the sort of criticism Theresa May's government will clearly want to avoid a repeat of after the UN's upcoming visit.