The newly appointed Tory "vice chair of youth", 28-year-old Ben Bradley, the MP for Mansfield, has some groovy ideas that will definitely help the party convert millions of young people who, like, absolutely hate them, into a (seven nation) army of avid Tory fanatics.

The BBC reports that Bradley:
hopes to turn around the image problem that the Tories have among young people
Bradley pinpoints the Tories' problem with laser-like precision, diagnosing the their main issue as, not their diabolical policies, but how people perceive Tories as:
the stereotypical Tory MP, who is this old, grey bloke
Which is odd, because to me the stereotypical Tory MP isn't just an old grey bloke, but an old grey, stinkingly rich sociopath who smirkingly dedicates his life to decimating the lives of the working class, the disabled, the poor, teachers, doctors, the police (you know the people who actually do the real work in this country), all in the hope of transferring massive wads of taxpayer's cash into the pockets of their fellow millionaire and billionaire plutocrats.
Alas, Bradley appears to be an expert on the matter though, so let's hear more of his groundbreaking insight.
Bradley says the Tories:
really struggle to sell what we are trying to achieve.
Yes, it is indeed a mystery as to why young people – often referred to by economists as the lost generation due to the Tories' economically illiterate regime of austerity and religious devotion to the provably failed neoliberal project – aren't buying what the Tories are selling.
Obviously, it has nothing to do with the Tories hiking university tuition fees to over £9,000 – the most expensive tuition fees in the world. It has nothing to do with housing benefit cuts for under 21s. It has nothing to do with being the only party to actively campaign against the vote being extended to 16-year-olds.
Not only are we not buying their sh*t anymore – we are actively working against it to defeat them – hence why young people overwhelmingly supported Jeremy Corbyn during the 2017 election, as well as taking active roles in organisations like Momentum.
Reflecting on the fact the Tories have basically lost a generation, Bradley soberingly states that:
If the trends continue from 2017 in terms of young people, people from ethnic minorities who just don't vote for us….then we're going to be in a mess
I wonder why young people from ethnic minorities might hate the Tories?
Just because, Foreign Secretary – our state representative across the world – Boris Johnson, referred to African children as "picaninnies" and said they had "watermelon smiles" – surely that doesn't in any way justify the Tories' reputation as being vile racists to be feared and hated by minorities, does it?
Then we have Theresa May's infamous "go home" immigrant vans, and our endless wars and the endless vile and disgusting right-wing attacks on refugees, with Tory MP and Brexit Secretary, David Davis, insisting we need to inspect the teeth of children who are fleeing from the wars we've created and wage on their countries.

Bradley though, having extensively ignored the multitude of atrocious, anti-youth policy decisions the Tories have made, explains to us his definitely watertight solutions.
Celebrities, including a number of Grime artists, also came out in support of the Labour leader.
Therefore Bradley thinks that:
We do need to make more of those people out in popular culture who are Conservatives
You mean famous Tories like the disgraced former TV presenter and definitely not massively racist 'comedian' Jim Davidson, who can be seen here joyfully stumping for the Tories during the last election in the pouring rain?
The glamour of campaigning pic.twitter.com/c8dEXrT1Im

— Jim Davidson (@JimDOfficial) May 17, 2017
No, Bradley has an even better idea, clarifying that:
We've seen Georgia Toffolo in the jungle. [We need] people like that who actually want to put this message across – and have a following and a different approach that, frankly, the average Conservative MP does not have.
Perhaps, what Bradley fails to understand here is that when young people look at someone like Toffolo, they can see that she blatantly represents the very worst of what the Tories stand for – materialism and complete ignorance – as well as being someone who displays that ever-popular Tory trait of being incredibly out of touch with the lives and struggles of ordinary British people.
And how exactly does Bradley expect to gain support from artists like Stormzy and Akala for the Tory brand? Can you imagine any grime artists coming out to stump for the Tories? The reason that so many prominent members of the UK hip-hop scene lent their support and campaigned for Corbyn during the election was not that his beard is so cool (it is though), but because of his policies.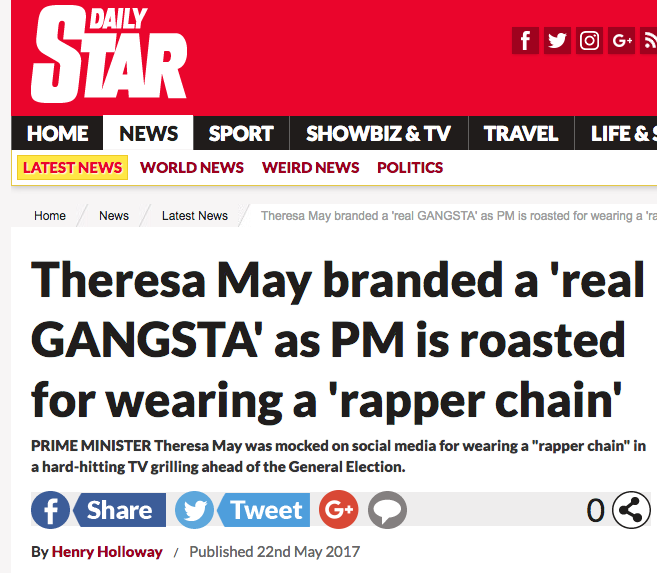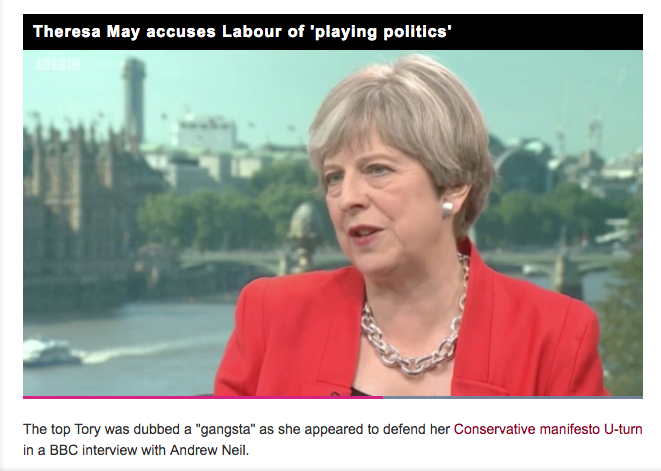 What grime artist would ever write songs about how great austerity is? Who would write a song demanding that billionaires get more tax cuts? Who would ever rap about how we need more nurses using food banks? How about more wars? Or what about the need to cap immigration and deport refugees? Sounds like a real winning formula, right there, doesn't it.

However, brainy Bradley does understand that policy may play a little role in attracting voters and party support after all, finally telling us that the Tories:
had the 18-30 railcard in the Budget – that actually went down really well with people.
Even though, back on planet earth, what young people are campaigning for is exactly what the majority of the population want – to fix our outrageously expensive and depressingly inefficient privatised rail system through this ingenious new-fangled method. Something known as nationalisation.
The Tories' ridiculous railcard proposal was, of course, widely mocked and considered an insult by most – for reasons that are so obvious they do not require explanation.


Bradley's laughable attempts to appeal to young people show exactly why the Tories have lost an entire generation of voters, whilst Corbyn's Labour, full of pro-youth policies, has been able to motivate and inspire them.
If the Tories wish to steal Labour's policies and implement them they might stand a chance of winning over the young. But, given their inexplicable lack of self-awareness, it'll surely take several decades in the political wilderness for the Tories to finally realise that it isn't their image that's the problem, it's their f*cking terrible policies.
Become An Evolve Politics Subscriber



Your subscriptions go directly into paying our writers a standard fee for every article they produce. So if you want to help us stay truly independent, please think about subscribing. We literally couldn't function without the support of our fantastic readers.
Subscribe
Or a One-Off Donation to Evolve Politics



If you don't want to subscribe, but still want to contribute to our project, you can make a one-off donation via the donate button below. All your donations go directly to our writers for their work in exposing injustice, inequality and unfairness.
Donate