Stay in touch!
Sign up to be updated with Evolve's latest stories, and for opportunities to get involved.
It has been revealed that foul mouthed Tory donor Charlie Mullins, who was criticised yesterday for calling Jeremy Corbyn a "tw*t" live on BBC Radio, has made even more offensive threats to the Labour leader on his official business website.
The owner of Pimlico Plumbers, who is an outspoken Conservative supporter and undoubtedly an imbecile, published a piece on the website entitled "If I Could I'd Have Treacherous Corbyn's Head On A Spike!"
In the blog post, Mullins says:
"I am so angry with Mr Corbyn, that once his shadow cabinet have finished ripping him apart, I want his head placed on a spike on top of Traitor's Gate, where it deserves to be."

"And since, unlike in Elizabethan times, capital punishment and hanging of heads on spikes is frowned upon nowadays, I think the least we should do to Corbyn is charge him with treason, clamp him in irons, and if the Tower is unavailable, chuck him in HMP Wandsworth?"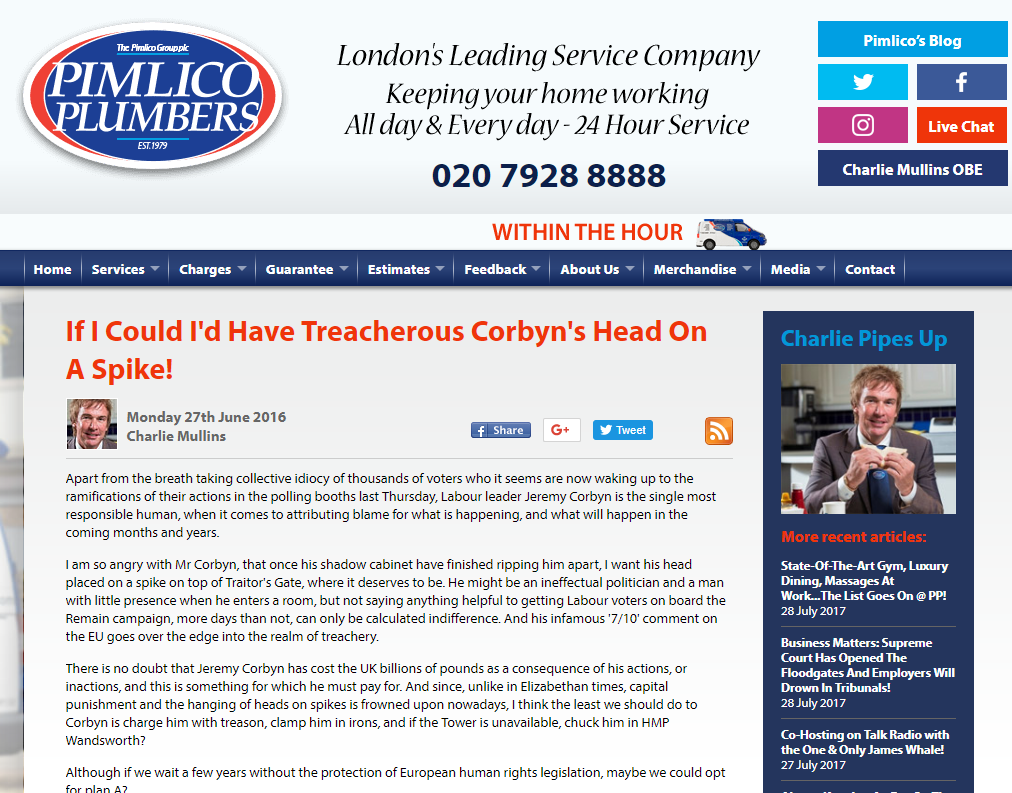 Ironic, considering Jeremy Corbyn and his supporters have been condemned as being responsible for the vast majority of abuse towards politicians and journalists. Instead, it has been revealed that Jeremy Corbyn is in fact the most abused MP on social media, and comments like this from Mullins only go to prove that political abuse is not exclusive to the left, and that the left are more often than not, victims of political abuse themselves.
Watch the video of Charlie Mullins calling Jeremy Corbyn a "tw*t" below:
https://www.youtube.com/watch?v=K6-CGXpbkcI
And now inciting violence. Classy stuff, Charlie.
Become An Evolve Politics Subscriber
Your subscriptions go directly into paying our writers a standard fee for every article they produce. So if you want to help us stay truly independent, please think about subscribing. We literally couldn't function without the support of our fantastic readers.
Subscribe
Or a One-Off Donation to Evolve Politics



If you don't want to subscribe, but still want to contribute to our project, you can make a one-off donation via the donate button below. All your donations go directly to our writers for their work in exposing injustice, inequality and unfairness.
Donate