Stay in touch!
Sign up to be updated with Evolve's latest stories, and for opportunities to get involved.
Given the massive and sustained media outrage over Labour's supposed 'broken promise' over historic student debt – a 'pledge' that wasn't actually in their manifesto and wasn't really pledged at all – you would have thought any slightly objective media would be absolutely apoplectic about a full blow broken promise that was actually included in a Party's election manifesto.
However, when it comes to the mainstream media reporting 'broken promises', they'd much rather concoct synthetic outrage against Jeremy Corbyn than actually do their job and hold this Tory government to account.
Yes, despite the Tories actually being in charge of the country and blatantly u-turning on their flagship manifesto commitment to cap energy prices, the mainstream media don't seem to think this story is that newsworthy – despite it potentially hitting the pockets of 17million British families.
What's more, British Gas have jumped on the Tories' energy cap u-turn by conveniently deciding to increase their prices by a whopping 12.5% – this despite posting HUGE profits of £639m in the first six months to June.
If British Gas continue raking in the money at the same rate, their annual profit will far exceed £1Billion – news that will anger ordinary families hit by their extortionate price rises up and down the country.
The Chief Executive of Citizen's Advice, Gillian Guy said:
…today's price rise will … hit longstanding customers hardest. This price rise has been issued despite costs for energy firms dropping in recent months.
And if you weren't already angry, just take a guess at how much the British Gas Chief Executive decided to raise his already bloated salary by?
Yes, the aptly named Iain Conn was handed a salary increase of a mere 40% last year, taking it to a measly £4.15m a year.
That's £11,369 every single day.
The fact that companies like British Gas are handing their executives disgustingly high salaries whilst simultaneously extorting a financially insecure consumer means that the Tories' ridiculous Energy Cap u-turn should be front page news – especially on our public broadcaster. After all, this news WILL affect THE ENTIRE POPULATION.
So how are the BBC reporting this blatant Tory u-turn that allowed British Gas fat-cats to implement their sickening price-rise?
The BBC are leading with this headline with absolutely no mention of the Tory u-turn whatsoever:


Indeed, you need to read until the twentieth paragraph to find any mention whatsoever of the fact that British Gas have been allowed to hike their prices because the Tories backtracked on a key manifesto pledge.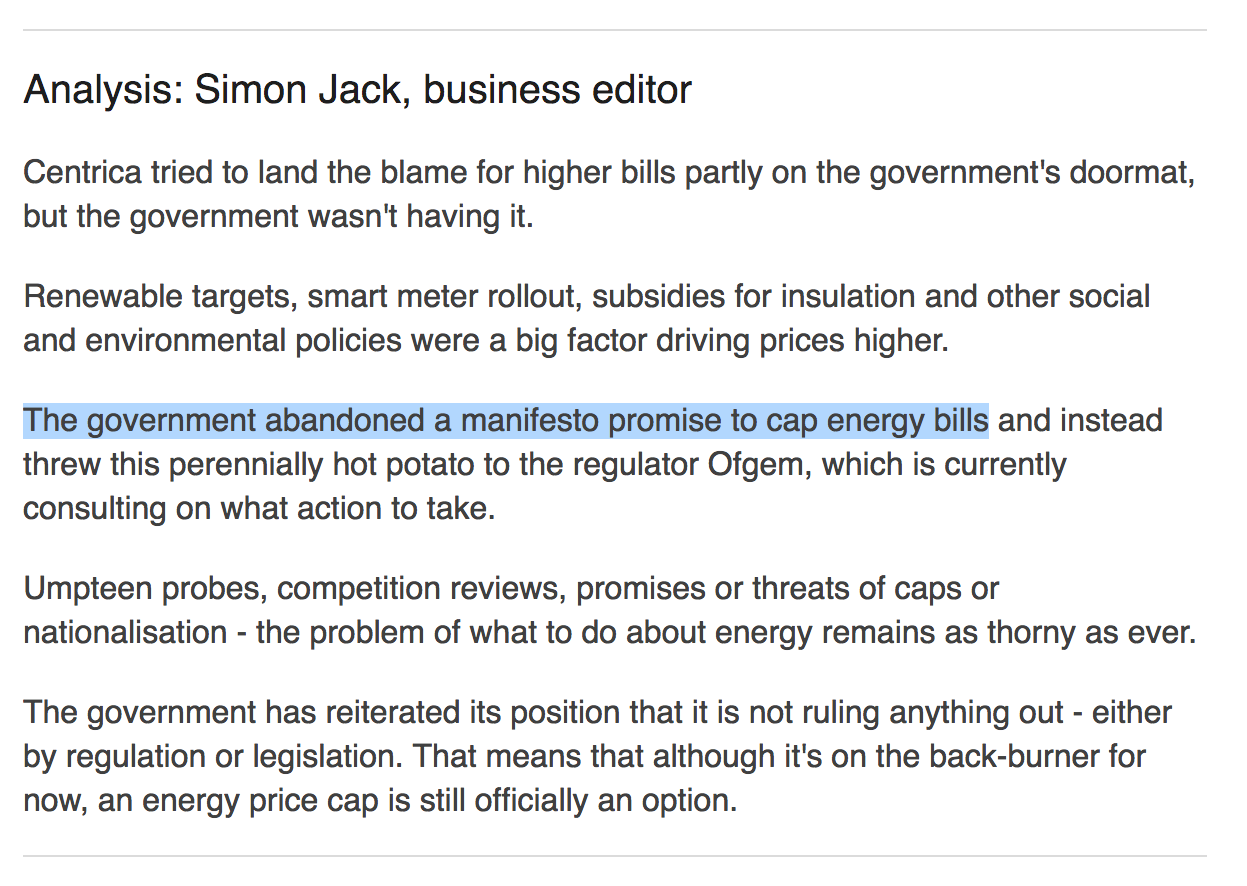 The BBC and the rest of the establishment media have allowed Theresa May's shambolic Tory government to get away with breaking a full-blown manifesto pledge, whilst distracting the public by running a coordinated and sustained attack on Jeremy Corbyn over something which can't actually affect anyone as Labour aren't in power. 

Don't you think it's time we had a media that actually held the ruling government to account?
Become An Evolve Politics Subscriber



Your subscriptions go directly into paying our writers a standard fee for every article they produce. So if you want to help us stay truly independent, please think about subscribing. We literally couldn't function without the support of our fantastic readers.
Subscribe
Or a One-Off Donation to Evolve Politics



If you don't want to subscribe, but still want to contribute to our project, you can make a one-off donation via the donate button below. All your donations go directly to our writers for their work in exposing injustice, inequality and unfairness.
Donate