A Conservative politician has come under sustained pressure to resign after labeling a 17-year-old sixth former 'vile' and an 'appalling little child'.
Kingston's Conservative Council Leader, Kevin Davis, engaged in the verbal attack after 17-year-old community activist James Giles had asked about potential conflicts of interest pertaining to Mr Davis' son's new job.
Councillor Davis' son was recently employed as a Trainee Development Manager at CNM Estates, a major housing developer who have been contracted by the Council to redevelop Tolworth Tower and the Gala Bingo Hall, amongst many others.
Incidentally, CNM Estates were incorporated in the British Virgin Islands, and were also, until recently, a client of Mr Davis' PR firm Cratus. Upon Mr Davis' election in 2014, issues were raised about this potential conflict of interest, whereby Cratus announced they would 'no longer accept any more work in connection with the Royal Borough' in order to 'prevent any conflict of interest'.

However, after attending a local meeting where Councillor Davis reportedly refused to answer questions on the issue of any potential conflict of interest pertaining to his son's new employment, Giles took to Twitter where he tweeted: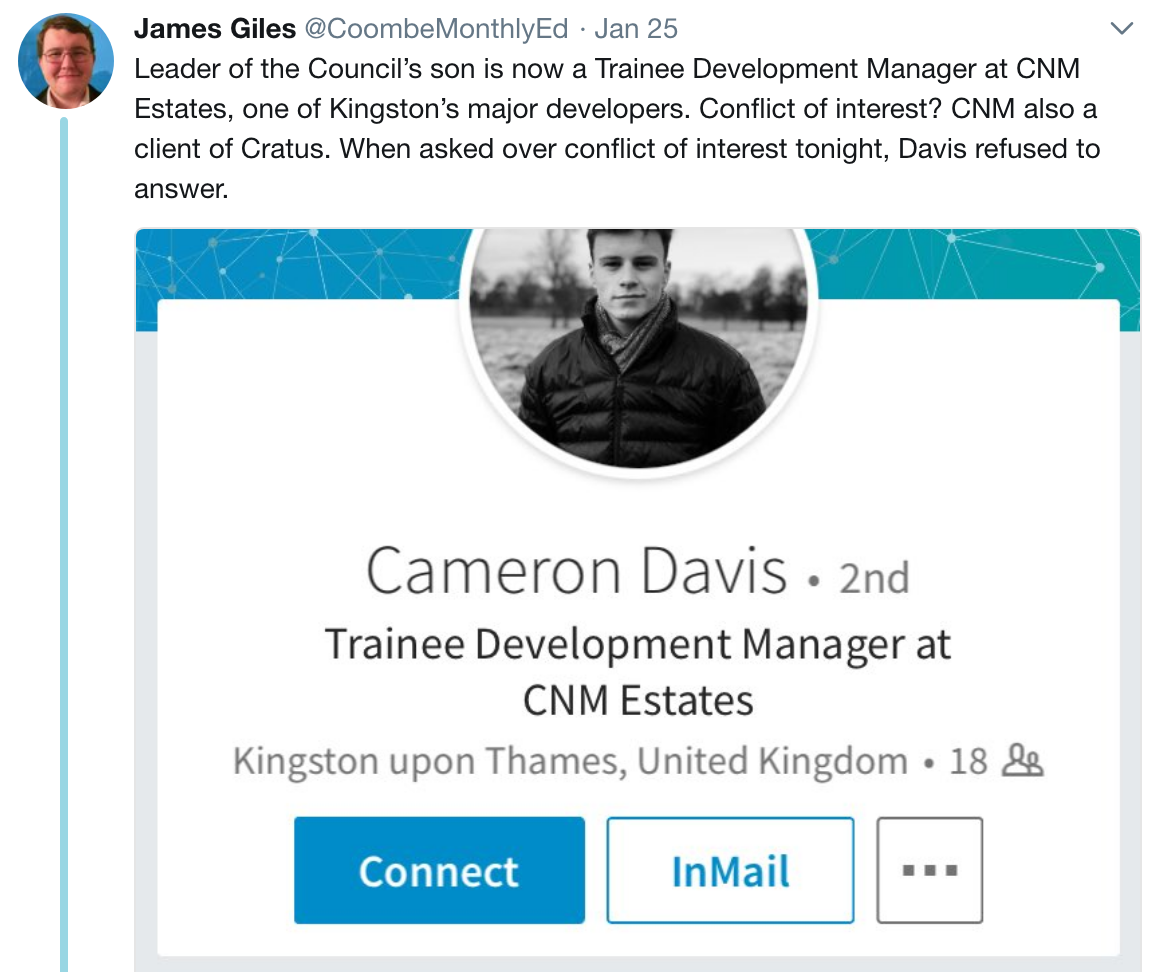 However, rather than simply responding to the questions posed in a polite manner, Councillor Davis responded with a torrent of abuse towards the 17-year old sixth former, accusing him of engaging in 'vile conspiracy stories' and labeling Mr Giles as an 'appalling little child".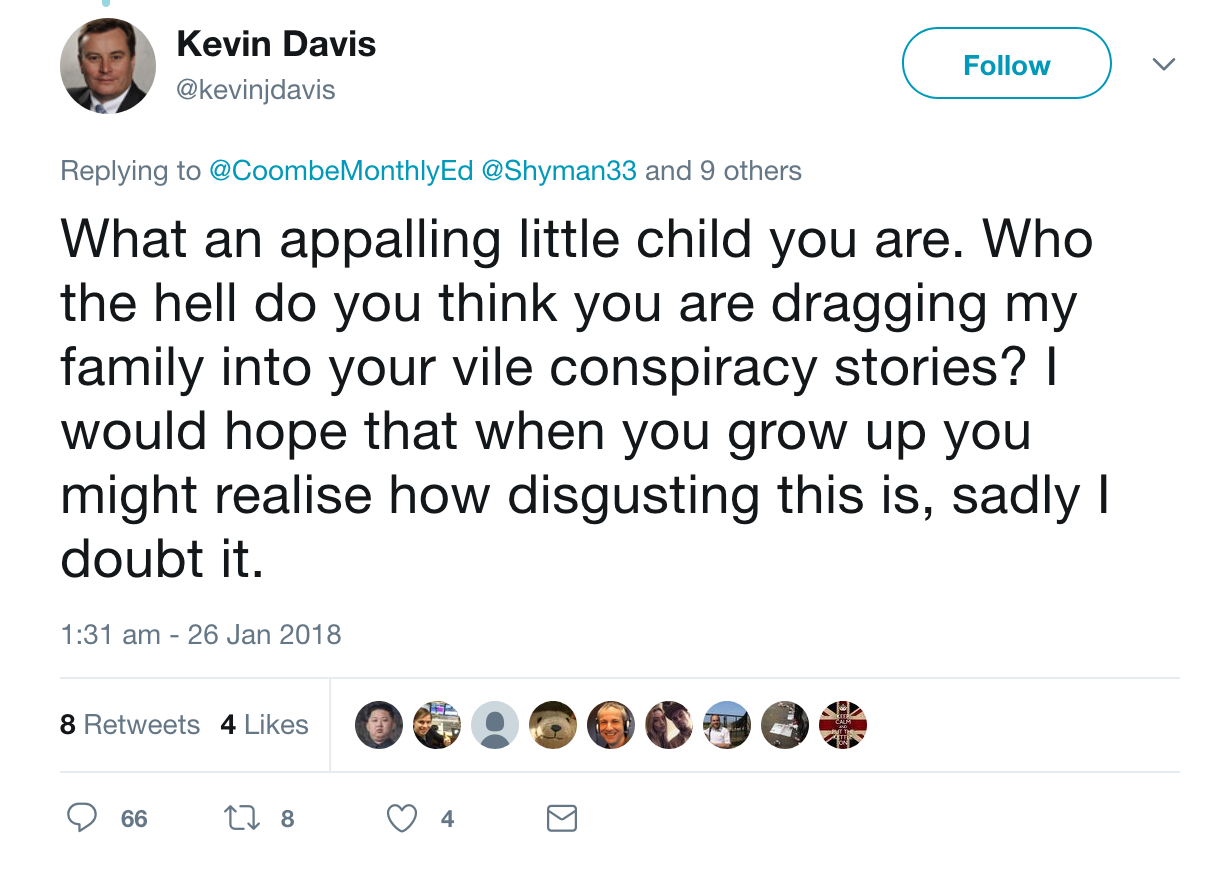 And, in a blog post rebutting the accusations about the potential conflict of interest, the Tory Councillor apologised for his verbal 'attack' on Mr Giles, but inexplicably went on to declare that:
There is never a conflict of interest that prevents a Councillor being a Councillor.
In a statement responding to Councillor Davis' behaviour, Mr Giles wrote on his personal blog:
Let me be clear – I have not attacked anybody. I asked a simply question of my elected representative and faced a torrent of abuse in return. Mr Davis is attempting to justify bullying and abuse – let me be clear: this behaviour is inexcusable and unjustifiable.
Also responding to Councillor Davis' outburst on Twitter, one local resident labeled his behaviour as 'Truly shocking', whilst another said 'This must be a parody account, as no Council Leader with any sense of respect or decorum would act in such a way.'
A petition calling for Mr Davis' resignation has been since been signed by hundreds of local people, and states that:
This is not the first time he [Councillor Davis] has embarrassed his office, and insulted the people of Kingston via social media. We now think enough is enough and call for his immediate resignation as Council Leader.
Mr Davis has previously tweeted that he is 'listening and happy to talk anytime' but also ominously warned residents in the same tweet not to 'upset the people in power.'
Become An Evolve Politics Subscriber



Your subscriptions go directly into paying our writers a standard fee for every article they produce. So if you want to help us stay truly independent, please think about subscribing. We literally couldn't function without the support of our fantastic readers.
Subscribe
Or a One-Off Donation to Evolve Politics



If you don't want to subscribe, but still want to contribute to our project, you can make a one-off donation via the donate button below. All your donations go directly to our writers for their work in exposing injustice, inequality and unfairness.
Donate