Stay in touch!
Sign up to be updated with Evolve's latest stories, and for opportunities to get involved.
This series of tweets by Conservative MP Nadine Dorries are rightly infuriating, but they also presage something more worrying: a time in which politicians can speak candidly of sleaze without fear of castigation.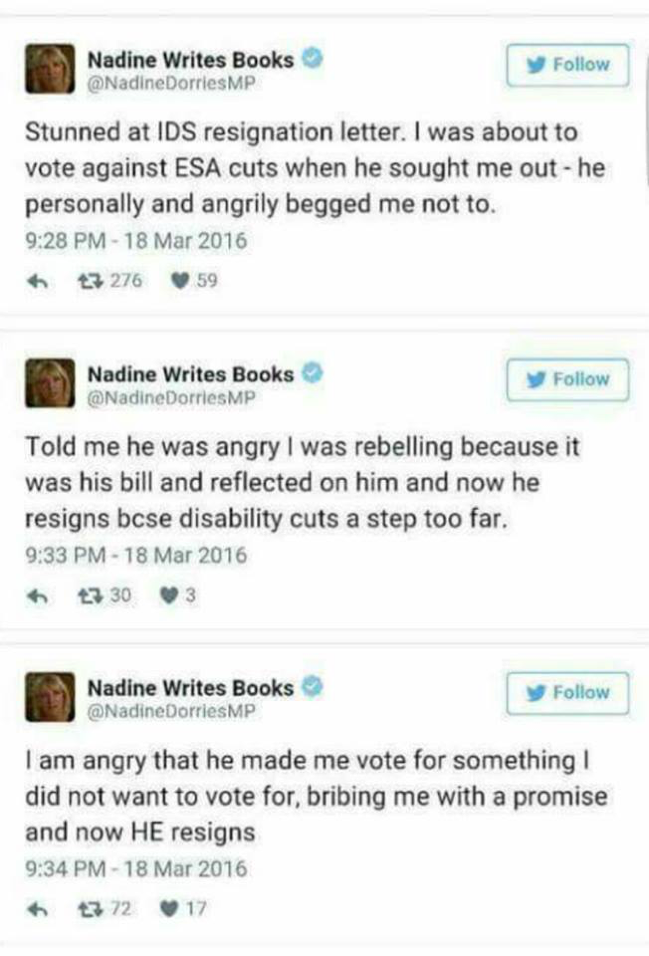 First: the context.
Appointed Secretary of State for Work and Pensions by David Cameron in 2010, Iain Duncan-Smith was made responsible for instigating and attempting to justify dramatic cuts to the welfare system. Cameron clearly understood that it would take a special concoction of steely brutality and gritty remorselessness to carry it out, and IDS was the perfect fit: a man with an image hard-headed and callous enough to endure the widespread contempt that being the unlovable poster-boy for the government's drive to austerity would inevitably entail.
In the time since that appointment, IDS has, amongst a melange of various other contemptuous policies, discussed – according to leaked DWP documents in 2013 – powers which would '…include forcing sick and disabled people to take up offers of work. If those with serious but time-limited health conditions refuse the offer, DWP staff would then have the power to strip them of their benefits'.
He presided over the Work Capability Assessment (WCA) scheme, which saw thousands of people with serious mental and physical disabilities judged fit-for-work and consequently their benefits were cut. Later, in 2015, he attempted to implement caps on Carers' Allowance, which would have forced full-time carers to seek other employment, a policy ruled by a High Court judge to 'unlawfully discriminate against disabled people'. It must also be understood that the figures purported by IDS's department to give reason for these policies were not always without ambiguity. The UK Statistics Authority (UKSA), found IDS guilty of misrepresenting official statistics in order to curry ideological support; according to Parkinson's UK policy advisor Donna O'Brien, the UKSA's findings clearly show '… this was a tactic to vindicate further welfare cuts'.
In this context, Duncan-Smith's volte-face over the cuts on Friday was not symptomatic of a man racked by guilt over the pain he has inflicted on thousands, but rather a calculated and dramatic way of undermining Cameron and Osborne. It is Machiavellianism in the truest sense and no more should be read into it than that.
However, Dorries' comments are particularly troubling. They speak to an entrenched culture of subornment in Whitehall, suggesting a shady warren of connivance and political expediency many would prefer to dismiss as intransigent features of the way politics is conducted. Yet this laissez-faire attitude is symbolic of a disillusioned and jaded section of the electorate. The less apathetic among us should consider Dorries' comments an affront on the spirit of democracy; which, after all, is a conceptual buzz-word Dorries and her political kinfolk have sought to monopolize.
Does Dorries' literal admission of her obeisance in the face of bribery; her inadvertent divulgence of the fact that she voted for the ESA cuts in spite of what she truly believed – not betray in her (and by extension, the wider Westminster establishment) an utter lack of morality? She was not talked-around, or persuaded by IDS through logical or even emotive argument. She sold her vote in return for a 'promise' – and that, whatever that promise may have involved – is unforgiveable for an elective representative. Her frank confession on social media that she had done so merely compounds the situation; it is offensive to the electorate that Dorries should not even bother to conceal evidence of blatant malfeasance in the corridors of power, and an indictment of the media's will to scrutinize the words of those who tread them.
It suggests that the current level of disenchantment with the Tory government has now negated the necessity to even bother concealing the evidence of corruption.
It is an omen which suggests that politicians feel so secure in the media's inability to rigorously cross-examine their words that they need not watch their language. Fighting such corruption requires that we not let it become part of the vernacular.